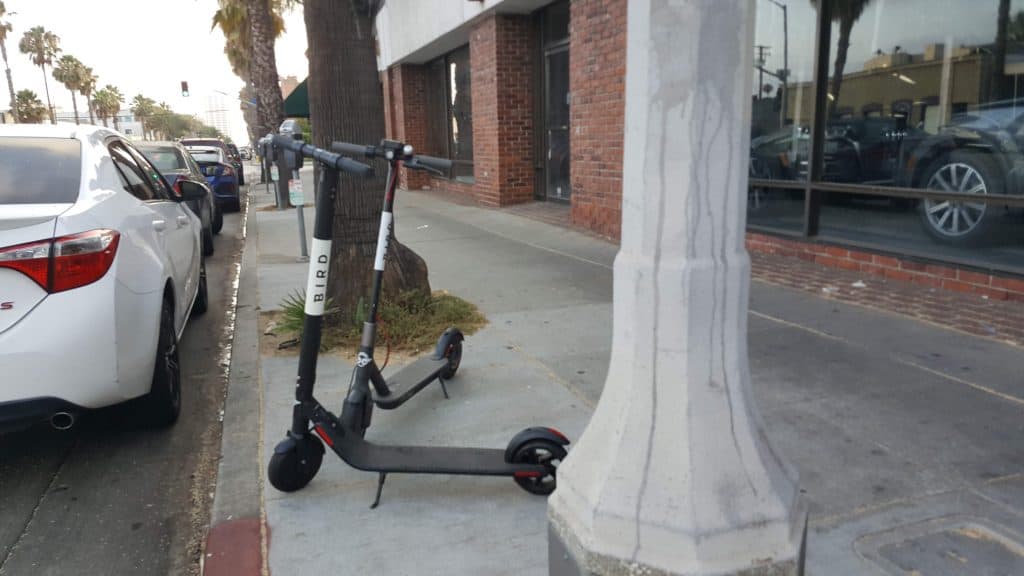 A new study shows that e-scooter riders are not wearing helmets, some are riding drunk and injuries can be serious.  In a study reported in JAMA 249 patients presented to the emergency department with injuries associated with electric scooter use during a 1-year period, with 10.8% of patients younger than 18 years and only 4.4% of riders documented to be wearing a helmet. One in three needed treatment in the ER.
In the study, injuries associated with electric scooter use were common, ranged in severity, and suggest low rates of helmet wear.
Two hundred twenty-eight (91.6%) were injured as riders and 21 (8.4%) as nonriders. Twenty-seven patients were younger than 18 years (10.8%). Ten riders (4.4%) were documented as having worn a helmet, and 12 patients (4.8%) had either a blood alcohol level greater than 0.05% or were perceived to be intoxicated by a physician.
Frequent injuries included fractures (79 [31.7%]), head injury (100 [40.2%]), and contusions, sprains, and lacerations without fracture or head injury (69 [27.7%]). The majority of patients (234 [94.0%]) were discharged home from the emergency department; of the 15 admitted patients, 2 had severe injuries and were admitted to the intensive care unit. Among 193 observed electric scooter riders in the local community in September 2018, 182 (94.3%) were not wearing a helmet.
Among scooter riders, the most common mechanisms of injury were fall (183 riders [80.2%]), collision with an object (25 riders [11.0%]), and being hit by a moving vehicle or object (20 riders [8.8%]).
The doctors reported
"This rapidly expanding technology is a disruptive force in short-distance transportation, and policy makers seeking to understand associated risks and appropriate regulatory responses should seriously consider its effects on public health. Riders share roads with fast-moving vehicular traffic but appear to underestimate hazards;"
Injuries associated with standing electric scooter use are a new phenomenon and vary in severity. In this study, helmet use was low and a significant subset of injuries occurred in patients younger than 18 years, the minimum age permitted by private scooter company regulations. These findings may inform public policy regarding standing electric scooter use.
The study was conducted at Los Angeles (UCLA), Ronald Reagan UCLA Medical Center and UCLA Medical Center–Santa Monica.