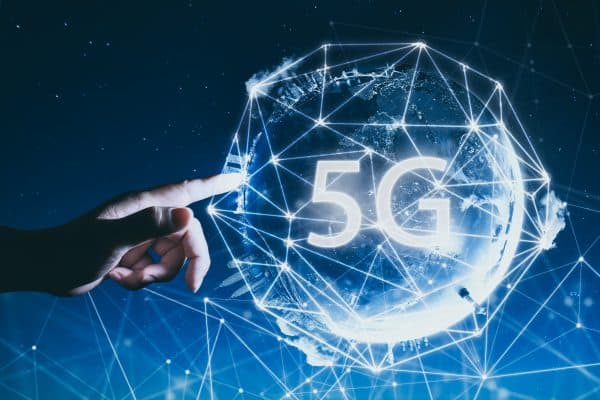 Samsung Electronics America, Inc., Qualcomm Technologies, Inc., a subsidiary of Qualcomm Incorporated, and Verizon announced a successful 5G New Radio (NR) data connection using 400MHz of bandwidth in the 28GHz spectrum, resulting in maximum throughput of more than 1.7 Gbps.
The data connection demonstrated the delivery of multi-gigabit 5G speeds to a smartphone form-factor mobile test device, with a focus on how users can experience a virtually seamless, uninterrupted data transmission using 3GPP 5G NR specification and dual connectivity (known as EN-DC[1]). The test used Samsung's commercial 5G NR and 4G LTE equipment to deliver the 5G NR data transmission using Verizon's 28 GHz spectrum. This spotlights a rapid, stable and effective path to commercial 5G service using a Non-Standalone mode of operation with dual-connectivity that takes advantage of both 5G and LTE technology.
The data throughput of more than 1.7 Gbps was delivered to a Qualcomm Technologies' smartphone form factor test device with a Qualcomm®Snapdragon™X50 5G modem and antenna modules with integrated RF transceiver, RF front-end and antenna elements. This represents a smartphone form factor device that consumers will use on high-capacity, multi-gigabit 5G networks using mmWave spectrum. Testing occurred in Qualcomm Technologies' San Diego, CA.-based labs.
This 5G NR demonstration follows a recent announcement from Verizon of the company's successful first data transmission on a 5G-upgradeable smartphone using a commercial 5G network in Providence, RI. That transmission used Samsung's 5G NR solutions and a  Snapdragon X50 5G modem, along with the groundbreaking Qualcomm® QTM052 mmWave antenna modules.
Verizon and Samsung announced their plan to bring one of the first commercial 5G smartphones to market in the first half of 2019.
Samsung Electronics announced that it has signed a Memorandum of Understanding (MoU) with the Korea Transportation Safety Authority (KOTSA) to collaborate on next-generation telecommunication technology which will enable autonomous driving innovation across the country. Through the partnership, both entities will build 4G LTE, 5G and Vehicle-to-Everything (V2X) telecommunication networks and related IT infrastructures at K-City, a test bed for autonomous driving technology in Korea.
K-City consists of five real-life simulated cases, urban and rural areas, local communities, highways and parking lots, spread across a 360,000m field. Using advanced vehicle communication technologies, the test bed will create an environment for autonomous vehicles and connected cars to experience real-life road conditions, crossings and tunnels. It will also enable the testing of accident risk situations that can be recreated and repeated, contributing to enhanced safety for both drivers and pedestrians.
Alongside the implementation of network equipment, Samsung will begin building key IT infrastructures to guarantee minimal latency and information security at K-City. Mobile Edge Computing (MEC) near base stations is critical in supporting instant communication between fast-moving vehicles, and enables cars to react to unanticipated events.
Designed as a multi-purpose open innovation lab to serve various industries, the network solution in K-City supported by Samsung and KOTSA will be available to professionals and businesses of all sizes. The site will eventually become the center of research for autonomous driving and connected cars, which will spearhead the future growth of 5G industries.