Every year, we try to find the best deals for automotive connected car tech freaks.  Gifts that will help drivers and passengers every where. We see some very innovative ways for aftermarket devices that  help with fantastic wireless smartphone connectivity to a cheap Bluetooth Amazon Alexa car device. If you are a road warrior or want to give the perfect connected car gift for the road warrior in your life, here are some delightful great sales with low prices for this holiday season starting with the Monday before Black Friday into the weekend into Cyber Monday.
Get the Stink Out of Your Car
The last time I rode in a Lyft car, it wreaked, it smelled like a cross between old gym socks and used air sick bag, if you have a loved one or friend who drives with smelly stuff or people in the car check out the autowit Fresh Mini Car Air Purifier with true HEPA filter, it captures PM2.5, smoke, allergens, pet odors, mold, dust. It  has several forms of filtration including carbon which will reduce smells.
They also make a smaller model if you don't live in a highly polluted or scented city autowit iMU Mini Car air Purifier with true HEPA lilter, for $39.95.
If you know someone who can't live without talking to Alexa, Echo Auto
is an easy and affordable way to add the power of Alexa to your car or truck. With an eight-microphone array designed for in-car acoustics and speech recognition technology, Echo Auto lets Alexa hear you over music, A/C, and road noise. The device is powered by your car's 12V power outlet or USB port, and connects to your stereo system through a 3.5 mm audio jack or Bluetooth connection. It connects to Alexa through the Alexa app on your smartphone and uses your existing phone plan to access a range of features such as music, navigation, calling, and more. It's very cheap right now on preorder for $24.99 is may or may not come in time for the holiday, but you or yours will be the first to get one.
With location-based features, Echo Auto helps you get to where you're going. Just ask for directions and Alexa connects to supported apps like Google Maps, Apple Maps, or Waze on your phone. You can also ask Alexa to find nearby gas stations, check traffic, and more.
Prices Fall for Andriod Auto and CarPlay Compatible units.
Pioneer AVH-2300NEX is down to $299 and it features DVD with 7″ WVGA display, Apple Carplay, Android Auto, built-in Bluetooth, Airiusxm-ready and Appradio mode,. It works with works with Pandora, offers hands-free calling and audio streaming. These units just a few years ago were twice the price.
Android Auto and CarPlay Go Wireless
Pioneer recently released wireless Android Auto and CarPlay compatible models which are price like their original CarPlay and Android Auto Models .
Pioneer AVIC-8200NEX Navigation Receiver with Carplay/Android Auto
Amazon's choice at  $599 still less than the cost of a new high-smart phone it will enable smart driving assistance and calling for years to come.
Pioneer AVIC-W8400NEX DVD Receiver
is another Amazon choice at $897.95
Pioneer AVH-W4400NEX in Dash Multimedia Receiver with 7″ WVGA Clear Resistive Touchscreen Display
also Amazon choice at $569.46 with free shipping. There are some units that come with compatible dash mounts for certain vehicles.
These units are the first to offer compatibility with Apple CarPlay with the option of connecting to a compatible iPhone via either a wireless connection or wired USB connection. Two of the three units, the AVIC-W8400NEX and AVH-W4400NEX, are also compatible with Android Auto Wireless and Android Auto over USB when used with a compatible Android smartphone. All three NEX models also include Wi-Fi Certified Miracast wireless mirroring, car-to-home smart home integration, Pandora internet radio, SiriusXM Ready, iDatalink Maestro support, advanced Bluetooth4 capabilities, Pioneer's AppRadio Mode+ and FLAC file playback.
Google Assistant is now a part of Android Auto. Google Assistant lets the user have a conversation with Google to get things done in his or her world. Google Assistant works with more than 1,000 smart devices from more than 150 popular brands, making it easy to control things around the user's house just by voice. Google Assistant compatible devices can now report their status and be controlled directly from the car.
Siri® helps you do all sorts of things with CarPlay while driving, including controlling your HomeKit® compatible devices remotely from your car (requires Apple HomeKit hub).6
Wireless Android Auto & CarPlay from Kenwood
KENWOOD offers wireless Android Auto built into its 2018 flagship multimedia receivers was active and compatible with select Android-based smartphones. The KENWOOD eXcelon Reference Series DNX995S and DDX9905S, as well as the KENWOOD eXcelon DMX905S and KENWOOD DNX875S and DDX9705S, allow the driver to leave the phone in a pocket or bag and still get the benefit of its powerful and useful feature set. For the most part you'll need a compatible Android Auto smartphone with Android 9.0 OS to be compatible with KENWOOD multimedia receivers that feature Wireless Android Auto
.These units are the first to offer compatibility with Apple CarPlay with the option of connecting to a compatible iPhone via either a wireless connection or wired USB connection. Two of the three units, the AVIC-W8400NEX and AVH-W4400NEX, are also compatible with Android Auto™ Wireless and Android Auto2 over USB when used with a compatible Android™ smartphone. All three NEX models also include Wi-Fi Certified Miracast™ wireless mirroring3, car-to-home smart home integration, Pandora® internet radio, SiriusXM Ready®, iDatalink® Maestro® support, advanced Bluetooth®4 capabilities, Pioneer's AppRadio® Mode+ and FLAC file playback.
A Camera to Watch Over the Inside and Outside of Your Car and OnStar-Like Responses for the Car Freaky Geek
If you know someone who is really concerned about his/her car and would love to see what's going on then the Owl Car Cam is for him/her. It could also be a great pet sitter or teenage watcher.
The Owl Car Cam:  is a smart dash camera for your car that sends video to your phone while driving and parked. It has dual HD Cameras, video alerts, live view, history, 2-Way Talk,  and A.I. crash Response.
. The Owl Car Cam sells as a bundle for $349, which includes 1 year of 4G LTE Instant Video service. The service includes unlimited Video Alerts and 60 minutes of remote making and viewing video per month. Without the Instant Video service, users can still access all their video over a direct Wi-Fi connection.
In addition to the Crash Response service, the core Owl Car Cam experience has big new updates.
99.9999% Vehicle Compatibility: New locking-mount and hardware and accessory upgrades improve performance and make the Owl Car Cam compatible with every car, truck, and RV – everything except the Tesla Model 3.
Revolutionary Protection While Parked: Owl's powerful A.I. recognizes events, labels their severity and delivers alerts to people's phones 6 times faster – in as few as 5 seconds – anywhere, anytime. And they've extended their parking Guard Mode to be 3 times longer – a full 72 hours.Instant Video of your car, driving and parked.
Video Alerts delivered to your phone for break-ins, dings, and dents.
Dual HD cameras, for inside and outside views.
Live View of your car from anywhere, anytime over 4G LTE
Owl automatic Crash Response will be available to all Owl customers in December. For a limited time, all existing and new customers will get 3 months free. After the initial 3 month period, the service will cost $79/year or $7.99/month – one third the price of OnStar.//
The AT&T
HARMAN Spark will be exclusively offered by AT&T for $79.99. Rate plans start at $5 per month for plans without Wi-Fi. Plans including Wi-Fi are offered as both standalone or as an addition to eligible Unlimited and Mobile Share plans. And, for a limited time, buy a Samsung Galaxy S9, S9+ or Note9 smartphone and Spark for just $29.99.//
Features include:
Emergency Crash Assistance – Contacts you in the event of a crash to see if you need help.
Virtual Mechanic – Helps ensure your safety by alerting you if your car needs attention and provides guidance on what to do.
WatchIt – Lets you know if your car is bumped, towed or moved when you're not around. Helps authorities locate it if stolen.
Roadside Assistance Manager – Drop a pin on your location and request help 24/7. Pay through the Spark app and you'll be back on the road in no time.
Wi-Fi Hotspot – Connect up to 8 devices from the open road and keep the family happy and entertained while streaming videos and playing games.
Geofences – Peace of mind for when your loved ones hit the road. Set boundaries on a map and view their location.
Family share/Fleet manager – Get location of family and business vehicles and monitor vehicle health.
Parking Reservations – No more circling and looking for a parking spot. Save time and hassles by reserving a space in advance. Pay in the Spark app.
Driving score and tips – Driving feedback and trip analysis for whoever is behind the wheel. Helps your teen become a safer and smarter driver.
Cheapest to Start AT&T OBD
Autobrain is available  at Amazon is only $19.97 for the device and $9.97 per month – with no contract and no activation fee.  Five free road side assistance/tows per year are included in the Autobrain subscription.
Built by a first responder who knows what saves lives, automatic crash response can help you faster when you are in a crash. Autobrain alerts 911 immediately when you are in a crash and send them to your exact location.
Autobrain's family mode is built to adjust to what your family wants. You can add as many drivers as you like and set alerts for when the car leaves home, school or gets to work. You will also have access to Autobrain's "home alarm on wheels" which can get your family members help quickly after a crash.
A neat feature is "Beep Carpool" it lets people know that you are waiting for them outside.
The device and app will let you report, locate and recover your stolen vehicle and equipment quickly and easily with Autobrain's advanced GPStechnology and stolen vehicle assistance.
Most Intense Most Diagnostic OBD Port Device with App
Voyomotive VOY-001 Black with Gold Trim 1.7 x 0.9 x 1.1 inches Connected Car Controller
is $100. VOYO with Scan Pro now gives consumers the ability to detect hidden problems on their cars allowing them to diagnose problems early and to schedule service to pre-empt more serious and expensive problems from developing. Integrated into the VOYO Apps for iOS and Android, Scan Pro works in conjunction with the plug-in VOYO controller to read manufacturer Diagnostic Trouble Codes (DTCs) from all vehicle computers. VOYO also reports a wide range of advanced data related to vehicle operating conditions, driver safety and weather. VOYO's ability to report this information over the air directly from a vehicle provides consumers and industry professionals an alternative to state-of-the-art OEM telematics systems, but without the expensive subscription pricing or usage restrictions imposed by the automotive companies.
Voyomotive is collaborating with industry partners that need advanced vehicle data to deliver the next generation of mobility services to consumers and fleets. The Voyomotive platform makes data available via its Web API or by using the company's App API to embed its software libraries within a partner's mobility app enabling that app to access data directly from the VOYO controller.
Current opportunities for Voyomotive partnerships include:
Roadside service – many roadside service requests require an operator assisted phone call that can cost a service provider up to $30 per call. Information provided by VOYO with Scan Pro can automate the process and include diagnostic data to determine whether a vehicle can be repaired remotely or needs to be towed, and to what type of repair shop. For example, in a report of a dead battery, VOYO with Scan Pro could determine if the problem was due to the headlights being left on, which could be resolved with a roadside jump start; or if a defective alternator requires towing to a repair shop.
Service and repair – a frustrating aspect of car repair is to request a quote without knowing the full nature of the problem. Using VOYO with Scan Pro, a vehicle owner can send a report to service centers of their choice to obtain a firm quote based on a detailed and accurate diagnosis. With access to VOYO data, apps dedicated to auto service can cross-reference the DTC information with industry databases to determine what part is required, whether that part is in stock, and how long the repair process will take. Remote access to this information will enable Customer Relationship Management (CRM) and shop systems to automate appointment scheduling and to integrate Voyomotive data within their branded mobility apps to provide customers a firm price quote, vehicle drop off information and updates on pickup times.
Auto Insurance – in addition to providing data for Usage-Based Insurance (UBI) "per mile" programs, such as real odometer tracking, the Voyomotive APIs provide insurance companies with a cost-effective, turnkey method for providing new features within their own apps including roadside service, safe driver coaching, and warning of malfunctions that may impede driving safety. In addition to the full range of data reported remotely, VOYO with Scan Pro can be useful for a determination of First Notice of Loss (FNOL) at the time of a collision.
Enabling the Internet of Things (IoT) for Auto Parts – OEM component and aftermarket manufacturers can use the Voyomotive controllers to collect a wide range of data from systems that directly and indirectly affect their products and will be useful for predicative maintenance. Options to run partner code onboard the VOYO controller are also available. The combination of controllers running custom code and APIs enable development of IOT-based components, such as tires, batteries and transmissions, which can be linked to partner-branded mobility apps designed to create a direct relationship with the vehicle and its owner.
Headquartered in San Francisco, with a research and development facility in Ypsilanti, Michigan, Voyomotive is bringing the world's most advanced connected car technology to market. Voyomotive controllers are the only OBD-II devices programmed over the air with model specific configuration settings. The consumer product, VOYO, uses a Bluetooth Low Energy (BTLE) connection to a driver's cell phone, and the Passport product uses an embedded cellular modem to address the needs of the commercial market and fleets.
Cheap Stocking Stuffer $8.99-13.99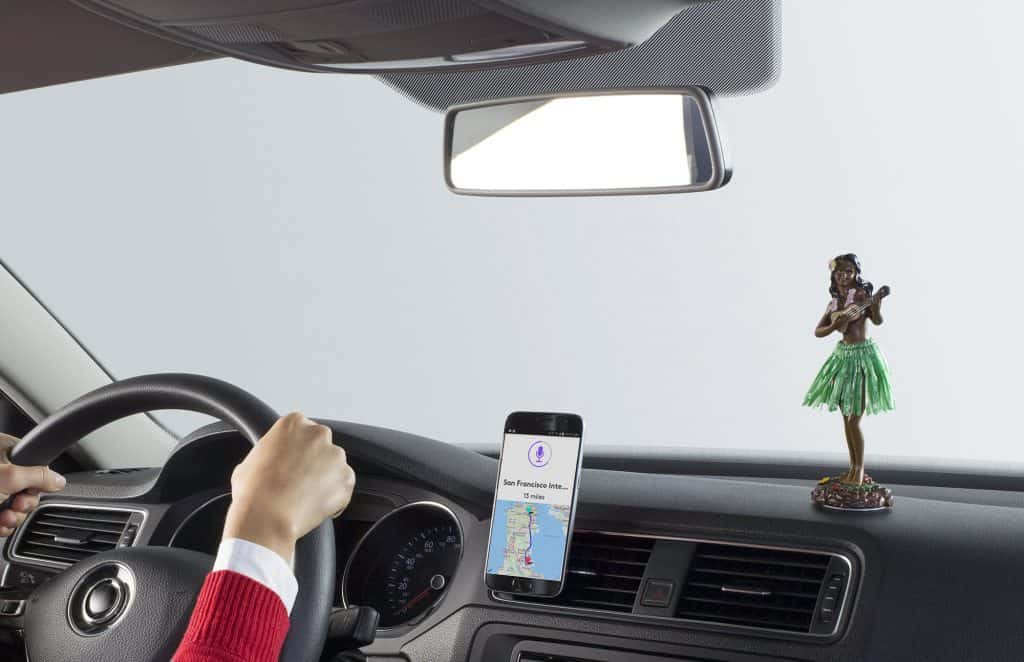 You can add Amazon Alexa to any car with Logitech ZeroTouch – Hands-free Car Mount and Voice Assistant App, with Amazon Alexa, exclusively for Android Phones – Black
prices range from $8.99 to $13.99 depending on the color. It makes a nice backup device if something goes wrong with car's Bluetooth system. It features
HANDS-FREE: Text, Calling, Chat, Music, Navigation, Email, Calendar, and Alexa

JUST ASK ALEXA: High-five to activate your phone, then speak to Alexa as you normally would. ZeroTouch supports all Alexa skills except Alexa calling and messaging and full music functionality. Amazon Music works via Alexa with the wake word "Alexa".

COMPATIBILITY: Data and mobile plan required. Smartphones running Android OS 5.0 or later and Bluetooth wireless technology (Android only)