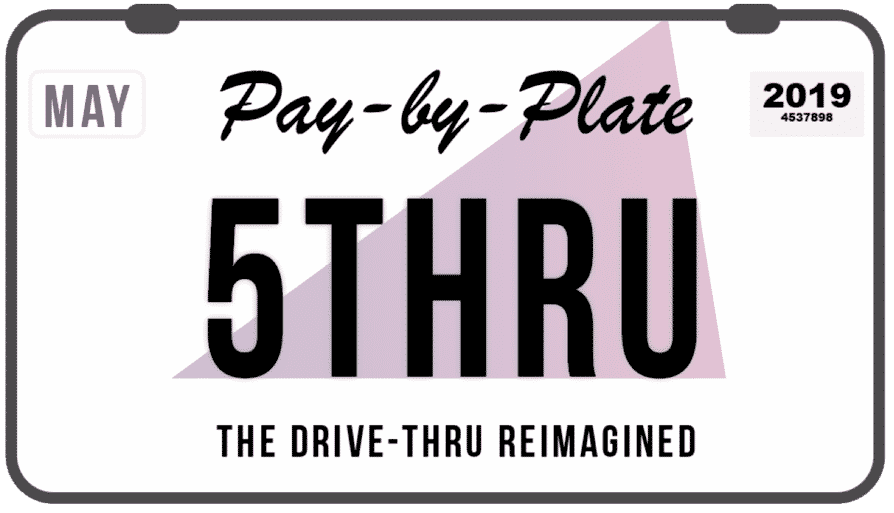 5thru is pleased to announce the availability of its innovative Drive-Thru Accelerator technology, designed to speed up and personalize the drive-thru experience. By scanning vehicle license plates and pre-authorizing payment while the user waits in line, customers never need to take out their wallets, resulting in greater line efficiency and providing next-level convenience and customer engagement.
The drive-thru is the lifeblood of a QSR (Quick Serve Restaurant), but some are outdated and inefficient. Industry research shows that customers want better, faster service and QSRs look to enhance performance and increase ticket size. Solving these combined needs will ultimately drive loyalty to a brand and increase return visits – it's about the experience.
Daniel McCann, CEO of 5thru states, "Everyone loves the convenience of a drive-thru, but sometimes we see long lines and think twice. Our Drive-Thru Accelerator technology is changing that perception, resulting in more convenience for consumers and more throughput for busy drive-thrus. It's a win-win."
How it Works
5thru leverages technology for a zero-friction drive-thru experience. As customers enter the drive-thru, their pre-scanned vehicle ID pops up a profile before they get to the menu board creating a "know-your-customer" experience for teams inside a restaurant. Customer profiles, combined with pre-pay capability create faster, accurate service and greater upsell opportunities.
Opportunity for QSRs to Test-Drive 5thru
5thru offers QSR restaurants with drive-thrus a way to validate and try the technology. QSR Magazine's "2018 QSR Drive-Thru Study" states, "Most major quick serves report about 70 percent of their sales going out the drive-thru window. However, average speed-of-service times — the time between the customer placing his or her order and then receiving it — have largely slowed across the board among the major players. This year's brands clocked in at an average of 234 seconds, compared with about 225 seconds in 2017." We believe we can improve this statistic.
5thru Drive-Thru Technology – Speed, Personalization & Upsell Opportunities
Know the customer before they get to the menu board
Provide a personalized experience
See current and past orders, make better upsell suggestions and increase ticket size
Reduce wait times, speed of service and payment processing to exceed customer expectations