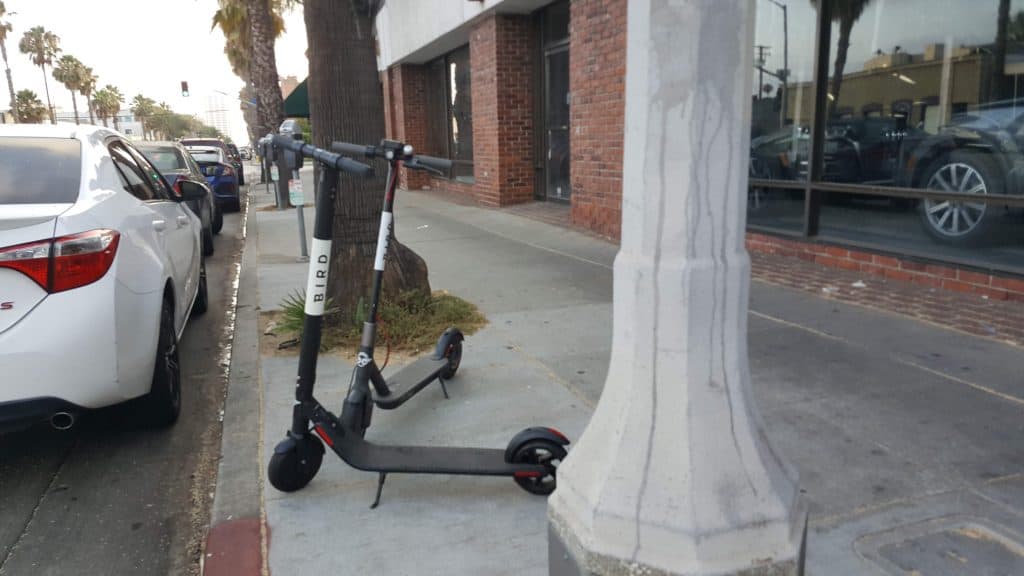 War is not healthy, safe or relaxing. The latest upheaval with e-scooter services in Los Angeles, Venice and Santa Monica in Southern California makes for high drama, trauma and twerks.
On Thursday, (August 16) I went to Santa Monica Beach because I really wanted a relaxing summer day by the ocean. The last time I went to Santa Monica Beach, I spent a lot of time worried about the massive swarms of electric scooters on the bike path. I had a feeling something was going to go wrong–very wrong. On August 14, both Bird and Lime bombed in warfare tactics. Because the city of Santa Monica was considering other e-scooter companies for the city's e-scooter contract, Bird and Lime shut down use of the services for one day. Lime  offered protester $5.00 credit. The committee decided not to chose Lime and Bird because the rated low for education and compliance with the law. When you start a war the attitude of the public and the police changes, very quickly.
On Santa Monica Beach the pedestrian walkway is right next to the bike path and I was pleased to see more bicycles than scooters on a weekday. In general weekdays are slower at the beach. However, the Santa Monica Police had stationed a local a information officer who was trying to remain calm and I heard him say, "They are  like motorcycles and they have to obey laws."
As I strolled down towards Venice Beach, where I saw a news reporter in a navy blue suit looking for a story. Just below the news reporter s was a sign placed by one of the other sides with the big word on it "TURD"in the same font style as Bird quoting a law stating that the bicycle path on the beach or not supposed to be used by motorized vehicles.
As I walked south toward Venice I started noticing some very interesting things there was a bird wrangler who somehow was able to ride one on the bottom and have 6 on top who must be a charger and some other things that could be pretty problematic in the future.
Venice has always been known to have gangs. If I were a gang criminal, I'd think I can't get a car on the boardwalk but e-scooters make for easy getaway vehicles and a menacing presence.. I saw what looked like th three teenagers of gang age and in somewhat gang attire moving north on the boardwalk on what could have been stolen Birds scooters.
I also saw an enterprising teenager who figured out how to use a Bird scooter as a kick Scooter and he was going downhill. That's the cheapest way to use them. I tried it myself using it as a Kick Scooter and it works while emitting a quiet beep.
Electric scooters companies were banned from Beverly Hills. The Los Angeles City Council has is evaluating if their mobility bike ban will apply to the e-scooter. This latest trend on shutting off the scooters to create problems is very risky. You really don't want police to get mad at you. As I was walking north up Main Street to return to my car I saw a police officer in the north bound lane yell at a Birder who ran a red light going south. The police officer couldn't really do anything because he had no way to turn around in to go after the Birder because there were several cars in front of him. Probably what will need to be done as the cities investigate is to have police officers on faster better scooters to patrol them and to ticket these people.
It has been widely reported that the Bird Scooters or Xiaomi scooters. However they have been out of stock for quite some time. I noticed that the Bird is pumping Segway Scooters that look even wider and with a stronger front heavier front piece and I took some photos. The
If you look on the bottom of the scooters they still have the labels. The model is the Segaway ES1 which is similarly prices to the Xiamoi scooter, has hard tires, brake wires inside the housing, rear brakes and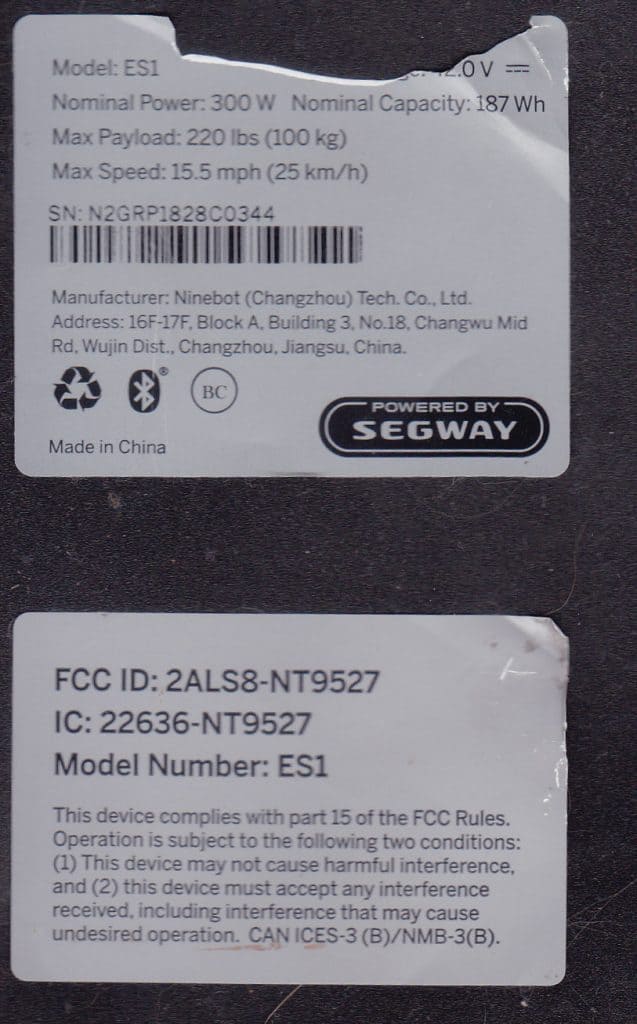 I was walking and driving around Santa Monica on what could be considered prime commuter hours. Bird and Lime claim e-scooters are for the commuters to get to their last mile there were some East-West users in downtown Santa Monica I saw maybe 10 but the primarily major use is for recreation on the beach.
Before heading home, I was just trying to take a few photogrpahs I was not looking for anything dangerous.
But as you can see in the photo, I found a Bird scooter with a seriously bald tire on it. Bald tires on cars are very dangerous they cause skidding and cause the driver to lose control.
On Thursday, Ford issued a 20-page is in the autonomous car space. Ford has a Mobility plan that uses last mile bikes and scooters. How can the public trust companies who play games and go to war with the public and don't even change their own tires?
Bird Graveyard, an Instagram account dedicated to all the nasty things people do to the Bird such as putting them on fire, putting them in the ocean, dunking them into portal toilets, throwing them off roof tops, dumping into the sewer/storm drain and humans crashing on the street. The account made it to the front page of the Los Angeles Times.  It also posted a video at Santa Monica City Halls which lead to "twerking" in front of the building—if someone can explain what twerking has to do with clean transportation, please write it in the comments below.
Meanwhile the rest of the country and in Los Angeles there are major concerns about the scooters. In Atlanta, a  patient, who wasn't wearing a helmet, according to a CNN op-ed piece  was a collision with a car sustained  traumatic brain injuries (TBI).
"It's been something that people have loved," Mayor Eric Garcetti told reporters last week. "But we're also seeing a lot more emergency room visits, and it's unsafe."
In an Op-Ed by the Los Angeles Times, it is suggested that there be designated parking areas for e-scooters like there are bicycles. What's your solution?  You are welcome to write it in the comments below. Please note our guidelines, we do not use vulgarities.