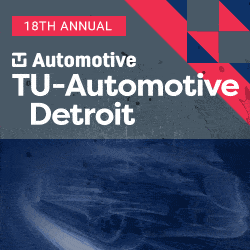 TU-Automotive Detroit starts on Wednesday, July 6 with an awards show the night before the event. Here's a round-up of the announcements and events taking place in Detroit on June 6-7. We will have more coverage later this week. There will some important automotive cybersecurity announcements which are embargoed until tomorrow or Thursday.
eSync Alliance OTA
The eSync Alliance is showcasing its over-the-air (OTA) update and real-time data solution at TU-Automotive Detroit 2018 (booth C227). Broad participation in this innovative OTA platform promises to save the automotive industry billions of dollars annually. Interested parties are invited to visit the booth and learn more.
The eSync Alliance is a global initiative that is working to bring the benefits of OTA updates and real-time device data to companies across the automotive sector. Through the standardization of common architecture and APIs, and building a network of cooperating suppliers, eSync is creating a multi-vendor compatible pipeline for secure, two-way, end-to-end OTA and data services for the connected car.
Core Alliance members include Alpine, Hella, Excelfore, Molex, Wipro and ZF. Membership is open to automakers, integrators/OEMs and hardware/software suppliers.
Rick Kreifeldt, Executive Director of the eSync Alliance, said, "By eliminating many costly vehicle recalls, OTA updates have the potential to save the auto industry billions of dollars each year. The eSync real-time device data capabilities enables many further functions such as Performance Monitoring and Predictive Maintenance, turning every ECU within the vehicle into an IoT device. We look forward to meeting many potential new members at TU-Automotive in Detroit in order to explain how the Alliance will enable them to generate maximum long-term value from the eSync technology."
AccuWeather & Garmin
AccuWeather and Garmin will be showcasing a new Garmin head unit (booth #236) featuring a demonstration of AccuWeather Go, AccuWeather's new waypoint-based API that seamlessly integrates the patented AccuWeather MinuteCast Minute-by-Minute hyperlocal forecast data with navigation services based on a user's specific route. This next level of personalized weather innovation provides actionable information helping drivers better understand and navigate the weather situations they are and will encounter on the road. AccuWeather Go's hyperlocal data runs dynamic analysis of road segments as short as 1km, updating every 1 − 2 minutes to address rapidly changing conditions up to 2 hours out.
PathPartner Facial Recognition
PathPartner Technology, a product R&D and engineering specialist, demonstrates its latest innovations in facial recognition and analysis, and automotive vision at booth A-42 in TU-Automotive that will be held on June 6-7, 2018 at Detroit. These innovations coupled with PathPartner's technology service offerings enable automotive OEMs and suppliers to embed intelligent technologies in a cost efficient, flexible and accelerated manner.
PathPartner's demonstrations at TU-Automotive 2018 include:
A low complexity yet robust CNN architecture based face recognition system, suitable for first generation processors with CNN support
Advanced facial landmark detection and tracking algorithms that form building blocks for solutions such as driver drowsiness detection, audience classification in retail and eye gaze tracking in gaming/AR/VR
Automotive vision solutions such as traffic sign recognition, vehicle detetcion and pedestrian detection on leading automotive grade SoCs and vision processors
PathPartner is product R&D and engineering specialist.
Arbe Robotics Demo
Arbe Robotics demonstrates to the media and analysts its 4D high-resolution imaging radar to the mobility industry. This breakthrough is set to disrupt autonomous vehicle sensor development and represents a significant step toward mainstreaming fully autonomous vehicles.
Arbe Robotics' proprietary, patented, radar processing method is a full-stack 4D imaging system. It provides a cost-effective, long-range, high-resolution radar solution, enabling Level 3 automation, as well as level 4 & 5 fully autonomous driving. The company's platform implements two advanced technologies to create a full, comprehensive sensing solution for vehicle autonomy: ultra-high-resolution radar and Simultaneous Localization and Mapping (SLAM). TU Automotive Detroit – Stand B79
Molex 10 Gbps & Next Gen USB
Molex – a leading supplier of high-speed technology innovation – is meeting the increased demand for in-vehicle processing power by providing an end-to-end Ethernet-based solution that operates at high bandwidth across multiple hardware and software components. A fully-integrated platform provides industry standards-based, scalable and agile networks in the vehicle and beyond to the cloud.
Molex will demonstrate its most recent development – a connected vehicle technology ecosystem which includes a high-speed 10 Gbps automotive Ethernet backbone solution that integrates highly reliable signal integrity, prioritization, scalability and security – at TU-Automotive 2018 on June 6-7, 2018 in booth C225 at the Suburban Collection Showplace in Novi, Mich.
IT is an in-vehicle network solution that features a fully functional 10 Gbps Ethernet backbone with secure over-the-air updateability for software and firmware, helping avoid the need for vehicle recalls and enabling in-vehicle diagnostics over IP. By investing in key technologies and working alongside industry-leading suppliers and collaborators, Molex has proven that complete end-to-end signal integrity within a full vehicle network is not only possible, but also commercially viable.
Molex will also highlight its next-generation line of in-vehicle USB Media Modules and Smart Chargers designed to fit into limited space and connect consumer devices to the vehicle with automotive-grade durability. Additionally, Molex experts will be on hand in booth C225 to demonstrate and discuss these latest solution
Green Hills Software
Green Hills Software, t will showcase their industry-leading technology for automotive electronics and secure IoT devices as a Gold Sponsor at TU-Automotive Detroit. They will showcase solutions for securing the connected car, creating trusted autonomous vehicle intelligence, and consolidating complex automotive cockpit software in safe and secure domains.
At the Green Hills booth #B157, the company will demonstrate securely consolidated Linux/Android infotainment applications run alongside safety-certified dashboard functions in scalable Integrated Cockpits. Also on view is the Green Hills/ANSYS Autonomous Vehicle Platform is a model-based simulator and code generator that helps autonomous vehicle projects bridge the gap from R&D to ASIL-certified production deployments.
In a Dodge Ram 1500 truck, the INTEGRITY RTOS and its Multivisor virtualization extension are the trusted foundation of the software-defined cockpit, allowing ISO 26262-certified applications to safely and securely coexist with Android, with freedom from interference on a single R-Car H3 SoC. Highlights include multiple screens for 3D instrument cluster, navigation, driver facial recognition, live system diagnostics, shared GPU and OpenGL.
The Renesas and Green Hills Connected Cockpit Vehicles will be demonstrated in the Renesas Zone in the parking lot during show hours and at the GENIVI Automotive Networking Reception at the Michigan Beer Company on June 6 from 6:00pm to 9:00pm.
Green Hills Software Presentations at TU-Automotive
Presentation – Building Automotive Security from the Inside Out
Joe Fabbre (Green Hills Software)
Wednesday, June 6 – 4:10pm – 4:40pm
Panel – Building the Autonomous Vehicle
Dan Mender (Green Hills Software), Alex Barth (Mapbox), Dr. Wei Luo (DeepMap), Curtis Hay (General Motors), Clint Wheelock (Tractica)
Wednesday, June 6 – 5:30pm – 6:00pm
Roundtable – The Secure Connected Car
Chuck Brokish (Green Hills Software), Stefan Gudmundsson (u-blox)
Wednesday, June 6, 1:15pm – 2:00pm: Join Green Hills Software and u-blox for a roundtable on how to create the un-hackable Secure Connected Car Gateway.
Solace Discussion and Booth
At TU Automotive, Solace's Chief Technology Officer Shawn McAllister will present on the topic: Critical Considerations for Scaling Your Connected Car Platform. Shawn will discuss the importance of understanding the backend technology behind your connected car platform, and how it will ultimately make a huge impact to business' top and bottom lines. Shawn will provide an overview of how to make it work – in real time, at scale, and with performance and reliability. He'll also discuss common issues when connecting tens of millions of vehicles, real-world examples of architectures that work, and key attributes of platforms that address today's needs and lay the foundation for tomorrow's requirements. Also at Solace's booth (#C234) they will show their recent innovations in powering the technology behind 1.5 million connected cars in Singapore, and how they are enabling transportation agencies to collect real-time data from connected vehicles and roadway infrastructures like traffic lights, gantries and parking meters.
TomTom News
TomTom (TOM2) and what3words announces that they will collaborate to bring what3words addressing to TomTom's customers globally.
what3words is a simple way to talk about location. The world is divided into a grid of 3m x 3m squares and each square is assigned a unique 3 word three-word address. As such, what3words is the perfect complement to TomTom's existing maps, allowing people to accurately find any location and share it more quickly, easily and with less ambiguity than any other system.  The 3 word address for TomTom's head office, for example, can be found at ///pancake.climbing.beaker. The easy-to-use addressing system works well in areas where traditional maps and addressing don't – for example, off-road locations, and countries without standardized addressing systems such as India and the Middle East.
TomTom also launches a new navigation app that can be mirrored to Toyota vehicles' in-dash screens using SmartDeviceLink (SDL) technology – a first for both TomTom and Toyota. The TomTom Navigation App is available at no extra cost to Toyota drivers in Argentina, Brazil and Paraguay – on both iOS and Android™ phones.
When connecting the smartphone to the car, the driver can see the TomTom Navigation App, and interact with it directly on the car's screen – allowing for safer driving. This is enabled by SDL – an app mirroring technology that uses a standard set of protocols and messages that connect applications on a smartphone to a vehicle head unit. It is open source and is backed by a consortium made up of large automakers and suppliers including TomTom.