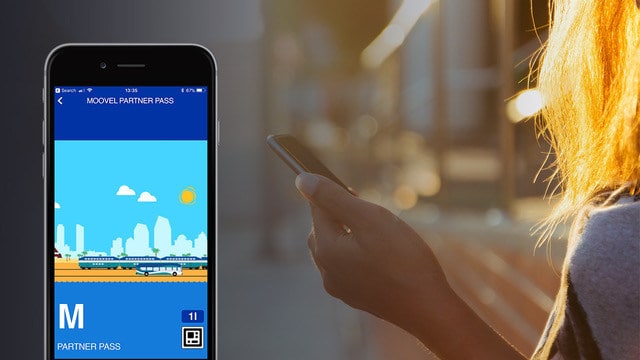 To help transit agencies, employers and universities increase ridership and streamline ticketing, moovel announced Monday the launch of FareShare, a new system that will allow riders to access transit benefits, reduced fares and discounted tickets from their mobile devices.
FareShare streamlines the process of delivering transit benefits to riders and offers new opportunities to incentivize and promote transit use. The mobile app and online system eliminate the need to distribute and track physical transit passes, offering riders a better experience and reducing operational costs for transit agencies and their partners.
"Transit benefits and reduced fares are great ways to promote ridership, but we've heard from transit agencies, employers and universities that use plastic passes, ticket books and stickers that they can be a headache to manage and distribute," said Nat Parker, moovel North America CEO. "By digitizing transit benefits, we have the opportunity to reduce administrative costs while improving the experience for riders. And as more transportation options are available at the touch of a screen, convenience is key."
Transit agency officials and others attending the APTA Fare Collection/Revenue Management Conference in Jacksonville April 9-11, 2018 are invited to preview FareShare at moovel's Innovation Hub, located at the Hyatt Regency.
A large portion of the transit population uses transit benefits, and FareShare offers riders a seamless way to claim rewards in a digital world. In addition to transit agencies, FareShare will be available to universities, employers and other organizations that offer transit benefits. Over time, retailers will also be able to use FareShare to offer customer incentives and drive foot traffic, while public officials will have access to better data to manage and improve transportation systems. Ultimately, FareShare will reduce monthly commuting expenses and deliver cost-savings by limiting the misuse of transportation benefits.
moovel N.A. LLC, a part of moovel Group GmbH, enables seamless multimodal experiences and connected transit commerce through mobile applications. moovel is the leading North American provider of mobile ticketing applications that allow riders to book and pay for public transit tickets via their smartphone. Led by CEO Nat Parker, moovel is headquartered in Portland, OR.
moovel Group GmbH, a wholly owned subsidiary of Daimler AG, has made it its mission to simplify mobility in cities. It is working on an operating system for urban mobility that offers access to suitable mobility options and paves the way for a future with autonomous vehicles. moovel acts as a partner to cities, transport associations and customers. moovel is represented in the German market with the moovel app.