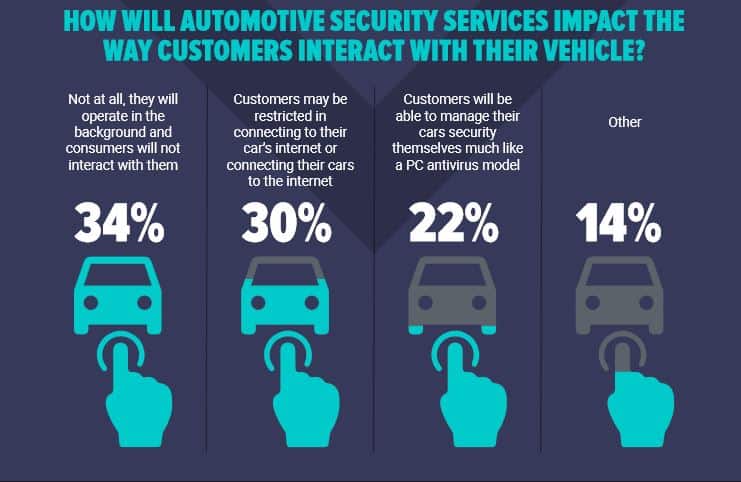 TU-Automotive released a results from a survey about automotive cybersecurity.  This year, on June 6-7 in Novi Michigan there will be a cybersecurity track at TU-Automotive Detroit, our readers receive a $100 discount using the  AUTOCC100 when you register you get an additional $100 off any of the tracks when you register(scroll down the page to see the cbyersecurity conference).
TU-Automotive Cybersecurity Conference is co-located at TU Automotive Detroit. Apply technology and best  practices to deliver robust security defenses and processes – this is where automotive and cybersecurity experts come together. Attendees will meet over 150 dedicated cybersecurity executives and be able to access to the 3200+ attendees at TU-Automotive Detroit. Industry members can plan cyberescurity strategies and access over 20 presentations, panels and workshops .
Speakers include:
Joseph Buck, Product Cybersecurity Autonomous Vehicle, General Motors.
Faye Francy, Executive Director AUTO-ISAC.
Benedikt Brecht, Principal Investigator at Crash Avoidance Metrics Partnership (CAMP).
Srini Adiraju, Director, Cyber Security at Visteon.
Greg Basich, Senior Analyst – AMCS at Strategy Analytics.
Pete Bigelow, Transportation Technology & Mobility Editor at Car & Driver.
Barbara Ciaramitaro, Professor, Information Technology and Cybersecurity, Director, Center for Cybersecurity at Walsh College.
Joe Fabbre, Director of Platform Solutions at GreenHills Software.
Gail Gottehrer, Partner at Akerman.
Matt Jones, SVP Software Engineering at Hyperloop One.
Ted Guild, Research Staff at MIT.
Pierre Girard, Solutions Security Expert Automotive and Mobility at Gemalto.
Denis Cosgrove, Principal Commercial Solutions at Booz Allen Hamilton.
Zack Hicks, Senior Vice President and Chief Information Officer/ Chief Executive Officer and President at Toyota Motor North America/ Toyota Connected, Inc.
Aaron Guzman, Cyber Safety Advocate at I Am the Cavalry.
Alan Hall, Senior Communications Manager, Autonomous Vehicles and Electrification at Ford Motor Company.
Stacy Janes, Chief Security Architect at Irdeto.
Fabian Koark, Principal Consultant at Invensity GmbH.
Michelle Krebs, Senior Analyst Autotrader.
Roger Lanctot, Director Automotive Connected Mobility Strategy Analytics.
Sam Lauzon, Automotive Cybersecurity Software Developer, UMTRI.
Todd Lawless, Automotive Cyber Security Specialist, Continental.
Stephen Lesh, Head of Vehicle Programs at Uber ATG.
Scott McCormick, President at CVTA.
Dariusz Mikulski, Senior Research Scientist U.S. Army TARDEC.
Michael Morgan, Partner Co-Leader, Global Privacy and Cybersecurity McDermott Will & Emery LLP.
Martin Rosell, Managing Director at WirelessCar.
Paul Sanderson, Cyber Security Senior Technical Specialist SBD Automotive.
Jorge Shimabukuro, Chief Security Architect, Visteon.
Vishnu Sundaram, Vice President HARMAN International.
Geoff Wood, Director, Cyber Security at HARMAN
Highlights from the survey include:
69 % believe that all stakeholders involved in securing connected and autonomous vehicles should share the burden of creating a secure vehicle.
24% believe it is the sole responsibility of the automaker to secure the car they produce.
66% replied to no to the question "Are automakers doing enough to secure connected & autonomous vehicles?"
What is the biggest hurdle to solving automotive security?
30% of all respondents agree that a lack of industry standards.
20% of all respondents agree adequate security technology for cyber-physical system security.
27% agree cross industry collaboration.
11% concur the lack of education of the partners and customers of OEMs.
9% believe a lack of cybersecurity experts.
What should be the top priorities for developing cyber secure automotive systems?
38% Developing global standards and best practices.
19% Information sharing and collaboration.
19% Investing in cybersecurity technology.
9% Better education within teams and for suppliers.
3% Developing vulnerability disclosure programs.
2% Recruiting the right talent.
7% Other.
Read survey stats here.  Register for TU-Automotive Detroit use the code  AUTOCC100   for a $100 discount.