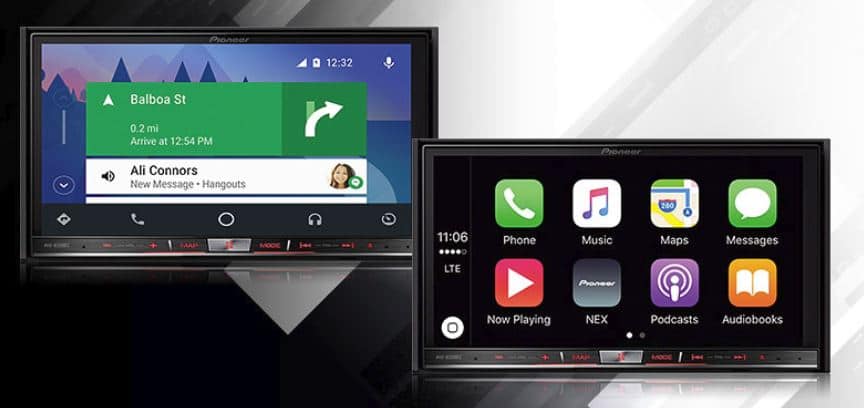 Pioneer Electronics at CES 2018 is revealing two prototype in-dash multimedia
receivers, future additions to its popular NEX lineup, the double-DIN 7″ LCD
AVIC-W8400NEX and AVH-W4400NEX. Designed to showcase the future of wireless
connectivity and smart home integration, Pioneer and a Google Brand Ambassador are
teaming up to demonstrate Android Auto Wireless and Google Assistant.
"Our future NEX multimedia receivers represent our next major implementation of
smartphone connectivity," said Ted Cardenas, vice president of Pioneer Electronics
(USA) Inc. "Android Auto Wireless provides all the features and functionality of
Android Auto with the added convenience and simplicity of a wireless connection.
Google Assistant, now on Android Auto, lets drivers keep their hands on the wheel
and use voice actions to manage tasks while staying focused on the road."
Android Auto is a simpler way to use the Android platform in the car. With larger
touch targets, a simplified interface, and easy-to-use voice actions, it's designed
to minimize distraction with driver safety in mind.1 Android Auto Wireless
eliminates the need for users to consciously plug in and connect, providing the
additional convenience of simply leaving their phone in their pocket, bag or
wherever they carry their Android device.
Google Assistant lets the user have a conversation with Google to get things done in
his or her world. Google Assistant works with more than 1,000 smart devices from
more than 150 popular brands, making it easy to control things around the user's
house just by voice. Google Assistant meets users where they are, on the phone, at
home and now in the car.
In 2015, Pioneer was the first aftermarket manufacturer to integrate Android Auto
capability in its in-dash receivers. Pioneer's integration of Android Auto in both
the currently available line-up and future products enhance the feature's
functionality and improves the overall user experience:
For greater sound quality, each unit comes with a microphone that makes it
easier to pick up the commands of the driver or passenger and all answers are pumped
out of the car speakers.
In addition to saying "Hey Google" out loud, users also have the option to
access Hey Google three more ways, hitting the hard home key of the unit, tapping on
the microphone of the Android Auto user interface, or tapping on the voice
assistance via the steering wheel controls.
Advanced sound reproduction options to enhance listening experience:
Built-in Auto EQ and Auto Time Alignment provide customized audio adjustments
for the driver2
Multi-band Graphic Equalizer with touch panel swipe setting and built-in high/low
pass crossover with expanded adjustable crossover points and slopes
 Advanced Sound Retriever
7-inch LCD touchscreens makes accessing and controlling Android Auto icons
simpler, and maps and navigation is easier to view