CES 2018 will feature over four hundred automotive vehicle technology exhibitors as well as many speakers, demonstrations, parties and events. New this year is CES Smart Cities to show smart cities ecosystems. There will also be track demonstrations of autonomous driving and test drives around Las Vegas hotels. Many of the nominees of the Tech CARS Awards will be on display. This year we have received more invites than ever before to look at the latest in car tech that will probably not be available for two-to-three years on the road. Tech and automotive companies participating include Ford, Toyota Research Institute, Renesas, Clarion, AEye, Veoldyne, Innovusion, TetraVue, TriLumina, Fisker Emotion, Faurecia, Airbiquity, BlackBerry, Honda, Denso, Hyundai, Solo, Magna, Mistsubishi Electric, Mercedes-Benz, Bosch, Karamba, Continental, On Semi, Magna, Osram Aptiv/Lyft and Alps. We rounded up all the announcements and then put them in this order:
Speakers
Autonomous Technology
LiDAR
NEW Vehicle Debuts
Autonomous Rides
Networking Products
HMI Systems, Cockpit Demos & Concept Vehicles
Security
Pep Com Digital Experience – will feature many connected and autonomous car displays.
Owned and produced by CTA, CES 2018 runs January 9-12, 2018, in Las Vegas, Nevada. Most Vehicle Technology will be in the North Hall, while Smart Cities will be at the Tech East at the Westgate (new this year). CTA now states that there will be over 400 vehicle-related exhibitors making the automotive footprint at CES the fifth largest stand-alone auto show in the U.S. The Gold Lot will be offering autonomous rides, demos and displays.
Please Note: we are adding new CES announcements every day to make this the most comprehensive list of connected, self-driving and autonomous tech announcements. Please check back for more automotive CES information.
1/7/2018: We updated this to include the latest release from AEye LiDAR,  Velodyne LiDAR, new product autoaid a camera system that retrofits into head lamps of any car Intel/Mobileye and NXP/AutonomouStuff.
Read our Cheatsheet Map to all the companies mentioned in this article.
1/5/2018: We updated this to include Ouster LiDAR, Faurecia/Amazon, Jeep Wrangler, Valeo, Seeing Machines, TetraVue Partnerships and  BlackBerry/Molex partnerships.
1/4/2018: We updated this with news of Hyundai, Qualcomm, Tata Elxsi, Kia EV concept, Luxoft, Cinemo and ON Semiconductor.
Automotive Keynote Speakers: Hackett, Zimmer & Chao
Ford Motor Company's President and CEO Jim Hackett will keynote, speaking about mobility solutions and smart cities at Tuesday, January 9. Last year, Ford's former CEO Mark Fields spoke at CES last year.
Lyft's John Zimmer, co-founder and president, will speak at the 2018 Leaders in Technology (LIT) dinner on Jan. 10.  Zimmer will explore America's third transportation revolution and how the upcoming shift from car ownership to transportation as a service will shape the future of our cities and communities.
United States Secretary of Transportation Elaine L. Chao will be headlining the Smart Cities at CES 2018 conference programming on Jan. 10 at 10:30-11:00 AM PT at Westgate, Level 1, Pavilion 9. Secretary Chao and Gary Shapiro, president and CEO of the Consumer Technology Association (CTA) – the owner and producer of CES – will have a candid conversation about the intersection of technology and disruptive innovation transforming cities, making transportation safer, improving efficiencies and connecting Americans and American business to greater opportunity.
The 5G Mobile Innovation keynote will be moderated by SDxCentral Editor-in-Chief Sue Marek and feature Baidu Vice Chairman, Group President and COO Dr. Qi Lu; Qualcomm Technologies, Inc. Executive Vice President and Qualcomm QCT President Cristiano R. Amon; and Verizon EVP, President of Global Networks and CTO Hans Vestberg. The keynote titled Mobile Innovation – How 5G Will Enable the Future, will focus on innovations which will be enabled by a successful global roll-out of 5G networks, such as: self-driving vehicles, is at 10 AM Wednesday, Jan. 10, 2018, at the Venetian Palazzo Ballroom.
AIG's Lex Baugh
American International Group,  announced that Lex Baugh, CEO of North America General Insurance, and Gaurav D. Garg, CEO of Global Personal Insurance, will present at the Consumer Electronics Show in Las Vegas, Nevada, on Monday, January 8, 2018, from 3:30 – 4:30 p.m. (Pacific Time).
During CES Research Summit, AIG will discuss the findings of its report, "Future of Mobility and Shifting Risk." The study explores where liability for autonomous and driverless vehicles may lie as this new technology takes to the road. Mr. Baugh and Mr. Garg will explore the study's U.S., U.K. and Singapore results, providing insight on road users' attitudes toward autonomous vehicles, including comfort levels in sharing the road with driverless cars and trucks, safety, and other risk considerations and benefits.
Autonomous Self-Driving Tech
According to CTA's Self-Driving Vehicles: Consumer Sentiments, most consumers are excited about the benefits of self-driving vehicles and almost two-thirds want to swap their current cars for completely self-driving vehicles. CES 2018 will showcase the automotive industry on the verge of a revolution and vehicle tech making re connected.
LIDAR Technology
Leddar Tech 3D Solid-State LiDAR/IC
At CES 2018, LeddarTech will be presenting the LeddarCore LCA2, the industry's first 3D solid-state LiDAR (SSL) integrated circuit (IC) enabling mass production of automotive LiDARs, in the Leddar Ecosystem pavilion.
The LeddarCore ICs generate up to 245 000 digitized waveforms per second, from nearly 1.3 billion samples and as many sample-based arithmetic operations. These waveforms are further processed using LeddarTech's proprietary signal processing algorithms, which perform over 25 billion operations per second; this produces a rich LiDAR data set enabling the most advanced ADAS and autonomous driving applications.
LeddarTech will be joined in its pavilion by many Leddar Ecosystem members who supply various specialized components, software and systems for use in the design of SSLs based on LeddarCore ICs.
These exhibiting members include: Osram, Hamamatsu, Trilumina, Renesas, IDT, Blackberry QNX, OPTIS, dlhBowles, AutonomouStuff and Mov'eo.
Infineon: Radar, LiDAR & ToF Tech
At CES  2018 Infineon Technologies AG  will demonstrate how its innovations are making life easier, safer and greener in Booth MP 26065, South Hall 2 of the Las Vegas Convention Center. Infineon's radar, LiDAR and ToF technologies are the center of advanced automotive sensor systems. The company will show how control electronics and power conversion technologies are making tomorrow's network on wheels safe, reliable and green thanks to technologies such as 77 GHz radar and LiDAR 3D camera sensors for driver monitoring, and AURIX solutions for advanced driver assistance systems.
Renesas Dibotics Demos 3D SLAM (Tech CARS Nominee)
Tech CARS Award Nominee, Renesas Electronics Corporation and Dibotics, a pioneer and leader in real-time 3D LiDAR processing, announced their collaboration to develop an automotive-grade embedded solution for LiDAR processing used in advanced driver assistance systems (ADAS) and automated driving applications. The jointly-developed solution will enable system manufacturers to develop real-time 3D mapping systems with high level functional safety (FuSa) and low-power consumption.
Unlike existing approaches, Dibotics' Augmented LiDAR software realizes 3D SLAM technology that only requires data from the LiDAR sensor to achieve 3D mapping. It does not require additional input from IMUs, GPS, or wheel encoders (Note 2), which eliminates extra integration efforts, lowers bill-of-material (BOM) costs and simplifies development. In addition, the software realizes point-wise classification (Note 3), detection and tracking of shape, speed, and trajectory of moving objects, and Multi-LiDAR fusion.
The high-performance capabilities of the R-Car SoC enables it to run Dibotics' Augmented LiDAR software. The R-Car has low power consumption and also meets the ISO 26262 (ASIL) FuSa standard for high functional safety. Renesas R-Car is part of the ground-breaking Renesas autonomy™ Platform for ADAS and automated driving that delivers total end-to-end solutions scaling from cloud to sensing and vehicle control.
Dibotics will demonstrate the Augmented LiDAR solution during CES 2018 (Central Plaza North Hall, CP-5, France Auto Pavilion).
AEye iDAR
Another Tech CARS nominee AEye Inc, demonstrates iDAR, a new form of intelligent data collection that enables rapid, dynamic perception and path planning. AEye's iDAR (Intelligent Detection and Ranging) combines the world's first agile MOEMS LiDAR, pre-fused with a low-light camera and embedded artificial intelligence – creating software-definable and extensible hardware that can dynamically adapt to real-time demands. iDAR will deliver higher accuracy, longer range, and more intelligent information to optimize path planning software, enabling radically improved autonomous vehicle safety and performance at a reduced cost.
A key feature of AEye's iDAR platform is its software-definable hardware. iDAR adds three feedback loops that do not exist today: one at the sensor layer, one at the perception layer, and another with path planning software. By enabling customizable data collection in real-time, the system is able to adapt to the environment and dynamically change performance based on the customer's/host's applications and needs.
Update 1/7/2018: AEye today announced the AE100, a leading-edge robotic perception system for autonomous vehicle, ADAS, and mobility markets. The AE100 is a solid state, cost-optimized system based on AEye's iDAR technology, a new form of intelligent data collection that enables rapid, dynamic perception and enhanced path planning. iDAR (Intelligent Detection and Ranging) integrates three core components: the world's first agile MOEMS LiDAR, pre-fused and bore-sighted with a low-light HD video camera; distributed artificial intelligence; and software-definable and extensible hardware. This powerful combination enables iDAR to dynamically adapt to the real-time demands of automated and autonomous vehicles.
The AE100 will be available beginning this summer to OEMs and Tier 1s launching autonomous vehicle initiatives. The company's iDAR Development Partner Program is currently available to partners interested in integrating iDAR into their products. At CES in Las Vegas this week, AEye will be offering private demonstrations and in-car on-road experiences by appointment. To schedule a demonstration, visit AEye at booth #2506.
With its embedded intelligence, the AE100 offers key advantages:
Coverage: The AE100 can use dynamic patterns for mapping the environment, as it is not tied to one fixed mode. In evaluating any given scene, AE100's software definable scanning delivers more than 10x the 3D resolution over legacy systems.
Speed: It's 3x faster, and does not miss any objects between scans while identifying and solving any temporal anomalies. This reduces scan gaps, resulting in more than 25 feet of faster response distance at average highway speeds – more than two car lengths.
Range: The AE100 extends effective range at comparable resolution by 7-10x over currently deployed LiDAR systems.
AEye's iDAR technology mimics how a human's visual cortex focuses on and evaluates potential driving hazards. Using a distributed architecture, iDAR critically and dynamically assesses general surroundings, while applying differentiated focus to track targets and objects of interest. This scalable, software-definable approach enables iDAR to deliver higher accuracy, longer range, and more intelligent information to optimize path planning software – enabling drastically improved autonomous vehicle safety and performance at a reduced cost.
Velodyne
Vote for Best LiDAR in Tech CARS Awards.
Velodyne will showcase demonstrations of new LiDAR sensors that expand the use case for autonomous vehicles, allowing for rapid mass deployment and increased testing in new environments. The company also showing its products at Pep Com.
Update 1/7/2018: Velodyne news release updated information about its display. One can see a demonstration of the Solid State Velarray, the smallest LiDAR, in a form factor that can be concealed behind windshields, within roof lines, and in bumpers. It is the highest performance LiDAR for ADAS today, with quality standards of a Velodyne.
Velodyne VLS-128: Velodyne's recently announced VLS-128™, with its industry-leading 128 laser channels and best-in-class sensing for autonomous vehicles, will showcase the trifecta of long-range, high-resolution, and the widest surround field-of-view. It's the only sensor that allows autonomous vehicles to function just as well at highway speeds as low-speed urban environments.
Velodyne Velarray: Enabling hidden sensing for today's driven vehicles, the solid-state Consumer Grade™ Velarray™ features an industry-leading 3D field of view in a form factor that can be concealed behind windshields and in roof lines and bumpers. It's a cost effective, high performance, and rugged LiDAR sensor in a small form factor, designed to be suitable for a range of ADAS and autonomous applications.
Velodyne VLP-16: One of the most widely adopted LiDAR sensors ever made has received a 50 percent price reduction, allowing for its continued expansion into a wide variety of industries, including automotive, freight, industrial, robotics, and more. The new pricing is a direct result of large-scale manufacturing at Velodyne's Megafactory, which leverages advanced automation to build a range of LiDAR sensors.
Within its booth, Velodyne will showcase a range of exhibitions and demonstrations from its broad ecosystem of hundreds of customers and partners that are developing new use cases for advanced LiDAR technology, including NAVYA, AGC, AutonomouStuff, Paracosm, mapper.ai, and Deep Maps.
NAVYA's AUTONOM CAB, the first fully autonomous taxi on the market, will be shown for the first time in the United States in Velodyne's booth. Able to carry 1-6 passengers, AUTONOM CAB revolutionizes mobility in cities worldwide by providing an intelligent transport service for individual trips in urban centers, while placing an emphasis on interactions and comfort. It is equipped with one of the most advanced sensor architectures on the market, with no fewer than 10 LiDAR sensors, six cameras, and four radar units. The NAVYA team can also be found at Tech East – Gold Lot – North Plaza NP-9.
AGC – a world-leading supplier of flat, automotive and display glass, chemicals, and other high-tech materials and components – will showcase windshield technology from its new WIDEYE task force, which is focused on autonomous vehicles. Combined with the Velarray sensor for an interactive demo in Velodyne's booth, WIDEYE's infrared transparent automotive glass provides an ADAS and autonomous solution that's fully protected and totally hidden inside the vehicle cabin.
DeepMap will showcase its high-definition (HD) mapping and localization platform for autonomous vehicles in Velodyne's booth. The company's maps empower autonomous vehicles with a precise understanding of their 3D environment, enabling safer and more reliable transportation.
Paracosm President Amir Rubin will showcase the integration of Velodyne's VLP-16 Puck sensor into PX-80, a handheld 3D scanner that captures three-dimensional documentation of large-scale indoor and outdoor spaces in minutes.
Mapper has created a globally scalable ecosystem for on-demand creation, validation, and maintenance of centimeter-accurate 3D Machine Readable (MR) maps, which will be shown in Velodyne's booth. Mapper acquires map data themselves, with a 100 percent coverage guarantee on public roads and delivers daily-updated maps to customers at a fraction of the cost of other methods without requiring any data back.
Innovusion LiDAR SDKs @CES
Innovusion, a privately held company based in Silicon Valley,  is introducing its ground-breaking LiDAR technology with the following industry leading features and functionality:
Resolution: provides near picture quality with over 300 lines of resolution and several hundred pixels in both the vertical and horizontal dimensions.
Range: detects both light and dark objects at distances up to 150 meters away which allows cars to react and make decisions at freeway speeds and during complex driving situations.
Sensor fusion: fuses LiDAR raw data with camera video in the hardware layer which dramatically reduces latency, increases computing efficiency and creates a superior sensor experience.
Accessibility: enables a compact design which allows for easy and flexible integration without impairing vehicle aerodynamics.  Innovusion's products leverage components available from mature supply chain partners, enabling fast time-to-market, affordable pricing and mass production.
The unique combination of capabilities makes the Innovusion image grade LiDARs an ideal choice for the level 4 and 5 autonomous vehicle and ADAS markets.  Like the transition from text to graphical devices in the computer and smart phone industries, it will enable an entire new range of applications.  Phased commercial rollouts are planned for 2018 and 2019. Innovusion is also launching a developer program at CES, and is accepting applications for integration kits from customers.
Ouster is In at CES & NAIAS
Ouster, a San Francisco-based developer of high performance LIDAR technology, will be demonstrating its technology at two major upcoming industry exhibitions this month: the Consumer Electronics Show (CES) in Las Vegas from January 9th – January 12th, and the North American International Auto Show (NAIAS) in Detroit from January 14th – January 18th. In addition, Ouster has launched a new price plan for its OS-1 sensors, offering reduced pricing for research & educational customers in an effort to support leading robotics research world-wide.
At CES, Ouster will host live demonstrations of an OS-1 sensor at its booth, and will also show new videos of the OS-1 on the road. Visit Ouster at booth #52903 in Eureka Park at Sands Expo, Level 1, Hall G.
4D Camera
TetraVue the leader in high definition 4D video light detection and ranging (LIDAR) technology, announced that the company will be demonstrating a full-motion 4D video camera at CES in the North Hall, Booth 9130. For the first time, the multi-megapixel resolution and motion capture accuracy of digital video are combined with the range capability of LIDAR. TetraVue adds an entirely new fourth dimension of depth to digital video with the ability to capture accurate depth information at the pixel-level. This new camera technology is poised to transform markets including autonomous vehicles, machine vision, factory automation and the entertainment industry.
With 100x more real-time spatial and motion data about the surrounding environment, AI-enabled ADAS (Advanced Driver Assist Systems) and autonomous driving can more quickly identify dangerous situations for a safer driving experience. In cinematography and AR/VR applications, depth information at the individual pixel level revolutionizes motion capture, digital asset acquisition and 4D visualization. TetraVue enables the rapid creation of virtual worlds from real-world scenes, transforming labor intensive manual approaches and dramatically reducing post-production time and cost. A better set of high definition machine vision "eyes" with accurate depth perception can help transform Industry 4.0 retooling of manufacturing and distribution.
TetraVue, the leader in high definition 4D LIDAR™ technology, announced partnerships with NVIDIA, CVedia and AGC/Wideye to highlight the benefits of TetraVue's groundbreaking high-resolution LIDAR for next generation ADAS and self-driving applications. The four companies will demonstrate the impact of TetraVue's 4D LIDAR 100x resolution advantage for the development of advanced autonomous vehicle systems at TetraVue's booth 6619 in the automotive North Hall at CES 2018.
 At CES 2018, TetraVue will have a live demonstration of their 4D LIDAR where attendees will witness the processing power of the NVIDIA Drive AI platform, which combines deep learning, sensor fusion and surround vision to accurately create a full 360-degree environment and produce a robust representation of static and dynamic objects surrounding the vehicle.
Cvedia will display their SynCity driving simulator for autonomous applications as seen by the TetraVue camera. AGC/Wideye, with their revolutionary new Infrared transparent glass, will show the future of LiDAR sensor integration by eliminating the costly and impractical external installation, in favor of the safe and effective mounting behind the windshield of a vehicle. The showcased ecosystem illustrates the power of increased LIDAR resolution to enable the next generation of automotive autonomy.
TriLumina VCSEL & 3D LiDAR
TriLumina will demonstrate multiple use cases for its innovative 940 nm VCSEL illumination modules, including a novel solid-state 3D LiDAR system powered by its illumination modules, which will be showcased at the company's Suite at the Westgate Hotel as well as in the Leddar Ecosystem Pavilion.
These advanced LiDAR systems on display will demonstrate the integration of TriLumina's illumination technology in LeddarTech's 3D LiDAR platforms. These highly optimized LiDAR reference designs, which leverage Leddar patented digital signal processing algorithms, accelerate the path to mass-market deployment of ADAS and autonomous driving applications by rapidly providing the reliable, high-performance, low-cost Solid-state LiDAR solutions required by Automotive OEMs.
TriLumina's new powerful illumination modules for 3D sensing will also be on display in their Suite at the Westgate hotel.  With their patented, high-density VCSEL arrays, low-cost, high-performance illumination for myriad use cases in 3D sensing can be realized.  The patented monolithic microlenses significantly reduce the size and cost for consumer and industrial applications.  The TriLumina illumination modules can be used in time-of-flight, flash or structured-light applications.
autoaid Auto Bulb Camera
CES 2018, Berlin-based start-up autoaid exhibits for the first time its patent pending Automotive Bulb Camera. The simple camera system, which can be retrofitted to virtually any car, is able to collect and analyze huge quantities of video data from real traffic events. This data is essential for the further development of autonomous driving. When using the new vehicle lamp, drivers also benefit from cutting edge assistance systems.
The autoaid Automotive Bulb Camera is a high-resolution camera which is integrated into a halogen or LED automotive lamp and is used in conventional car headlight lampholders (e.g H7 or H4). The system works quite simply on a plug-and-play basis. Further adaptation of the car for the purpose of retrofitting is not necessary. The original visual appearance of the vehicle is not altered. As a further component of autoaid's new telematics platform, the cameras record all traffic events and send them, coupled with the real driving behavior such as steering, braking and accelerating, as well as with the geodata, to the autoaid servers. There, object recognition software identifies the traffic participants, traffic lights, signs and much more. The result for the industry is a detailed, almost inexhaustible volume of data for the driving behavior of millions of car drivers. From the point of view of the end customer the solution also offers attractive retrofittable security systems such as a lane-keeping assistant or a collision warning system.
Moritz Funk is available at booth 2401 at CES 2018.
Autonomous Rides/Demos
At CES, Clarion will showcasing and providing real in-car demonstrations of its next-generation autonomous driving technologies, including:
Autonomous Valet Parking
Park by Memory
InfoSeat: advanced in-car HMI system with feedback to driver
Apple CarPlay and Android Auto Support
Aptiv Gives Autonomous Lyfts
Apitv and Lyft will be offering rides to twenty locations in Las Vegas from the Las Vegas Convention Center Gold Lot.  Before going on their ride, ,passengers will journey through an informative exhibit designed to showcase the positive impact automated cars will have on individual lives and communities. Once passengers get into their self-driving vehicle, there will be a safety driver in the front seat and an in-car host, who together will provide a safe, and educational, experience. The self-driving opportunity will be available to Lyft passengers in Las Vegas from Jan. 9 to 12, 2018.
Toyota Research Institute Platform 3.0 Integrates Chauffeur & Guardian into Design
Toyota Research Institute (TRI) will show its next-generation automated driving research vehicle, Platform 3.0, at CES, the new platform, which is built on a Lexus LS 600hL, combines greater technological capabilities with new harmonized styling that integrates the automated vehicle technology into the LS model's design. It will be on display in Toyota's CES exhibit in the North Hall of the Las Vegas Convention Center beginning Tues., Jan. 9.
TRI approached development of a new research platform with three core principles: (1) Elevate perception capabilities to be an industry pacesetter among automated vehicles; (2) Blend the sensing equipment into the vehicle design with a distinct appearance that is sleek and elegant; (3) Package the automated vehicle technology in a manner that is easy to reproduce for building a fleet at scale.
Platform 3.0 has a very sensor-rich package that makes it one of the most perceptive automated driving test cars on the road. The Luminar LIDAR system with 200-meter range, which had only tracked the forward direction on TRI's previous test platform, now covers the vehicle's complete 360-degree perimeter. This is enabled by four high-resolution LIDAR scanning heads, which precisely detect objects in the environment including notoriously difficult-to-see dark objects.
Shorter-range LIDAR sensors are positioned low on all four sides of the vehicle – one in each front quarter panel and one each on the front and rear bumpers. These can detect low-level and smaller objects near the car like children and debris in the roadway. The new platform remains flexible for incorporating future breakthrough technology as it becomes available.
DESIGN
TRI engaged the expertise of CALTY Design Research in Ann Arbor, Mich. and engineers at Toyota Motor North America Research and Development (TMNA R&D) to compact and conceal the sensors and cameras. They created a new rooftop weather and temperature proof panel, cleverly using available space in the sunroof compartment to minimize the overall height. Their ingenuity eliminates the look of equipment as bolt-on appendages and replaces the "spinning bucket" LIDAR sensor that has historically characterized autonomous test vehicles.
CALTY designed the confident image of the rooftop panel, defined as intelligent minimalism, which is inspired by off-road motorcycle helmets. The forward area has a crisp technical look that becomes more fluid and aerodynamic toward the rear of the car, unifying with the contour lines of the LS. The panel is embellished with chrome trim that runs along the side where it meets the roofline.
The vehicle's computational architecture for operating the automated vehicle components, which previously consumed nearly all trunk space, has also been consolidated. The electronics infrastructure and wiring in condensed into a small box exquisitely adorned with an LED-lit TRI logo.
PRODUCTION
Production of Platform 3.0 vehicles begins this spring. The Prototype Development Center at TMNA R&D headquarters in York Township, Michigan, which has expertise in low volume, specialized production, will create Platform 3.0 cars from stock Lexus LS models.
A share of the new test vehicles will be assembled with the dual cockpit control layout that TRI debuted last summer. This arrangement is for testing TRI's Guardian approach to automated driving, experimenting with effective methods to transfer vehicle control between the human test driver and the automated system while maintaining a safety driver as a backup. Single cockpit vehicles, like the one on display at CES, are used to test Chauffeur, which is TRI's approach to full vehicle automation.
Both Guardian and Chauffeur test vehicles use the same technology stack of sensors and cameras and similar software.
Toyota Research Institute is nominated for a Tech CARS Award.  Please vote either at the end of the is article on on the voting page.
FEV Taking Smart Vehicles to the Streets of Vegas
FEV will be demonstrating many of its smart vehicle technologies for the first time on the streets of Las Vegas during the upcoming Consumer Electronics Show (CES) in January 2018. The FEV Smart Vehicle Demonstrator vehicle will be shuttling customers to and from its hospitality suite in the Bellagio Hotel to the Las Vegas Convention Center. The FEV Smart Vehicle targets SAE Level 5 automated driving with extensive use of sensors and interfaces, including radar, GPS, differential GPS, multiple cameras, and LIDAR, allow the vehicle to travel safely without a driver on a designated roadway, reacting to its environment due to the fusion of sensor information.
Vehicle driving commands are managed through FEV-developed algorithms comprising three main parts: perception, planning, and decision/action. The vehicle is equipped with two types of embedded controller hardware, allowing for the testing of varying control algorithms.
Communication between the vehicle and its environment, an essential capability, is enabled through vehicle-to-everything (V2X) connections.FEV North America, Inc. (FEV) has integrated MicroToken Exchange (MTE) technology developed by Eclypses, the leading MicroEncryption systems developer, into its FEV Cyber Security Gateway, providing the strongest security for end-to-end communications.
The technology will be demonstrated at the FEV Hospitality Suite at the Bellagio Hotel.
Phantom Auto at CES.  Phantom Auto will demonstrate a tele-operated service which provides autonomous vehicles with human remote steering capability should the passenger or vehicle deem it necessary. Its low latency technology allows humans from remote regions to override the self-driving car if it encounters an experience it doesn't recognize.
Personal Electric Octocopter
Workhorse Group Inc. an American technology company focused on providing sustainable and cost-effective solutions to the commercial transportation sector announced it will showcase three technology firsts at 2018 CES, the SureFly Octocopter, the world's first personal electric octocopter; 2) the W-15 electric pickup truck, the first electric pickup from an OEM; and the new N-Gen low delivery-platform electric delivery van.
SureFly engineers have re-invented the helicopter. The SureFly aircraft is designed to be safer and more stable than a typical helicopter. Its redundant design includes four propeller arms, two fixed contra-rotating propellers on each arm, a backup battery pack to drive the electric motors in the event of engine failure and a ballistic parachute that safely brings down the craft if needed. The SureFly is currently securing flight approval from the FAA.
Faurecia @CES for the First Time Connected Predictive Cockpit
Faurecia will participate for the first time at CES  with a booth located in Las Vegas Convention Center Central Plaza CP3.
Among the technologies and services highlighted for Smart Life on Board and Sustainable Mobility are:
A fully integrated cockpit of the future demonstrating versatile architecture and smart systems for a safe and personalized user experience for different driving modes.
A connected seat cover for driving professionals incorporating sensors for health and wellness data monitoring. This closed loop comfort system monitors occupant status and applies therapies to improve well-being.
An infotainment interface integrating voice controlled access to services with Parrot Automotive's multi-platform system.
Real time data emissions monitoring with state-of-the-art sensor technology helping cities and fleets to improve air quality.
A selection of start-ups working with Faurecia will also be present on the booth.
Marc Carrel-Billiard, Senior Managing Director Accenture Global Technology Research & Development, and Ned Curic, Vice President Amazon Automotive Alexa, will join Patrick Koller, CEO of Faurecia, in presenting the latest developments in the Cockpit of the Future at Faurecia's CES press conference at Mandaly bay on Monday at 4:00 pm. Faurecia will share its latest ground-breaking developments and pioneering partnerships with Amazon and Accenture to accelerate the new business models and user experiences for the Cockpit of the Future.
Airbiquity OTA Update Solutions
Airbiquity, provider of connected vehicle services, will demonstrate its OTAmatic™ over-the-air (OTA) software update and data management solution, offering to customers, analysts, and press at the Aria hotel and multiple technology partner exhibit locations.
Airbiquity's OTAmatic solution addresses the increasing complexity of conducting automotive OTA by efficiently and securely orchestrating and automating multiple electronic control unit (ECU) software updates and data management for connected vehicles with highly refined vehicle and device targeting, discrete policy and privacy controls, secure edge analytics framework for upgradable analytics, and end-to-end "defense in-depth" security approach to name a few of the innovative product's features.
To learn more about Airbiquity OTAmatic, or to arrange an in-person demonstration at CES 2018, contact sales@airbiquity.com.
Continental Flexible Self-Driving Platfrom
At CES 2018, Continental will showcase a highly flexible computing platform for automated driving systems and the processing of large amounts of data.
Developed by Continental's San Jose Research & Development Center in collaboration with Xilinx, San Jose, the Assisted & Automated Driving Control Unit will enable Continental's customers to get to market faster by building upon the Open Computing Language (OpenCL) framework, standardized by the Khronos Group, a consortium focused on the creation of open standards for graphics, media and parallel computation. The platform provides heterogeneous computing options such as a Central Processing Unit (CPU), Graphics Processing Unit (GPU), Digital Signal Processor (DSP), and now with the help of Xilinx, a Field Programmable Gate Array (FPGA), which offers a customizable hardware acceleration solution. This provides developers the ability to optimize software for the appropriate processing engine or to create their own hardware accelerators with the Xilinx programmable logic. The result is the ultimate freedom to optimize performance, without sacrificing latency, power dissipation, or the flexibility to move software algorithms between the integrated chips, as the project progresses.
The Assisted & Automated Driving Control Unit offers a scalable product family for assisted and automated driving fulfilling the highest safety requirements (ASIL D) by 2019. This platform will provide a variety of communication ports for the necessary data flow. During development, Continental distinguishes between an Assisted Driving Control Unit and an Automated Driving Control Unit. The first product of this scalable family is a module for advanced driver assistance systems that offers a complete, cost-optimized package connecting sensors and actuators with the perfect balance of central intelligence, safety, and security. The control unit for automated driving follows closely behind as a powerful computer that meets the requirements of highly automated driving, with a special focus on new digital structures for comprehensive environment modeling, ASIL D and real-time performance, while providing a heightened ease of use to developers by offering an OpenCL path into every chip present
Visit Continental at CES 2018, Tuesday, January 9 through Friday, January 12 at North Hall Booth #6106.
BlackBerry Security Framework DENSO HMI
BlackBerry will be displaying its security framework. BlackBerry and Denso's integrated HMI platform will enable a system which optimally cooperates and coordinates various HMI products such as display and sound inside the automobile cockpit at a low price. The joint solution will appear in successive car models scheduled for release after 2019.
The integrated automotive HMI platform is believed to be the first of its
kind and was developed by DENSO and BlackBerry using BlackBerry's QNX Hypervisor for virtualization and the Intel Atom® processor A3900 series. The hypervisor technology enables the independence of several operating systems with different characteristics and controls the integration with one microcomputer.
As part of the integrated HMI, Intel provided a unique and revolutionary graphics sharing technology, which has been optimized for the Intel Atom processor A3900 series. The technology can prioritize and operate 3D workloads important for safety over less important workloads on the same processor.
DENSO and BlackBerry will have booths at the Consumer Electronics Show (CES) in Las Vegas held from January 9 – 12, 2018. The companies' integrated HMI platform will be displayed in DENSO's booth located at 1917, North Hall.
Molex announced it has teamed up with BlackBerry Limiteon the development of a 10 Gbps Ethernet Automotive Networking platform designed to increase data bandwidth in intelligent connected vehicles. Integrating very reliable high-speed data transmission, prioritization, scalability, and BlackBerry's advanced embedded security solutions, the new Molex network platform will be officially unveiled at the 2018 Consumer Electronics Show (CES) in Las Vegas.
Based on a future-ready, automotive-grade high-speed gateway, the powerful 10 Gbps Ethernet platform supports legacy and evolving media modules, peripherals, and other embedded software systems. This comprehensive platform leverages the following BlackBerry technologies:
BlackBerry QNX Neutrino SDP 7.0 RTOS, which provides high performance and enhanced kernel-level security through an array of features including microkernel architecture, file encryption, adaptive time partitioning, a high-availability framework, anomaly detection, and multi-level policy-based access control.
BlackBerry Certicom's Managed PKI (Public Key Infrastructure) Service, to securely provision, authenticate, and communicate between modules and other vehicle ECUs and peripheral devices connected to the network. In-vehicle connections can be made via Ethernet IP-based devices or LIN, CAN, USB, and other supported legacy communication protocols. As part of the PKI, BlackBerry Certicom is providing an efficient and powerful Elliptic-Curve Cryptography (ECC) solution that can also be extended to communications between the vehicle systems and the cloud.
NXP Automoative Drive Kit
NXP Semiconductors N, has announced the availability of the NXP Automated Drive Kit, a software enabled platform for the development and testing of automated vehicle applications. The kit enables carmakers and suppliers to develop, test and deploy autonomous algorithms and applications quickly on an open and flexible platform with an expanding ecosystem of partnersaking on automated drive applications requires easy access to multiple hardware and software options. NXP has opened the door to hardware and software partners to foster a flexible development platform that meets the needs of a diverse set of developers. The NXP Automated Drive Kit provides a baseline for level 3 development and will expand to additional autonomy levels as the ecosystem's performance scales.
The first release of the Automated Drive Kit will include a front vision system based on NXP's S32V234 processor, allowing customers to deploy their algorithms of choice. The Kit also includes front camera application software APIs and object detection algorithms provided by Neusoft; a leading IT solutions and services provider in China and a strategic advanced driver assistance system (ADAS) and AD partner to NXP. Additionally, the Kit includes sophisticated radar options and GPS positioning technology. Customers choose from various LiDAR options and can add LiDAR Object Processing (LOP) modular software from AutonomouStuff, which provides ground segmentation and object tracking.
NXP at CES
NXP and AutonomouStuff will display the Automated Drive Kit on a Lexus RX 450h at CES 2018 at booth CP-25.
Networking Products
Molex Connected Vehicle Ecosystem
In a continuing effort to support the future of connected mobility, Molex will unveil its latest solution offering at CES 2018, Molex will offer private demos of its connected vehicle technology ecosystem which includes a 10 Gbps automotive Ethernet backbone solution that fully integrates highly reliable signal integrity, prioritization, scalability and security.
Molex will unveil an in-vehicle network solution that will be available for live demonstration, featuring an interactive touch screen and LED lighting to clearly display the connections and flow of information inside the vehicle. The fully functional 10 Gbps Ethernet backbone features secure over-the-air updateability for software and firmware, helping avoid the need for vehicle recalls and enabling in-vehicle diagnostics over IP. By investing in key technologies and working alongside industry-leading suppliers/collaborators, Molex demonstrates that complete end-to-end signal integrity within a full vehicle network can be achieved.
Also on display will be the next-generation line of in-vehicle USB Media Modules and Power Delivery Smart Charge Modules designed to fit into limited space and featuring automotive-grade durability.
Honda Robotics Concepts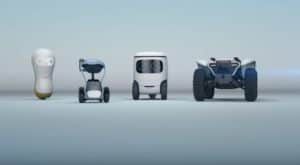 Honda will unveil its new 3E (Empower, Experience, Empathy) Robotics Concept at CES 2018, demonstrating a range of experimental technologies engineered to advance mobility and make people's lives better. Expressing a variety of functions and designs, the advanced robotic concepts demonstrate Honda's vision of a society where robotics and AI can assist people in many situations, such as disaster recovery, recreation and learning from human interaction to become more helpful and empathetic. The Honda press conference is scheduled for January 9, 2018, at 11:00 a.m. PST (LVCC, North Hall – 7923).
As part of the 3E Robotics Concept, Honda will reveal:
3E-A18, a companion robotics concept that shows compassion to humans with a variety of facial expressions
3E-B18, a chair-type mobility concept designed for casual use in indoor or outdoor spaces
3E-C18, a small-sized electric mobility concept with multi-functional cargo space
3E-D18, an autonomous off-road vehicle concept with AI designed to support people in a broad range of work activities
In addition to the suite of robotics concepts, Honda will showcase its Mobile Power Pack World, which includes a portable, swappable battery pack for electric vehicles, and a re-charging system for use at home, recreation or during a natural disaster. The Mobile Power Pack World at CES will also exhibit a battery exchanger concept that can store and charge mobile power packs.
Hyundai Mobis
Hyundai Mobis a leading global automotive supplier based in Seoul, will showcase its vision of the car of the future, as well as the technologies and innovations it is developing for it, at CES 2018 in Las Vegas.
Visitors will be able to experience Hyundai Mobis's New Mobility Experience first-hand via experiential technology such as holograms and augmented reality in two distinct Experience Zones.
The Infotainment Experience Zone will feature a model car showcasing Hyundai Mobis's next-generation human-machine interface concepts, made specifically for vehicles with Level 4 or higher autonomous driving. These include a centralized information HUB display and controller that enable media consumption while driving, an intelligent virtual secretary, and a display pop-up steering wheel—a novel rectangular steering wheel that disappears when the car is in autonomous mode and reappears when the driver needs to take over control. Other innovations include biometric identification and vitals measurement, front seats that rotate backward during autonomous driving and a hologram display.
At the center of the Eco-friendly Experience Zone is a suite of technologies and interfaces that will eventually make the car of the future greener than ever. These include Steer By Wire and Brake By Wire technologies that use electric systems to control steering and braking, respectively; the e-Damper, a motorized damper that converts kinetic energy from shock absorbers into electric energy; and vehicle-to-grid technology that allows cars to connect to, and communicate with, the power grid, allowing the vehicle to be a power source if need be.
Hyundai Mobis will welcome visitors from January 9-12 at booth 3931 in the North Hall of the Las Vegas Convention and World Trade Center.
Hyundai Mobis, will unveil the latest life-saving DDREM (Departed Driver Rescue & Exit Maneuver) technology at CES. DDREM uses three checkpoints to determine if a driver begins to depart from the driving role, and requires assistance. If departure is detected, DDREM technology takes over driving controls, scans the environment and guides the vehicle to a safe stopping point away from traffic.
DDREM uses three identifiers to determine if a driver is at risk and compares driver actions to a database of drowsy driving incidents. Checkpoints include:
An infrared camera scans driver facial and eye movements to determine if the driver keeps eyes forward, changes blinking patterns or exhibits other signs of drowsiness. The camera used by Mobis has been tested and can "see" through glasses with ease;
If DDREM determines that the driver has fallen asleep, it transitions vehicle control to level 4 autonomous driving mode. The software uses vehicle hardware already found on most new cars – including electronic brakes, electric power steering, radars, and camera systems – as well as basic mapping and GPS to identify a safe place for the vehicle to pull over and stop. In most "rescue" cases, DDREM will only need to function in full autonomy mode for less than a mile, minimizing the exposure and complexity of the self-driving system.
The current DDREM development has a limited role detecting and rescuing in response to drowsy driving, but the company plans to research and evolve the concept to operate in other critical situations, including medical incidents such as seizures, fainting, and cardiac arrest. As autonomous technology advances, DDREM capabilities could include guiding the vehicle directly to a nearby hospital in the case of a medical emergency.In addition to DDREM, Hyundai Mobis will showcase new technology in autonomous driving, green technology and infotainment at CES, including e-corner module, pop-up steering wheel and hologram virtual secretary. Visitors will be able to experience these technologies in interesting and unique methods, including video, demonstration vehicle and AR.
Gentex
Gentex Corporation will demonstrate new connected car features, digital rear vision systems, biometric-based vehicle security, in-vehicle payments with Visa, and other emerging automotive features ready for automaker implementation into new vehicles.
HomeLink Connect™, an all-new car-to-home automation system that allows drivers to operate home automation devices from the vehicle's touchscreen.
The latest automotive biometrics system that authenticates the driver and delivers custom security, comfort and convenience features.
The next-generation Full Display Mirror®, an intelligent rear-vision system using a camera and mirror-integrated video display to optimize a vehicle's rearward view.
A new camera monitoring system using multiple cameras and displays to enhance the driver's side and rear vision.
Dimmable glass for privacy, combiner head-up displays and sensor shrouds.
Custom-designed vehicle demonstrator that provides an immersive connected-car experience, including a demonstration of in-vehicle payments using Visa payment solutions.
North Hall, booth #9123.
NEW Vehicles Debuts
SOLO Electric Vehicle
For the first time, ElectraMeccanica Vehicles Corp. will showcase its new SOLO electric vehicle (EV) at the annual Consumer Electronics Show (CES). Electra Meccanica will be exhibiting as part of the Innovation and Tech Today Pavilion located in the Central Hall at booth #18215 in the Las Vegas Convention Center.
The SOLO's single seating configuration provides a unique driving experience, taking into consideration the nearly 80 percent of Americans commuting to work alone in their personal vehicle1. With a 100-mile range, the SOLO's lithium ion battery system requires only three hours of charging time on a 220-volt charging station or outlet, and approximately twice that on a 110-volt system. The SOLO retails at $15,500 USD, and interested consumers can place a fully-refundable.
Fisker Inc. and Quanergy Debut all-new Fisker Emotion
Fisker Inc., electric vehicle OEM, designer and manufacturer of uniquely stunning electric vehicles complemented with some of the longest EV ranges on earth, has officially announced it will showcase the all-new EMotion with Quanergy Systems, Inc. in booth #3315 at the upcoming 2018 Consumer Electronics Show (CES) in Las Vegas. In partnership with Fisker Inc., Quanergy Systems, Inc., the leading provider of LiDAR sensors and smart sensing solutions, will be integrating five of Quanergy's S3 LiDAR sensors into the Fisker EMotion which will be showcased as part of the vehicle during CES . CES will mark the first time media and showgoers will get an up close and personal look of Fisker's newest vehicle
The Fisker Emotion will be available in 2019 and will feature the Quanergy S3 LiDAR sensor and all autonomous features as part of an optional upgraded package for customers.
The Fisker EMotion luxury electric car, set for production in 2019, features design elements never before seen in the automotive
The first vehicle to be truly designed with an EV powertrain in mind: longer wheelbase designed for the world's largest EV battery pack, a stretched cabin for more interior space and
A much more dramatically sloping aerodynamic front-end with panoramic views of the road ahead.
The carbon rim wheels are sized to give the car the right body volume over the wheels with a powerful, timeless sculptured
The interior will redefine the way we think of a luxury car interior, incorporating the most advanced future technologies enhancing functionality and user
All with the most emotionally stunning style available on an EV
Fisker and LG Chem are ensuring that Fisker vehicles like the EMotion will leverage the power of the highest energy density cell in the world by using state-of-the-art NCM chemistry (developed by LG Chem).
2018 Jeep Wrangler
The all-new 2018 Jeep Wrangler, the most capable SUV ever, will make its way to the 2018 Consumer Electronics Show (CES) in Las Vegas loaded with a host of cutting-edge technology features, including the award-winning fourth-generation Uconnect system with an 8.4-inch display, 4G LTE connected services, enhanced processing power, multi-touch gestures, vivid imagery, sharper graphics and the ability to support smartphone integrations of Apple CarPlay and Android Auto. In addition, an all-new Jeep Adventure Reality app will debut for the 2018 Wrangler.
FCA US will also offer CES attendees an opportunity to experience advanced, intuitive technologies, including hands-on demonstrations of all-new features and connected services that include the debut of the all-new Jeep Adventure Reality app, Uconnect App Smartwatch Compatibility, Family Alerts, Drive 'n Save, Online Search for Uconnect navigation and the recently debuted Jeep skill for Amazon Alexa and Amazon Echo Dot Device.
North Hall #6306
LinkData EV
Beijing LinkData Technologies Co., Ltd, a high-tech enterprise in China's new energy industry, proudly introduced its latest electric car to be unveiled at CES. The company will debut U-bike, a neighborhood electric vehicle powered by Panasonic lithium-ion batteries with a width of 920mm and a 180-kilogram (396 lbs) only total weight, and a 100-kilometer (62-mile) driving range. Equipped with intelligent interconnection function and two sets of portable battery package, U-bike will redefine brand-new experience of short distance mobility. Utilizing the latest innovation and technology, U-bike is expected to be lightweight enough to provide more convenient and environmental-friendly solution for daily commute.
Test Drives by BYTON
Test drives of BYTON's new smart vehicle will be available outside the Las Vegas Convention Center starting on January 8. BYTON's booth in the North Hall of the Las Vegas Convention Center will be open to the public on January 9.
BYTON's smart intuitive vehicle features an all-new design and innovative human-vehicle interaction. Examples include:
Shared Experience Display: BYTON is equipped with multiple display screens, with the traditional center console replaced by a Shared Experience Display enabling content shown to be shared with other passengers in the car.
Human-Vehicle Interaction: In addition to voice recognition, touch control, biometric identification and necessary physical buttons, the car features proprietary Air Touch sensors, enabling front and rear passengers to control the Shared Experience Display with hand gestures.
BYTON Life Cloud Platform: This platform seamlessly connects a driver's or passenger's apps, data, and devices, allowing them to take full advantage of their travel time whether for work or entertainment. BYTON Life also provides personalized services and configurations that are automatically

adjusted to users'

preferences.
BYTON Intuitive Access: This advanced secure unlocking method uses facial recognition

cameras

to recognize the driver or passenger

 in unlocking

the door.
Interior and Exterior Digital Design: Among other digital design features, unique BYTON Smart Surfaces composed of front and rear LED lights and a luminescent logo can switch to different display modes to suit different driving scenarios.
BYTON's intelligent electric car will be manufactured at the company's plant in Nanjing, China and available in China in 2019. The car will be available in the U.S. and Europe in 2020.
Hyundai Personal Assistant
Hyundai will hold a news conference and Monday, and a round table for the media. It will have a booth in North Hall will displays focused on connecting future technology with evolving mobility challenges. Hyundai's next-generation hydrogen-powered fuel cell electric vehicle equipped with new Advanced Driver Assistance System (ADAS) technologies will be featured and its new name revealed.
The new fuel cell EV is the newest edition to the Hyundai's eco-vehicle portfolio and it will help to fulfill Hyundai's vision to offer clean mobility to the world.
In addition, Hyundai will connect its progress on hydrogen-powered mobility to hydrogen-powered applications in the home via a section of the booth dedicated to the Hydrogen Life Vision. Rounding out Hyundai's future technology demonstrations will be a reimagined view from the driver's perspective inside the Intelligent Personal Cockpit, featuring artificial-intelligence-enhanced voice recognition and vital sign-based wellness care, all from the comfort of the driver's seat.
At the press conference, Chris Urmson, the CEO of Aurora, will join key Hyundai executives as one of speakers to share details on the joint research and development of autonomous driving technology. During the exhibition following the press day, Hyundai will display its cutting edge technologies and products at booth number 6329 in the North Hall of the Las Vegas Convention Center.
Hyundai Motor Company is also expected to showcase Hyundai's "Intelligent Personal Agent," a voice-enabled virtual assistant system, will be deployed in new models set to roll out as early as 2019.
Co-developed by Hyundai and Silicon Valley-based SoundHound Inc., Intelligent Personal Agent allows drivers to use voice commands for many different operations and real-time data, which connected cars of the future demand.
The Intelligent Personal Agent is unique in that it acts as a proactive assistant system, predicting the driver's needs and providing useful information. For instance, the system may give an early reminder of an upcoming meeting and suggest departure times that account for current traffic conditions.
These personal features combine with an array of driver conveniences, such as the ability to make phone calls, send text messages, search destinations, search music, check weather and manage schedules. It also allows drivers to voice-control frequently used in-vehicle functions such as air-conditioning, sunroofs and door locks, while gathering various information about the vehicle. What's more, the Intelligent Personal Agent supports a "Car-to-Home" service, enabling the driver to control electronic devices at home with simple voice commands.
Kia Tech & EV Concept
Kia Motors will unveil a new all-electric concept car and present the brand's vision for future mobility at the 2018 Consumer Electronics Show (CES).
The electric vehicle concept features a never-seen-before human-machine interface (HMI) and an advanced new 'motion graphic' lighting system, previewing the potential for these technologies for market introduction in coming years.
Kia will reveal a range of new in-car features and innovations at CES 2018. Kia's interactive 'Beyond Autonomous Driving' exhibits combine existing and future technologies to outline the company's plans for vehicle autonomy and mobility, supported by the introduction of upcoming autonomous drive technologies.
Kia will present three interactive, cockpit-style exhibits designed to show how the company will incorporate new technologies to enhance communication and interaction between occupants and vehicles. These include new advanced driver assistance technologies and pioneering HMI functions, as well as the world's first in-car 5G connection.
Visit Kia Motors at CES 2018 oat LVCC, North Hall Booth #7029.
HMI Systems, Cockpit Demos & Concept Vehicles
DENSO's Future of Mobility, Connected Automated Driving
At CES, DENSO will present its future of mobility and connected and automated driving technologies.
DENSO focuses on developing technologies for safer, more comfortable and convenient mobility. Simulators at DENSO's CES booth will show how core connected and automated drive technologies and the concept of shared mobility deliver on this promise.
Connected car communications: DENSO's 5G-based high-speed and large-capacity communications systems are essential to achieve connected cars. DENSO's quantum computing algorithms also deliver crucial connected services, like solutions that alleviate traffic congestion.
HMI: DENSO's latest HMI technologies, such as organic EL display, manage and display information related to driving safety and cockpit environment to the driver using the safest, most appropriate device.
Enviroment Recognition.: DENSO's AI-powered technology adjusts the vehicle environment based on changing road conditions. DENSO will also exhibit automated driving technology that recognizes obstacles and movement of other vehicles to automatically determine the optimal route.
Magna's E-Drive
Magna's etelligentDrive systems will be on display at CES 2018. The company's e demonstration concept vehicle will be used to demonstrate different electric-drive (e-drive) concepts and systems, as well as demonstrate Magna's vehicle integration capabilities. The e1 system consists of one highly integrated e-drive system on the front axle and one on the rear axle with two electric motors (e-motors).
With this innovative approach, the demo car achieves superior longitudinal and lateral dynamics combined with excellent vehicle stability for more safety. Each e-drive system in the demo vehicle uses 140-kilowatt motors, adding up to an overall performance of 420-kilowatt peak. The e-motors are combined with a single-speed reduction-gear transmission and an inverter into a very compact package.
Magna twill showcase its latest electrification technology through its e1 demonstration concept vehicle. The e1 consists of one integrated e-drive system on the front axle and one on the rear axle with two electric motors (e-motors) providing superior longitudinal and lateral dynamics combined with excellent vehicle stability for more safety.
At CES 2018 #7506 in North Hall LVCC, attendees will see future mobility through the eyes of virtual reality.  Through virtual reality technology, attendees experience firsthand how an autonomous vehicle works. Virtual reality gives a unique opportunity to see the world through the "eyes" of some of the industry's most advanced solutions developed by Magna.Attendees can also design their own new mobility vehicle and take their bespoke design for a virtual test drive.
EB Embedded Software
EB – whose embedded software is in more than 90 million cars from companies like Audi, BMW, Ford and Mercedes-Benz – will be showcasing many of its software solutions that power automated driving features and bring augmented reality functionality into the car.
EB will be making an announcement at the show relative to its augmented reality software framework and how it simplifies the creation of AR functions in connected and autonomous vehicles. EB will also be making announcements at the show relative to its work with partners in the industry.
The EB booth will feature interactive demos of self-driving and valet-parking autonomous vehicles, with "ride-hailing" features, developed using EB software.
Mitsubishi Electric Connected Zone & Concept Car
Mitsubishi Electric Corporation  announced today that it will exhibit cutting-edge technologies and products, including its EMIRAI4 driving-assistance concept car for safer and more convenient transportation in the smart mobility era under the concept of "Make the move to mobility," at CES . Mitsubishi Electric will present its exhibits at booth No. 5609 in the North Hall.
Main Exhibits
Connected Zone
The EMIRAI4 smart-mobility concept car features next-generation driving-assistance technologies, including the latest human machine interface (HMI) technology for safer, more comfortable interiors, a driver-monitoring system with a wide-angle camera to watch for drowsiness and other potentially unsafe driving behavior, and an indicator system that projects illuminated warnings onto street surfaces to intuitively alert other vehicles and pedestrians of the car's intended actions, such as opening a door.
The demonstration car for the North America market will feature an advanced HMI that recognizes individual drivers by voice and provides front passengers with diverse assistance, foretelling increasingly closer links between people and their vehicles. Mitsubishi Electric will also present its safe-driving concept of using airborne drones to provide vehicles with data about road conditions when driving in bad visibility like off-road.
A video will introduce the possibility of a value-added advanced location based service which is being discussed between HERE Technologies and Mitsubishi Electric.
Autonomous Driving Zone
This zone will showcase the xAUTO-US autonomous-driving vehicle, which is undergoing field testing on actual expressways.
A demonstration video will introduce driving tests that are being conducted on public roads to confirm Mitsubishi Electric's self-sensing and network-based driving technologies.
The zone will also showcase high-accuracy 3D mapping technologies and products.
Mercedes-Benz MBUX
Mercedes-Benz will focus on the world premiere of the completely new infotainment system in the guise of the Mercedes-Benz User Experience (MBUX) at the Consumer Electronics Show in Las Vegas. Featuring innovative technology based on artificial intelligence and an intuitive operating system, the MBUX is set to usher in a new era in terms of infotainment and Mercedes me connectivity. To ensure a pioneering in-car experience, the technology will be introduced as standard equipment in the next compact car generation as early as 2018.

The official unveiling of the new infotainment system takes place on January 9, 2018 as part of the press conference being held at 12 noon (PST) at the 613 m Mercedes-Benz stand.
In addition, Mercedes-Benz will display the Concept EQA, smart vision EQ fortwo and the Mercedes-AMG Project ONE show cars in Las Vegas.
Moreover, Las Vegas is also the final stop of the "Intelligent World Drive", with which Mercedes-Benz has tested automated drive functions on all five continents. This has enabled the experts to gather information from all over the globe in real traffic conditions in order to adapt future automated and autonomous driving functions to the country-specific user and traffic situations. The automated test drives in the greater Los Angeles area, and subsequently at the CES in Las Vegas, concentrated on the assessment of driving behaviour in dense city traffic and on highways. The "Intelligent World Drive" test vehicle, which is based on the S-Class Saloon, will be on display at the CES.
Mercedes-Benz will display the Concept EQA, smart vision EQ fortwo and the Mercedes-AMG Project ONE show cars in Las Vegas.
AGL Latest Update
Automotive Grade Linux (AGL), a collaborative cross-industry effort developing an open platform for the connected car, today announced that the latest release of the AGL infotainment platform, Unified Code Base (UCB) 5.0, will be available later this month and on display at CES 2018 along with more than 20 other AGL demos by member companies. Automotive Grade Linux is an open source project hosted at The Linux Foundation.
Green Hills & ISS Connected Cockpit, V2X, Autonomous & Secure Codes
Green Hills Software and INTEGRITY Security Services (ISS), a Green Hills Software company, will showcase their industry-leading technology for automotive electronics and secure IoT devices. On display at Las Vegas Convention Center (LVCC), North Hall #3110
Connected Cockpit Vehicle – Sit in the Renesas-Green Hills vehicle and immerse yourself in an Android environment that's safely consolidated with safety-critical vehicle functions
V2X Certificates – See the first turn-key production service that securely generates and distributes vehicle-to-everything certificates between vehicles and smart cities
Autonomous Vehicle Software Simulation & Code Generation – The ANSYS ADAS/AV Open Simulation Platform is a model-based simulator and code generator that helps autonomous vehicle projects bridge the gap from R&D to safety-certified production deployments
Secure Code Signing and OTA – Boot securely, prove authenticity, securely deliver OTA updates, extend rights management and protect in-app purchases
Secure Connected Car – The u-blox secure telematics platform delivers high-speed connectivity options for IVI, automated driving and V2X by safely consolidating Linux applications with safety and security-critical vehicle functions and services
Safety-Certified Instrument Cluster Wall of Fame – See four of our key graphics partners on the newest automotive multicore processors
Bosch Connected Home, City, Security, & CCU
Bosch will be demonstrating that the smart, connected city of tomorrow is already a reality in the Central Hall, Booth #14028.
Solutions for connected cities: safety, energy efficiency, reduced stress Taking the hassle out of parking: Bosch will be presenting various solutions for connected and automated parking. Community-based parking enables drivers to find what has become a rarity in residential areas and city centers: an empty parking space. As they drive by, cars automatically recognize and measure the size of the gaps between parked cars, transmitting the data in real time to a digital parking-space map that enables drivers to locate vacant parking spaces. Automated valet parking from Bosch goes one step further – the car parks itself without any action needed on the driver's part. Drivers leave their vehicle at the entrance to the parking garage and send a corresponding command from a smartphone app: the car then searches for a vacant spot on its own and parks there without assistance. One factor making fully automated parking a reality is smart parking-garage infrastructure, which connects with the vehicle's on-board software.
Intelligent power supply with DC microgrids: Microgrids are relatively small, independently controlled energy-management systems that can power large buildings.
Early warning about flooding: A new Bosch solution offers early warning about potential flooding by digitally monitoring the levels of rivers and other bodies of water close to cities in real time.
Vivatar app – a digital guardian angel: Going jogging in the dark, or heading home on foot after the last bus has already left is enough to make anyone feel uneasy. This is where the Bosch Vivatar app comes in. People can use it to contact friends and family and be digitally "escorted" home via GPS.
Bosch start-ups will be presenting their connected-city solutions. One of these is the MyScotty app, which allows users to access as well as pay for local shared mobility services from different providers. BePart, is still in the development phase. It is designed to enable cities and towns to avoid congestion by diverting traffic during rush hour.
Next-generation cockpit: Bosch delivers a futuristic cockpit for the next generation of motor vehicles. Visitors to CES 2018 can experience an end-to-end display and control concept live in a demonstration vehicle based on a Cadillac Escalade. With its five interconnected displays, the interface between the driver and the vehicle (HMI) makes driving a safer and less stressful experience, and allows drivers to concentrate better on the traffic situation. A cockpit camera and voice-recognition software recognize the driver and automatically load not only their personal settings for the seat and mirrors, but also their favorite playlists. Without having to take their eyes off the road, drivers can operate the infotainment, navigation, and air-conditioning systems either via voice control or a touchscreen with haptic feedback.
Bosch will present mobility services for connected vehicles in a new concept car based on a BMW i3. Bosch's connected show car encapsulates the future of mobility. The show car is always online, and connected to its surroundings as well as the owner's smart home. This connectivity allows drivers to reserve the nearest e- bike or close the windows at home if it starts to rain – tapping or swiping the screen is all it takes.
Bosch's new CCU connectivity control unit is an on-board unit that regulates vehicle-to-x (vehicle-to-everything) communication. The vehicle-to-x CCU is compatible with all current communication standards such as wifi, LTE, or DSRC, and can be deployed anywhere in the world.
Securing connected vehicles: The IDPS intrusion detection and prevention system developed by Escrypt, a Bosch subsidiary, uses dedicated security software to recognize and analyze potential attacks on connected vehicles, allowing effective countermeasures to be taken rapidly to protect individual vehicles or an entire fleet. Escrypt, a security specialist, will also be debuting a data-security solution for vehicle-to-x communication at CES 2018.
Connected Signals Provides Traffic Signal Data for Autonomous Driving
Autonomous vehicles have to know what traffic lights are doing. Timely, accurate, predictive signal information is essential for both safety and navigation. Connected Signals, Inc., the leading provider of real-time, predictive, traffic signal information, is meeting this need by assembling nationwide and global traffic light data sets using existing infrastructure. The company's approach provides the only economically feasible way to achieve broad coverage in the short timeframe dictated by anticipated connected and autonomous
Members of the press, automakers, and others CES attendees will be offered in-vehicle demonstrations on Las Vegas streets to see for themselves how traffic light information can make driving safer, more fuel efficient, and more pleasant. The demonstration highlights functionality to help drivers to anticipate and respond appropriately to upcoming signal changes, and let them get into the "green wave", transitioning multiple intersections without having to stop at red lights.
Connected Signals currently has live data in four of the top fifteen North American cities, including New York City, Montréal, Phoenix, and San José, and will be displaying live, real-time data from Manhattan traffic lights at their booth, #5000.
Qualcomm
Qualcomm reveals it Connected Automotive Experience; North Hall #5616. Qualcomm will also participate in multiple panels on 5G as well as V2X.
Autonomous Vehicles in the Cities of Tomorrow: This session will explore the development of autonomous technology to-date and what's on the horizon over the next 5 to 10 years. We'll dive into the application and deployment of AVs in urban environments, and what capabilities will be needed at Wednesday, January 10; 9:30 a.m. at Westgate, Level 1, Pavilion 9. Nakul Duggal, VP of Product Management, Automotive, Qualcommm Technologies, Inc. will be speaking. Qualcomm will be holding a news conference on Monday.
Security
Honeywell Karamba
Honeywell and Karamba Security tannounced the two companies are collaborating at the upcoming 2018 Consumer Electronics Show in Las Vegas to showcase an end-to-end automotive cybersecurity solution for monitoring and securing vehicle communications and reducing exposure to cyber threats resulting from increasing vehicle connectivity.
Honeywell Transportation Systems (TS) and Karamba Security are focused on pairing TS intrusion detection technology software and security operations centers with Karamba Security's electronic control unit (ECU) intrusion detection software. The collaborative effort highlights the value and effectiveness of an end-to-end protection system which can be adapted to any car's ECU to help ensure passenger vehicle safety and security from detection to prevention and reporting.
The two companies are able to monitor and validate in real time software commands and data generated by more than 100 million lines of code governing modern vehicle operation.  Honeywell's intrusion detection software monitors in-vehicle network communications and anomalies, while Karamba Security's ECU software prevents an attack on any given module. Detected anomalies and prevented attacks are transmitted in either real time or via a scheduled download to Honeywell security operation centers for analysis and remediation.
Continental Intelligent Concept
The Continental Intelligent Intersection concept is an end-to-end solution: It comprises the complete sensor set for an intersection, the powerful sensor fusion algorithms which generate the environment model, and the Dedicated Short-Range Communication (DSRC) units, both at the intersection, and in the vehicle. One focus is on protecting vulnerable road users (VRUs) such as pedestrians and cyclists. Another focus is on supporting drivers in complex intersection traffic scenarios like preventing left-turning cars from running head-on into traffic that approaches from behind an occlusion.
Sensor-based driver assistance makes driving safer and more comfortable with each step of advancement. However, pedestrians or cyclists, for instance, will only benefit from this technology if they can be detected by vehicle sensors. Sensors such as camera, radar and Lidar are positioned at the corners of an intersection. They detect every road user in the area and deliver a list of relevant objects to a sensor fusion unit, which generates a comprehensive 360° environmental model. Relevant objects are then broadcasted via Dedicated Short-Range Communication to every vehicle approaching the intersection. A DSRC control unit in the vehicle receives the messages, then an onboard system checks it for relevance and triggers and appropriate action if a critical situation is recognized. "Active monitoring of intersections provides the driver and/or intelligent vehicle system a very important time advantage to take action, even before a problem would have otherwise become
Nissan Connected Car to Brains
Nissan unveiled research that will enable vehicles to interpret signals from the driver's brain, redefining how people interact with their cars.
The company's Brain-to-Vehicle, or B2V, technology promises to speed up reaction times for drivers and will lead to cars that keep adapting to make driving more enjoyable.
Nissan will demonstrate capabilities of this exclusive technology at the CES 2018 trade show in Las Vegas. B2V is the latest development in Nissan Intelligent Mobility, the company's vision for transforming how cars are driven, powered and integrated into society.
This breakthrough from Nissan is the result of research into using brain decoding technology to predict a driver's actions and detect discomfort:
By catching signs that the driver's brain is about to initiate a movement – such as turning the steering wheel or pushing the accelerator pedal – driver assist technologies can begin the action more quickly. This can improve reaction times and enhance manual driving.
By detecting and evaluating driver discomfort, artificial intelligence can change the driving configuration or driving style when in autonomous mode.
Other possible uses include adjusting the vehicle's internal environment, said Dr. Lucian Gheorghe, senior innovation researcher at the Nissan Research Center in Japan, who's leading the B2V research. For example, the technology can use augmented reality to adjust what the driver sees and create a more relaxing environment.
Nissan's B2V technology is the world's first system of its kind. The driver wears a device that measures brain wave activity, which is then analyzed by autonomous systems. By anticipating intended movement, the systems can take actions – such as turning the steering wheel or slowing the car – 0.2 to 0.5 seconds faster than the driver, while remaining largely imperceptible.
Nissan will use a driving simulator to demonstrate some elements of the technology at CES, and Gheorghe will be on hand to answer questions. Nissan's display will be at booth 5431 in the Las Vegas Convention Center's North Hall.
Intel Automotive @CES
Intel CEO Brian Krzanich will iick off CES 2018 with Pre-Show Keynote, Monday 6:30 at the Monte Carlo.  Intel will sponsor the Bits and Bytes Demo Breakfast for the media on Tuesday, January 9 at the Intel booth for media to get an exclusive preview of the demos and experiences across 5G, autonomous driving and artificial intelligence. You must have a media badge to enter the show floor. The breakfast will run from 7:30 a.m. – 9:30 a.m. followed by a Mobileye news conference
wiht Amnon Shashua, Mobileye CEO.
Intel will be particpating in many panels as well as speakers at its booth such as the Intel Spotlight Session with Prof. Shai Shalev-Schwartz, VP Technology at Mobileye, Wednesday 1/10 12:30- Intel Booth #100048, Central Hall South, LVCC
Media Lounge: Located on the second floor of the Intel booth, the media lounge is the perfect getaway stocked with coffee, water, WiFi and comfortable seating.
Intel Booth Demonstrations, Intel Booth #100048, Central Hall South, LVCC
Autonomous Driving Mega Experience
Data is what enables the autonomous vehicle (AV) to see, hear and otherwise experience what's goingon in the world around them. Through projection mapping and haptic seat effects, we will take visitors on an immersive ride through the eyes of an autonomous vehicle and showcase the various facets,sensors and technology that gives the vehicle focused but near-human processing power to make the nuanced realities on the road manageable. Participants will journey through a world where vehicles will do the work of driving, freeing up time for us to do other things. The demo has seating for up to 9 guests, and is designed to feel like a car. Much like an exhibit in a museum or ride in a theme park the demonstration will mimic key sensations like wind and city experiences to help attendees better understand how data moves through the car and the city.
Inside Autonomous Experience
Discover how Intel and Mobileye are accelerating automated driving solutions from the individual components to the larger flow of data. This experience allows attendees to approach an acrylic transparent vehicle with sensors that respond to their presence. Display monitors built in the car will highlight Intel, Mobileye and other technologies that make autonomous driving safe and reliable today as well as highlighting In-Vehicle Experience (IVE). The combination of Intel and Mobileye allow Mobileye's leading computer vision expertise (the "eyes") to complement Intel's high-performance computing and connectivity expertise (the "brains") to create safe and affordable automated driving solutions from the bumper to the cloud.
BMW Autonomous Driving Test Vehicle
Visit the booth to see BMW's 7 series AD vehicle and learn how Intel technology powers BMW to deploy their fleet of autonomous vehicles.
Mobileye Booth 3510 North Hall
Mobileye / Intel Technology Solution for L4/L5
Explore the full integrated Mobileye / Intel solution intended to bring safe, scalable autonomous vehicles into mass production. From the sensor configuration to the software stack to the crowdsourced mapping to the safety validation to the silicon, get an opportunity to view the full productionintent system in a digestible way through the tablets at the front of the Mobileye booth. Also, explore Mobileye aftermarket products that are bringing life-saving technology, as well as value dynamic data to cities and companies today.
There will also be another Inside Autonomous Experience presentation.
On Semi Conductor Demos Connected & Autonomous Driving Tech
At Venetian 3302 – ON Semiconductor will be focusing on its technologies that are enabling the progression towards fully autonomous driving and increased electronic content in connected vehicles at the 2018 Consumer Electronics Show (CES) in Las Vegas. Among multiple exhibits will be interactive demonstrations that will allow visitors to experience and understand the company's industry leading solutions in these exciting and fast moving areas of technology.
The Automotive Image Sensing Applications Platform demonstration will enable attendees to see the real-world performance of the company's latest image sensors in various Advanced Driver Assistance Systems (ADAS) applications including front view, surround view, rear view and driver monitoring. Image sensors from ON Semiconductor achieve current and future industry performance level requirements in terms of resolution, clarity, mixed and poor light conditions and robustness for level three driving autonomy and beyond.
At CES, the company's Intelligent Automotive Solutions demonstration vehicle will showcase the advanced connectivity features of ON Semiconductor automotive products that bring multiple benefits including wire replacement with associated weight, space and complexity savings, increased safety and a better overall driver experience.
The demonstration will include technologies in the fields of wireless actuation and communications, battery-free sensing, electronic fuses, USB Type-C and power delivery and Bluetooth low energy technology for several in-car applications using a new variant of the hugely successful RSL10 radio System-on-Chip (SoC) designed and qualified specifically for automotive.
A highly interactive Automotive Virtual Reality demonstration will allow visitors to look under the hood and sit inside a 3D model of a next generation vehicle.
Osram LED & LiDAR
Osram is lighting the way to the future of driving. At CES 2018, Osram will provide demonstrations, via the VR experience (using HTC Vive VR glasses, which incorporate Osram LED technology) and/or hands-on demos for the following products:
Osram components enable biometric technologies to measure stress, recognize when a driver is drowsy or otherwise distracted, and can measure heart rate and other vital signs to detect if a driver is having a health emergency while behind the wheel.
Osram's DMD laser light source is suitable for both light and symbol projection on the road ahead. With stunning high resolution, this adaptive headlight technology can create a glare-free experience with more than 1 million individually addressable pixels that can communicate with other drivers, passengers and road sharers, and even entertain by projecting the latest movies when the car is in park.
The Eviyos prototype is the world's first hybrid LED and represents major progress toward the first market-ready smart controllable high-resolution LED. When oncoming traffic is detected, the appropriate pixels are automatically switched off so drivers of oncoming vehicles are not dazzled.
With Osram's interior lighting, drivers can change the ambient lighting in their vehicle to match, or enhance, their mood. Or through biometrics, the vehicle can measure stress levels and adjust the lighting colors and levels automatically to encourage relaxation and aid in safe driving.
LiDAR marks a milestone on the way to autonomous driving. Osram owns the expertise for proven LiDAR Systems for all leading LiDAR system providers. With Osram's infrared laser technologies, vehicles can adjust to their environment in real time, and react quickly to avoid collisions.
Additionally, Osram will demonstrate its SFH 4735 emitter, which recently was selected as an honoree for the prestigious CES 2018 Innovation Awards in the Embedded Technologies category. This LED chip is ideal for near-infrared spectroscopy, which can be used to assess food, medicine and even measure body fat. The chip created a whole new field of compact, robust and low-cost sensing technology, making it possible to integrate spectrometers directly into mobile devices like smartphones and tablets.
Renesas ADAS & Cockpit
Renesas Electronics Corporation's next generation of its advanced driver assistance systems (ADAS), automated driving, and connected cockpit demonstration vehicles. From sensor fusion to ADAS to connected cockpits, the three Renesas vehicles demonstrate fully integrated systems based on advanced, production-ready technologies that enable OEMs and Tier 1s to solve the complex challenges of autonomous vehicle design as the industry shifts from test and simulation to product development. The vehicles are part of Renesas' open, innovative, and trusted Renesas autonomy™ Platform for ADAS and automated driving that delivers total end-to-end solutions scaling from cloud to sensing and vehicle control. With Renesas autonomy, Renesas aims to contribute to a safe and secure society in the autonomous driving era.
Renesas is also introducing the new Renesas Connected Cockpit Vehicle, developed on a Dodge Ram 1500 truck, showcasing the convergence of embedded- and cloud-based technologies to provide a more integrated and personalized in-car experience. Renesas will demonstrate the vehicles at CES 2018 in the Renesas Advanced and Autonomous Test Track and Future Ready:
Third-generation R-Car system-on-chip (SoC), including the R-Car H3 (Connected Cockpit, Lincoln, and Cadillac vehicles) and the R-Car V3M (Lincoln and Cadillac vehicles).
Popular RH850 Family of microcontrollers (MCUs) for vehicle control.
class="bwlistitemmargb">Renesas IMP-X5 computer vision processing architecture
About the Renesas Connected Cockpit Vehicle (Dodge Ram 1500)'s Integrated Cockpit Solutions In Real Life: In 2018, Renesas is taking diverse integrated cockpit solutions into a real-world automotive setting with its new Connected Cockpit Vehicle.
Developed on a Dodge Ram 1500 truck, the immersive, future-forward platform integrates production-ready, automotive-grade hardware and software.The Connected Cockpit features a 12.5-inch 3D digital cluster and a 17-inch Full HD center display both driven by a single R-Car H3 SoC. It runs both a production-ready safe OS and Android™ operating system (OS) in a virtualized environment to support navigation, software defined radio, multimedia streaming, cloud connectivity, and a fully custom multi-OS HMI. It also supports ISO 26262-critical applications such as biometric facial recognition and eMirror for digital replacement of the rear-/side-view digital mirrors. Finally, advanced virtualized display sharing techniques allow a seamless integration of both OS's and applications on any display.
Qualcomm 5G & Autonomous
Qualcomm will announce and showcase the latest Qualcomm® technologies and products at its press conference and at the exhibit floor. Qualcomm enhancing the Connected Automotive Experience; North Hall #5616. Representatives from the company will be speaking on many panels about 5G. Nakul Duggal, VP of Product Management, Automotive, Qualcomm Technologies, Inc. will speak on a Panel: Autonomous Vehicles in the Cities of Tomorrow: This session will explore the development of autonomous technology to-date and what's on the horizon over the next 5 to 10 years. We'll dive into the application and deployment of AVs in urban environments, and what capabilities will be needed.
Magneti Marelli LiDAR, V2X & Lights
Magneti Marelli will display we be 6,000-square-foot exhibit area in Latour 5-7 at the Wynn Hotel, Magneti Marelli will showcase its market-ready technologies in electronics, automotive lighting, and alternative powertrain, with a focus on autonomous driving, advanced HMI, connectivity and hybrid/electric mobility.
Magneti Marell' display will feature integrated sensors, cameras, radar and LiDAR in headlamps and tail lamps as well as Vehicle-to-everything (V2X) technology for enhanced safety today and in future autonomous vehicles.
Magneti Marelli's booth will feature a value-added selection of lighting modules, headlamps and tail lamps. The company is focusing its efforts on developing chip-mounted LED solutions to address the needs of all vehicle segments. Booth visitors can see everything from a small, scalable module providing increased functionality within tight space constraints, to a high resolution, 84 pixel ADB module.
Building on its recent investment in solid-state LiDAR company LeddarTech, Magneti Marelli has integrated a camera, radar and LiDAR into advanced projector headlamps and tail lamps to produce the fully functional Smart Corner, which will be on display in a production vehicle. Experts from LeddarTech will be available in the booth to demonstrate their latest solid-state LiDAR technology, and the company is hosting the Leddar Ecosystem Pavilion at the show, located outside at Tech East, CP-23.
Smart Corner enables automotive designers to incorporate advanced lighting and sensor systems while enhancing styling aesthetics and world-class performance. It reduces weight, cost, and eliminates the need for separate packaging, wiring and connectors on the vehicle exterior.
Magneti Marelli will feature a variety of displays, ranging from low-cost designs to a full door-to-door display with controlled content distribution. The company's Portal Showcase provides content for everyone in the vehicle, incorporates AMOLED (active-matrix organic light-emitting diode) technology, and a thin 1.5mm thick display bonded to a curved surface. Analog, hybrid and full digital instrument clusters can also be seen in the booth.
Booth visitors will see how the company seamlessly integrates V2X into the HMI of a current production cluster, as well as proven use cases for vehicle-to-infrastructure, vehicle-to-pedestrian, and vehicle-to-vehicle technology.
Magneti Marelli's industry-leading traditional and alternative powertrain solutions are derived from nearly 100 years of experience in motorsports. Coming in at 400 volts, Magneti Marelli's power inverter module (PIM), supports medium range electric mode driving, up to 30 miles or more on a single charge.
Excelfore's eSync & Molex
Excelfore, an industry leading enabler of smart mobility networks, announces that it will be demonstrating its eSync system with lighting and electronics expert HELLA at the CES 2018.
Excelfore will showcase in practice how the eSync over-the-air (OTA) platform will help carmakers take full advantage of innovative automotive technologies. A representative vehicle network with fully functional current-production HELLA body control and trailer modules will be used. Deep-reaching analytics will go far beyond reading pre-defined error codes. The eSync system can push diagnostic software from the cloud server to individual electronic control units (ECUs) in the vehicle. A variety of electrical, electronic and connectivity characteristics will be drawn and logged for tracking and analysis to predict potential technical issues. The same eSync system can then remotely deliver updated software over-the-air to address issues before they cause failures.
Molex and Excelfore have teamed up on the development of a 10 Gbps Ethernet Automotive Network designed to accelerate data bandwidth in intelligent connected vehicles. Integrating highly reliable high-speed data transmission, prioritization, scalability and security, the new Molex network platform featuring Excelfore connected mobility solutions will be officially unveiled at the Consumer Electronics Show,
Tata Elxsi In-Vehicle Translator
Tata Elxsi is displaying its latest innovations across technologies, AI & Design at CES 2018, North Hall, Booth No. 5038.
Tata Elxsi's theme for this year is AI + Design – Enabling the Driving Experience of the Future. This brings together Tata Elxsi's world-class Artificial Intelligence and Analytics practice, an award-winning HMI & design team, and SPICE Level 5 certified automotive engineering to drive solutions for the autonomous and connected cars of the future.
Auto Translations from Luxsoft & Ford
Luxoft, a global IT service provider, today announced that it will exhibit a new in-vehicle translator feature co-developed with Ford at Consumer Electronics Show (CES).
The new translator feature is designed for commercial vehicle services, like ride sharing, to allow a passenger and driver who do not speak the same language to communicate. The system is powered by a SmartDeviceLink (SDL) enabled in-vehicle infotainment (IVI) system. SmartDeviceLink technology is based on Ford's contribution of its SYNC AppLink™ software to the open source community in 2013.
The SDL translator feature uses cloud-based translation services, and does not require the passenger to preload an app in their smartphones. Instead, the driver of the commercial vehicle will have downloaded the SDL-enabled app on his or her phone, and can start the system in the vehicle when a passenger enters the ride-sharing car.
ZF Gesture Controlled Steering Wheel
ZF will demo a new steering wheel concept aimed at supporting Level 3 and above autonomous driving functionality. The system incorporates gesture control via graphic displays to enhance communication between driver and vehicle, and advanced hands-on detection technology.
ZF's new concept is designed to utilize gesture control to trigger various vehicle functions as chosen by the vehicle manufacturer. It works intuitively through gestures commonly used on phones or other smart devices. The wheel uses multiple interfaces to indicate the vehicle control mode. A seven-inch LCD display in the center of the steering wheel rim indicates if the driver or the car is in control. Additionally, an LED light strip is integrated into the steering wheel rim with blue lights indicating autonomous mode, white lights for manual driving mode and red lights for driver warning. Other uses for the light strip include yellow lights indicating left or right-hand turn signals – and glowing or flashing lights to indicate various scenarios chosen by the vehicle manufacturer. 10 capacitive sensors in the outside rim detecting where the driver is gripping the wheel, and one additional on the inside of the rim detecting if an advisable grip is being employed. This enables accurate hands on/off detection – helping to make clear whether the driver or the vehicle is in control. This will be critical for Level 3 and above autonomous operation.
Alps Input
Japanese electronic components manufacturer Alps Electric Co., Ltd. will demo its technology at CES 2018. Alps Electric will introduce core technologies and solutions in areas expected to gain prominence in the near future—autonomous driving, augmented reality applications and the Internet of Things (IoT).
Exhibit Highlights
Capacitive Input Device for Automotive Use. For autonomous cars of the future, Alps Electric is putting forward an input device based on capacitive technology that enables gesture and touch input and control of systems around the driver. The device contributes to a comfortable user experience by allowing accurate input, such as selection of menu options, without actually making direct contact with the touch panel. This is achieved using a highly sensitive capacitive sensor, an Alps-developed algorithm and original ASIC design.
The Alps booth will present examples of solutions integrating the device with natural materials such as leather and wood, taking advantage of its excellent sensitivity and accuracy. Visitors to the booth will be able to operate them.
HAPTIC Trigger Plus
Alps Electric's force feedback technology is applied in the HAPTIC™ Trigger Plus, a controller that realistically recreates the feel of objects. Besides recreating pressure, vibrations and thermal sensations, HAPTIC™ Trigger Plus includes a feature that senses finger movements using a capacitive sensor, providing for a much more immersive virtual reality control experience.
Visitors to the Alps Electric booth can try the demonstration, which recreates a variety of haptic sensations using items like a stainless steel cup, a snowman or a puppy.
Nuance Dragon Drive Now with AI
Nuance announced new artificial intelligence (AI)-powered capabilities for its Dragon Drive automotive platform. Dragon Drive now tightly integrates conversational artificial intelligence with non-verbal modalities such as gaze detection, enabling drivers to get information about and interact with places outside the car simply by looking at them; enhanced interoperability with other assistants, including in the smart home, virtual personal assistants and bots; and Just Talk, the capability to invoke the automotive assistant without pushing a button or using a wake-up word.
Powered by artificial intelligence, Dragon Drive's conversational automotive assistant listens, understands and responds to drivers, and empowers automakers to make the AI-powered connected car experience a reality. Dragon Drive understands and learns the needs and preferences of drivers and passengers over time to provide a personalized experience, including access to entertainment, navigation, points of interest, news feeds, and in-car features such as heating and air conditioning. Dragon Drive's innovative new features, which were honored with a CES 2018 Innovation Award in the Vehicle Intelligence and Self-Driving Technology category, include:
Multi-modal usage – utilizes gaze detection combined with conversational AI to allow drivers to simply look at an object or place outside the vehicle and ask questions or interact. For example, drivers can look at a restaurant and say, "call that restaurant" or "how is that restaurant rated?" or inquire about a parking garage asking, "how much does it cost to park there?" Dragon Drive can resolve the point of interest and provide a meaningful, human-like response.
Dragon Drive powers more than 200 million cars on the road today across more than 40 languages, creating conversational experiences for Toyota, Audi, BMW, Daimler, Fiat, Ford, GM, Hyundai, SAIC, and more.
Cinemo Video
Cinemo, a global leader in high performance and automotive grade multimedia playback, streaming, media management, connectivity and cloud access middleware, announced that they will be showcasing a wealth of content distribution and mobility solutions that inspire the imagination on the Android in-car platform at the 2018 CES show in Las Vegas (Hollywood Suite 2986, Westgate Las Vegas Resort & Casino).
As well as active presentations at the private Cinemo CES suite, Robert Bosch Car Multimedia, will demonstrate a dedicated Android based next generation head unit with Cinemo's Unified Media Player, including multimedia playback, ultra-fast content indexing, connectivity as well as Android Auto. To learn more about this demo, please visit Bosch Car Multimedia at Las Vegas Convention Center, Central Hall, Stand 14028.
Cinemo,  announced that it is working closely with STMicroelectronics (ST), a global semiconductor leader serving customers across the spectrum of electronics applications and a leading supplier of advanced automotive ICs, to demonstrate the full capability of the ST Accordo5 car-infotainment processor platform at CES 2018 in Las Vegas.
The Accordo5 family of automotive processors meets crucial display-performance and security demands in a low-power compact platform well suited for mid- and lower-cost vehicles. The processors enable state-of-the-art digital instrument clusters and Audio/Video/Navigation (AVN) head units to become more affordable than ever by integrating the complete graphics, video, and audio functionality on-chip to save design costs and simplify assembly
Way Ray
NAVION gets its first ever public showcase after 4 years of R&D. For OEMs, WayRay will demonstrate the new multicolored version of the world's first holographic AR Infotainment System for cars. Following the first successful demo in the Rinspeed Oasis Car at CES 2017, this year we are proud to show off its newest version. It has an extremely wide field of view and even smaller projector's volume. For developers, WayRay will demo our True AR SDK and announce the AR Developers Contest & Hackathon with a total prize fund worth $160,000.
NAVION is the first True Augmented Reality car navigation system. Placed on a dashboard, it shows directions, trip details and display real-time indicators for things like pedestrians, POIs or alerting to hazards exactly where the driver needs them to be — on the road ahead — with no headgear or eyewear required. NAVION is able to work in a hands-free mode to get the driver safely to the destination. It responds to the simple voice commands or to unique hand gestures.
Another WayRay's attraction at CES 2018 is a multicolored Holographic Augmented Reality display device designed to transform the windshield into a new medium of information. 2018's version has the greatest FOV (field of view) on the market and is capable of multicolored virtual objects creation. Moreover, the technology allows the solution to act like a fully-featured non-wearable augmented reality infotainment system. It shows relevant information at a comfortable distance for users' eyes — from 3 ft to infinity.
True AR SDK is a set of libraries and tools for third-party developers to build AR applications that run on Holographic AR Displays. The SDK also has the AR Holographic Display simulator, a tool for testing and debugging the behavior of the app content under different FOV and display locations, in various cars. True AR SDK runs on Ubuntu 16.04 and supports C++ and GLSL with binding to other programming languages.
Omrom Drowsiness Detections
Omron Corporation, multi-billion dollar global tech company that invented facial recognition sensing and distance warning for automobiles, who will be showcasing how it's making roads safer with the world's first technology for detecting early-stage drowsiness through measurement of the vestibule-ocular reflex (VOR) without the need for a special device.
In Omron's driver seat demo, you get to sit in the driver seat and experience how Omron technologies observe the correlation between head and eye movements – a reflex motion that is difficult for drivers to control.
Omron's VOR system senses eye movements using a remotely installed automotive camera to detect signs of drowsiness one to two minutes before the driver is even aware he / she feels sleepy.
OKAO™ Vision, Omron's high-precision facial recognition technology, reads where the driver is looking and monitors facial expressions to indicate sleepiness, distraction or distress.
Demos are at the Las Vegas Convention Center, South Hall 2, Booth #25541.
ON Semiconductor
On Semiconductor announced a scalable family of CMOS image sensors to address the spectrum of applications for Advanced Driver Assistance Systems (ADAS) and autonomous driving. ON Semiconductor's newest sensor family offers car makers and tier one suppliers a choice of robust imaging devices based on a common platform and feature set. The sensors have resolutions scaling from 8.3 megapixels (MP) down to 1.2 MP with industry leading low-light performance from 4.2 µm pixels. Additional features include functional safety up to ASIL-C, high-dynamic range (HDR), an industry-first cybersecurity option, and second-generation wafer stacking technology that reduces package size. Individual products in this platform are currently under evaluation by many technology partners, including Mobileye and NVIDIA for use with its DRIVE AI computing platform for autonomous vehicles.
The AR0820AT, AR0220AT and AR0138AT form a scalable image sensor family which provides a range of resolutions suited to new-generation ADAS and autonomous driving systems. Automakers need different resolutions to address segmentation in their product lines, where specific safety features are standard, but additional cameras or higher resolution cameras enable more advanced safety and luxury capabilities as customer options.
ON Semiconductor will be demonstrating its new family of scalable image sensors, plus a wide range of other leading edge semiconductor-based solutions for automotive and other sectors at The Sands Convention Center/Venetian (Murano 3302) during CES 2018.
Seeing Machines
Seeing Machineswill demonstrate its latest FOVIO Driver Monitoring Platform technology at the 2018 Consumer Electronics Show (CES).
With 17 years of research and development, the production debut of its FOVIO DMS (Driver Monitoring System) technology on the 2018 Cadillac CT6, and a growing range of OEM and Tier One industry partners, Seeing Machines is uniquely positioned as a leader in the deployment of camera-based DMS for the automotive market.
The Seeing Machines FOVIO Driver Monitoring technology can also be found integrated into its Tier One partners' demonstrations at CES:
Autoliv Learning Intelligent Vehicle (LIV) 2.0 research vehicles — Spring Hill Suites (by Autoliv invitation only) — CES Booth #NP8 in the LVCC Gold Lot

Robert Bosch

ShowCar — CES Central Hall, Booth #14028
Valeo
For the fourth year running, Valeo will be at the CES in Las Vegas, where it will give five major innovations their world debut. The technologies on display at the Gold Lot Circuit and the Central Plaza booth show what the car of tomorrow will look like, in line with new ways of getting around: it will be more autonomous, more connected and more environmentally friendly.
The five major innovations demonstrate Valeo's ability to offer complete, innovative technology systems:
Valeo eCruise4U, a real technological feat that fully meets the needs of city dwellers. On board the demonstration vehicle, attendees can experience automated driving in electric mode.
Valeo XtraVue, a set of connected computer-vision cameras that show drivers what is happening on the road, even outside their line of sight.
Valeo 360AEB Nearshield, a new autonomous emergency braking system that eliminates blind spots, alerts drivers to any potential obstacles and brings the vehicle to an automatic halt to prevent impact if necessary.
Valeo C-Stream, the new Valeo dome module that replaces the central rearview mirror and maps out the vehicle's cabin. It can determine the number of people traveling in the car and ensure that drivers are suitably alert.
Valeo Cockpit, the Experience of Traveling. The technology demonstrator is a unique and original solution that combines a groundbreaking and innovative range of products designed to shape the sensory experience associated with new ways of using cars.
All of these innovations combine to form a new, more electric and therefore more environmentally friendly type of mobility that offers greater vehicle autonomy, improved comfort thanks to enhanced intelligence and better shareability thanks to extended connectivity.
Given that the total number of vehicles worldwide is expected grow, Valeo is committed to making the car safer, more energy efficient and more automated while also equipping it with cognitive abilities. In short, vehicle usage and the driving experience are about to be totally reinvented.
Pep Com Demos
Autonomous & Connected CAt the Pep Com Media Event:
Thundersoft's table will be next to Baidu. The company will be showinghow an all-in-one e-cockpit brings new, enhanced in-cabin human-machine interface experience. This e-cockpit will be also demonstrated at Qualcomm's automotive booth at LVCC North Hall, Booth #5616 at CES 2018
AeroVironment – an EV charging leader and makers of the preferred charging solution for nine global automakers – is launching a new EV charging station.
Arcimoto  will showcase its first commercially available fun utility vehicles (FUV) and host test rides and executive interviews throughout the week.
Arirty's Project Astronaut is an app-device combo that transforms personal driving data into powerful info about your vehicle's health, drive, costs and safety and predictive tips to help you combat the inevitable surprises of car ownership while also keeping you connected to your loved ones both on and off the road.
Boosted is an electric vehicle company building reliable rides, starting with the Boosted board, an electric longboard that helps solve urban transportation woes and makes getting around simple, efficient and fun.
Derive Systems will be showcasing its cutting-edge automotive technology that prevents distracted driving and empowers drivers and owners with unprecedented levels of vehicle personalization.
Ekin, a leading safe city technology company with operations in 22 cities worldwide, will announce its plans for US expansion and show off its latest line of connected law enforcement products.
FIXD helps drivers understand their car problems in plain English.
Kika Recently awarded four 2018 CES Innovation Awards, Kika Tech, who revolutionizes communications with AI, will be demonstrating KikaGo, a driving assistant that gives users truly hands-free communications on the road.
Klashwerks  Raven is the world's first complete connected car system for the consumer aftermarket.
LeddarTech will be presenting at the Leddar Ecosystem Pavilion the LeddarCore LCA2— the industry's first 3D solid-state LiDAR (SSL) integrated circuit (IC) enabling mass production of automotive LiDARs.
Toshiba will be giving demos and highlighting the new product – as well as other consumer SSDs and their NVMe-oF line for the enterprise data center market.
Vayyar -Imagine a device that sees through walls and can track everything happening around you.  Vayyar Imaging will be demonstrating, for the first time, its newest, breakthrough smart home & automotive 3D sensor technology at CES 2018.
Verizon –Hum by Verizon is a connected car device that equips drivers with the tools and knowledge for a smarter, safer and more connected driving experience on the road. You can find more information here.
weBoost, the industry leader in cellular signal boosting technology, will showcase their newest, award-winning in-vehicle cell signal booster – the Drive Sleek.
Don't Forget to Vote
Are you a member of the automotive industry? Please make sure you vote for AUTO Connected CAR News' Tech CARS awards.
AUTO Connected Car News will be attending and covering CES this year. If you would like weekly news summaries or daily news round-ups, or autonomous news letters, please subscribe to your newsletters to keep you informed.
Vote for Tech CARS Awards