There were more announcements from NAIAS and Tech CARS nominee Automobili-D today from China's GAC Motors, PlanetM Awards, Michelin, Nexteer, Hyundai and Schaeffler Solutions.
GAC GA4 &
China's fastest growing auto brand, GAC Motor, launched its forth exhibition at the North American International Auto show (NAIAS). The signature models in its lineup, including the brand new GA4 sedan and GAC Motor's world debut concept car, the Enverge, are on display at the show, demonstrating the company's innovations in research, achievements in manufacturing, and its determination to build a world-class brand. The new GAC Motor blueprint will guide the company as it moves towards officially entering the US market in 2019.
The GA4 is a brand new compact sedan independently developed by GAC Motor for the A-class sedan market. Its overall design displays a grand and fashionable vision with ample interior space and excellent driving comfort. The introduction of GA4 further enriches GAC Motor's product matrix, which covers A-level to C-level sedan market. The company is bringing this new sedan to market on January 18 in Shanghai. GAC Motor is also expanding its efforts to raise brand awareness and increase its influence. Later this year, GAC Motor will announce a new branding strategy to the world, as well as the new English brand name to better serve our consumers across countries. GAC Motor North America Sales Company is set to be established in 2018.
GAC Motor unveiled its first compact sport-utility new energy concept vehicle, the Enverge, to demonstrate its innovative leadership in core environmental technologies. The Enverge is GAC Motor's brand-new exploration in the field of electric crossover vehicles. Featuring many technological achievements, Enverge demonstrates the innovative allure of NEVs and creates a new driving experience for energetic young drivers.
PlanetM Winners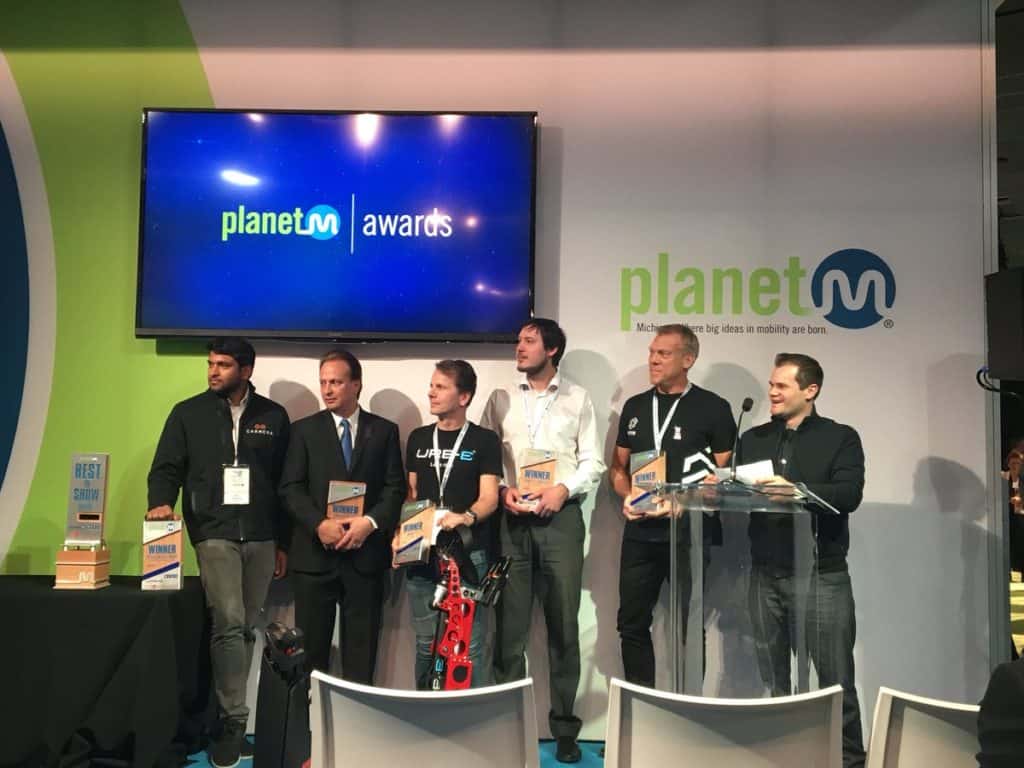 PlanetM and AutoMobili-D today announced that CARMERA, provider of real-time 3D maps and navigation-critical data for autonomous vehicles, was awarded both Best in Show and Startup of the Year by Governor Rick Snyder at the inaugural PlanetM Awards ceremony during the 2018 North American International Auto Show (NAIAS).
CARMERA, the PlanetM Awards category winner for Autonomous Driving, was selected for both prestigious awards by two separate groups of judges, who reviewed an unprecedented amount of awards applications for both product and startup submissions. CARMERA provides real-time 3D maps and navigation-critical data for autonomous vehicles, as well as 3D scene reconstruction and site analytics data for professionals in architecture, construction, real estate and other built environment segments.
Connected Car: VOXX Automotive, EVO Rear Seat Entertainment
EVO brings a smart home television experience into the car, requiring only power/ground connections. EVO includes media inputs such as USB and SD, HDMI for all digital devices, gaming consoles, and streaming sticks. EVO is complemented by a mobile app allowing users to send their video to the displays wirelessly from their mobile device. The EVO app also allows all passengers to watch the same video content on their phone/tablet that is being played on the rear seat displays. Built in Sling Player which allows Slingbox users to watch their live home TV in the car leveraging their vehicles 4G-LTE hotspot.
eMobility: URB-E
URB-E is the world's most compact foldable electric vehicle. But it's so much more. It's the end of paying for parking, parking tickets, sweaty commutes, sitting in traffic, and wasting money on your commute. The URB-E is created using the design principles of supercars. Engineered by, Sven Etzelsberger, former lead engineer at Porsche, Saleen Supercars, and the chief engineer on the Fisker Karma. Made with carbon fiber and aircraft-grade aluminum, it's the ultimate last-mile transportation solution. And it's made right here in America. For short commutes, the URB-E is the perfect choice for saving money and having fun.
Mobility Services: Parkofon
Parkofon develops and promote an all-in-one device for urban commuting, to make every day driving efficient and enjoyable and help people avoid the usual frustrations of big cities. Starting with parking, we provide a contactless payment method so that you can stop where you need in no time and get going as soon as you park your vehicle.
Smart Cities: Immotor
The Immotor GO II is a transformative electric scooter with a discreet, ultraportable design and unique three-wheel stability.  The GO II was created as a tool to help solve the first/last mile commuter problem and provide city dwellers an alternative, clean mode of transportation that makes utilizing existing infrastructures more efficient.
Coats for Cold Detroit Kids
Hyundai Motor America will continue its commitment to helping serve the needs of the greater
Detroit
community through its annual Hyundai Coats for Kids program. This event occurs during the 2018 North American International Auto Show (NAIAS). In its eighth consecutive year, Hyundai will donate 1,000 new winter coats to underserved youth in
Detroit
. This year, the coats will be distributed through Carstens Academy, a
Detroit
-based youth organization, and is in partnership with Orchards Children's Services.
Michelin Flexible Wheel Helps Tires Last Longer on Rough Roads
Michelin, a leader in innovations for sustainable mobility, will preview the Maxion Flexible Wheel with Michelin Acorus Technology for the first time in North America. Michelin's Acorus technology reinvents the wheel, helping to eliminate costly damage from potholes and road debris to tires and rims in larger sizes on high-performance or luxury passenger vehicles. The patented new technology was developed in collaboration with Maxion Wheels, the largest global wheel manufacturer. Michelin's research shows that the flexible wheel assembly helps prevent pinch shocks on tires and wheel damage.
The assembly incorporates two flexible rubber flanges mounted on a special wheel body to create a flexible wheel assembly, effectively absorbing dangerous shocks and impacts that create expensive risks for low-profile tires. The flexible wheel assembly's design is compatible with all passenger tires on the market.
In addition to improved ride comfort and lower road-noise levels, the flexible wheel assembly improves long-term environmental impact by reducing the number of low-profile tires that are discarded prematurely due to damage from pinch shocks or road debris.
The innovation takes its name from Acorus calamus, the reedy wetland plant that features in a famous French fable, "the oak and the reed," imparting the wisdom that the reed bends but does not break. Michelin previewed Acorus technology at NAIAS with limited availability (in 19-inch and larger sizes) to select manufacturers in North America for 2018.
Nexteer Steering
Nexteer Automotive announced the expansion of its advanced steering technology suite at the 2018 North American International Auto Show (NAIAS).
Steering on Demand System – With the press of a button or simply by grabbing the steering wheel, Steering on Demand System enables the safe, intuitive transitions of steering control between manual driving and automated driving in vehicles capable of SAE Level 3 and beyond automated driving.
Quiet Wheel Steering – Within Nexteer's technology suite, Quiet Wheel Steering enables the steering wheel to remain still during automated driving mode, even while the vehicle is in the process of turning.
Stowable Steering Column – Vehicles equipped with Quiet Wheel Steering may also be fitted with a "stowable" column that retracts when automated driving is engaged, increasing available space for driver comfort and other activities.
Steer-by-Wire: Center Link in Nexteer's Technology Suite  In Steer-by-Wire, the mechanical connection between the road wheels and the steering wheel is replaced with electronics and actuators on the steering column and rack. This system, supporting both manual and automated driving, opens new possibilities for advanced safety features, vehicle lightweighting and packaging flexibility. Nexteer's SbW emulates the "feel of the road" and offers a wide performance range – from sporty to luxury. In addition, the system's variable steering ratio enhances maneuverability, as well as factors into Nexteer's SbW steering feel achievement.
High Availability Electric Power Steering (EPS): Safety-Net is Always On – Nexteer's high availability EPS is designed for resilient operational availability, using top-rated components that are intelligently optimized through redundancies in torque and position sensors, electronic control units, winding motors as well as dual sets of vehicle power and communication connectors. In addition, Nexteer's simultaneous, multi-path processing further enhances the safety net as the industry moves toward varying levels of automation.
Cyber-Secure Advanced Steering While Nexteer's customers incorporate cyber security at the vehicle level, the company takes safety to the next level by integrating multi-layer cyber security at a steering system level for maximum protection. These cyber security technologies consist of specifically designed hardware modules on the semi-conductor level, as well as a multi-layered cryptographic software structure, that identifies and authorizes information and command flow between the steering system and other in-vehicle or external controllers. As vehicles adopt advanced electronics to enable automated driving, internet connectivity and V2X communication, cyber-secure steering technologies becomes even more critical.
Schaeffler Solutions
At the 2018 NAIAS, Schaeffler presents its solution for future vehicle generations: the integration of the 48-volt electric motor into the engine-transmission unit and into the axle. Provided that an electric motor with the requisite power output and a battery with sufficient capacity are used, solutions like this even make "active coasting" possible at higher speeds – the vehicle maintaining its speed in spite of the ICE being shut off. In addition to enabling considerable reductions in fuel consumption, the energy generated in deceleration phases can be recovered more effectively. For example, the electric power gained as a result may be used to operate an electrically heatable catalytic converter and to thus achieve emission levels far below current legal requirements.