Reporters from major publications have reported problems with Waze and navigation apps during the the Ventura and Skirball fires in Southern California.  Waze caused problems for USA Today reporters and the LA Times reports that the Los Angele Police Department warned drivers to be cautious about using navigation apps. The main problems are that the there is time lag between the fire, road closures and updating the apps as well as the apps are designed to find the fastest route and can't  tell if empty streets are closed. However, this morning  The Los Angeles Department of Transportation Tweeted that it was working on 101 road closures with Waze. The two major freeways affected by the fires are the 101 (Ventura Freeway) and the 405 Sepulveda Pass, considered one of the worst freeways in the country.  GasBuddy and Waze were very helpful during hurricanes, however hurricanes are a lot more predictable than wild fires during high speed winds.
According to the Los Angeles Times, the Los Angeles Police Department asked drivers to avoid navigation apps, because they could steer users onto more open routes sometimes to streets in the neighborhoods that are on fire.
LAPD Commander Blake Chow stated that is important to follow officers' directions and obey the roadblocks to help the Fire Department. The Roadshow contacted the Los Angeles Police, this morning, "We're not saying not to use your navigation, but [we advise] to use them with caution anywhere near the fires," said Mike Lopez, LAPD information officer.
The problem with Waze and Google is that notifications have to made by Wazers and fires can be much faster than what Waze users report. USA Today reported that when Waze data shows gridlock on a user's route, it will reroute the driver to quieter streets — even if they're empty because drivers had evacuated fire areas.
USA Today reporters on Wednesday were trying use Waze to get around the fire and instead were sent to police and fire barricades at Bel Air roads that went directly into the Skirllball Fire. Many routes on Thursday were still showing back street that were in fire zones.
On Wednesday morning the 405 was closed but it was not shown as closed on the Waze app according to Twitter reports.
"We worked really hard Wednesday afternoon to get our maps up to date and accurate,"  Waze spokesperson Chelsea Russo told USA Today.
If you can avoid going by fire zone areas it is best to leave all route opens for emergency responders. Check all the the local authorities and your local radio  or television stations first. Since Waze and Google are huge algorithms programmed to get you on the speediest route and fires can more faster than algorithms or editors, only travel if you absolutely have to when you know there are fires.
Earlier today, Thursday we saw this Tweet:
We're working with @Waze to help Southern Californians navigate safely around the #wildfires. Together, we're keeping the Waze Map updated with crucial information, currently at 110 road closures & 16 open shelters. For other updates, please visit: LA Emergency Mgmt.

— LADOT (@LADOTofficial) December 7, 2017
That is over a day since the Skirball fire started on Wednesday at 5:00 am.
Twitter seems to be updated the fastest and local Emergency Alert systems are also very fast. We found the following Twitter feeds for local areas affected by the fires:
VCFD PIOt, @VCFD_PIO  Public Information Officer, Ventura County Fire Department offers road closure and other information.
LAFD @LAFD shows maps to fire areas and road. It links to a map of the wild fire in Bel Air, the Skirball fire with evacuation areas as of 10:00 pm last night.
We we went to Los Angeles Fire Department website we found more resources
The City of Los Angeles has additional information available at: http://emergency.lacity.org/skirball-fire
An excellent website SALUS-The Crisis Hub for the City of Los Angeles "City of Los December 2017 Fires" shows evacuation centers and appears to updated frequently. Be sure to refresh your screen or check back for updates.
FREEWAY / ROAD CLOSURES:
Freeway closures: See Caltrans QuickMap, call 800-427-7623 or follow @CHPSouthern or @CaltransDist7 on Twitter for the latest freeway closure information
Road closures:  See the LADOT Live Traffic Map, follow @LADOTofficial or @LAPDHQ on Twitter for latest road closure information.
Google is offering a wild fire road closure map from it search pages. The information is based on algorithms
To figure out how the Google maps and Waze were working, I set both Waze and Google Maps on Samsung Galaxy phone to map a route to UCLA. UCLA is just south of the Skirball fires. Both apps showed just slow traffic.  When I set up the LA Fire Crisis map to show all warnings the route goes right past the fire and evacuation areas on the 405.
On the LA Fire Crisis Map (embedded below) from Google.  Almost every major route has problems as of this publication.
In order to get full details of the map you have click on all reports to show the problems.
The route to UCLA that showed no problems on my phone in Google maps or Waze looks like this by UCLA with all the legends shown.
So what are the best routes during an emergency? Sign up for alerts on you phone from your city, fire, police and emergency police departments. Check with multiple sources. It appears that the local news agencies including television, radio, the LA Times and Daily News who have reporters in the area have the most up to date news. Also searching news stories for specific roads and areas is helpful, if you have time. Television and radio news stations often have helicopters that can see over large areas.
While I was researching this article, a new fire started in Murieta at 1:15 at Los Alamos and Liberty roads in an unincorporated area of Riverside County. It has been named the Liberty Fire. The location is about 5 miles northwest of Murrieta City Hall.
At 4:15, I checked on both the Google maps and Waze apps to navigate a way to the Murieta fire. Each route shows h no fire or hazard warnings.  In my own testing, it appears it can hours and even days to get fire information into the most commonly used navigation apps. The Google fire map however does show that there is the Liberty fire with few traffic hazard warnings on the the 215.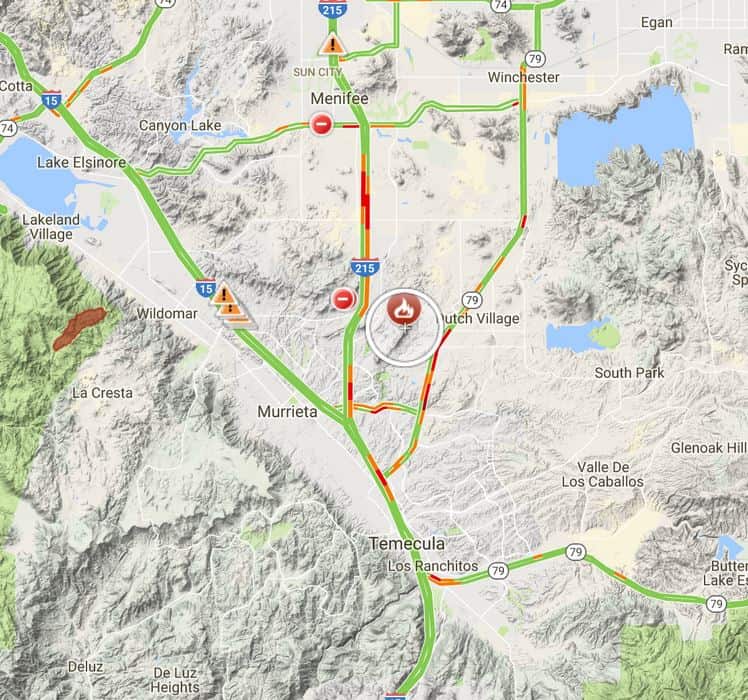 Update 12/8/2017: We noticed today that the fire map is showing the Mount Wilson Fire that has been extinguished since early November.
If you experienced problem with Google or Waze during the recent wild fires, please tell us about it in the comments below.