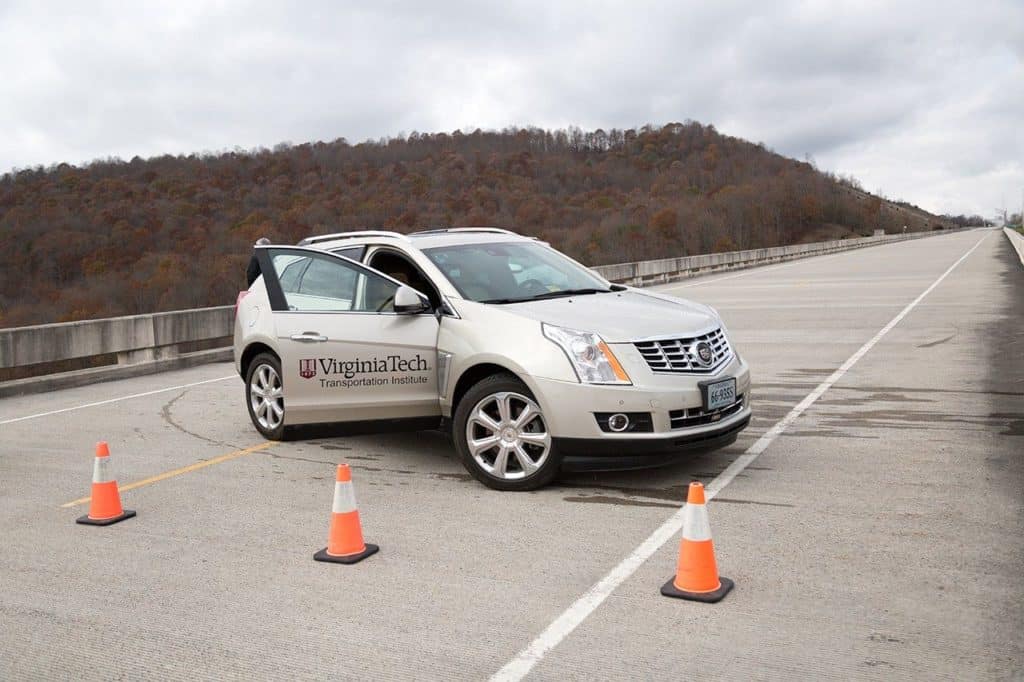 The Virginia Tech Transportation Institute announced two new initiatives. Working in partnership with the Virginia Department of Transportation, the university unveiled four expansions to the Virginia Smart Road . The university also revealed that it has contract with NHTSA to research safety standards for new non traditional vehicle designs that may not have brakes or steering wheels.
Virginia Smart Roads
The expansions, all engineered to accelerate advanced-vehicle testing, offer an unprecedented opportunity to explore how automated and autonomous vehicles will function on all roadways found in the U.S., including edge-and-corner environments.
Two new facilities officially opened for testing during the celebration: the Surface Street Expansion, an urban test bed, and the Live Roadway Connector, which connects the Smart Road to a public road. The ceremony provided a first look at plans for an Automation Hub and Rural Roadway Expansion. Once complete, the rural roadway will be the first research facility designed to test automation in a controlled rural environment.
Recently completed, the surface street area can accommodate both urban and residential driving scenarios in a safe, controlled testbed facility. The road's unique versatility derives from its portable features, which include reconfigurable buildings; roadside elements, such as sidewalks, a bus stop, fire hydrants, light poles, bike lanes, and alleyways; roundabout and stop-controlled intersections; and removable lane markings. All of these "props" can be moved and reinstalled in a matter of hours, enabling researchers to recreate quickly a variety of real-world settings for testing, such as neighborhoods and city intersections.
The surface street also enables researchers to study such growing transportation issues as pedestrian risk in urban environments, according to Dingus.
Now complete, the Live Roadway connector links the Smart Road directly to U.S. Route 460-Business. The connector facilitates studies in which drivers can seamlessly transition between a live traffic environment and the closed Smart Road facility. This feature will enable institute researchers to analyze how drivers may behave or adjust their behavior after driving under automated mode for long periods of time. The connector also increases the length of the highway section of the Smart Road to 2.5 miles.
Once opened in 2018, the Rural Roadway Expansion will be the first research bed of its kind capable of testing advanced vehicles in a controlled rural setting. The rural track will feature hilly and winding roads, short sight distances, small bridges and narrow sections, off-road sections, embankments, soft grass shoulders, natural foliage overhanging the road, and rural intersections. Built to 1965 standards, the road will allow users to test automated and autonomous vehicles in the most challenging and realistic rural environments that commonly exist in the United States. They are so common that two-thirds of U.S. roadways qualify as rural; one-third are unpaved.
Also slated to open in 2018, this interdisciplinary advanced learning facility will house a new internship program focused on accelerating hands-on practical skill development for Virginia Tech students. Interns will have the opportunity to collaborate with researchers from the Virginia Department of Transportation, the university, and the transportation institute, as well as leading automotive industry partners on groundbreaking transportation research and development projects.
Automated vehicles are often tested in highway settings, where the lane markings are clear and surrounding obstructions are few. However, to operate ubiquitously across a variety of road environments, advanced vehicles will need to be able to handle challenging situations in urban, residential, and rural areas. The new transportation institute test beds — collectively dubbed the Virginia Smart Roads — will meet industry demand to test advanced vehicles in these "edges-and-corners" scenarios to maximize safety and performance benefits.
Contract from NHTSA for Standardization & Certification
The Virginia Tech Transportation Institute has received a contract from the National Highway Traffic Safety Administration to lead a multidisciplinary project that develops technical translations to existing Federal Motor Vehicle Safety Standards and related testing procedure approaches for emerging innovative and non-traditional vehicle designs.
The project will be conducted by a core team comprising Federal Motor Vehicle Safety Standards experts; industry team members General Motors and Nissan; testing facilities Dynamic Research, Inc., and MGA Research Corporation; and research institutions Booz Allen Hamilton and the Southwest Research Institute in concert with stakeholder and peer review groups.
Myra Blanco, director of the Center for Public Policy, Partnerships, and Outreach, will lead the team.
The team will examine the current Federal Motor Vehicle Safety Standards, particularly crashworthiness, crash avoidance, and low-speed standards. Many of the Federal Motor Vehicle Safety Standards were created with the underlying assumption that vehicles would include standard equipment like steering wheels, brake pedals, and driver's seats.
However, auto manufacturers are beginning to envision new and innovative vehicle designs tailored for higher levels of automated driving systems. According to many of these concepts, vehicles may not necessarily need physical steering wheels or brake pedals to operate safely. Instead, the interior of such a vehicle could resemble a living room—equipped, for instance, with entertainment screens and seats that may face each other.
The project will aim to develop alternative approaches to manufacturers to certify the vehicles and for the National Highway Traffic Safety Administration to verify these designs.