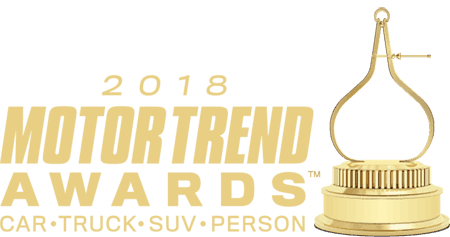 MOTOR TREND  recently announced the Motor Trend award winners of the "Golden Calipers" for Car of the Year, Truck of the Year, SUV of the Year, and Person of the Year. These rankings are part of our Top Best Vehicles of the Year in Review.
"Finalists this year were evaluated against six key criteria: safety, efficiency, value, advancement in design, engineering excellence, and performance of intended function. Judges for each program came from the MOTOR TREND staff and also included two special guest judges for Car of the Year (legendary car designer Tom Gale and product development guru Chris Theodore) and one special guest judge for SUV of the Year (auto engineering expert Gordon Dickie). The Person of the Year was chosen from MOTOR TREND's annual Power List of the automotive industry's 50 most influential people.
Award  Winners
Car of the Year -Alfa Romeo Giulia
Truck of the Year Winner: Ford F-150
2018 MOTOR TREND SUV of the Year Winner: Honda CR-V
Person of the Year- Mary Barra GM
2018 MOTOR TREND Car of the Year Winner: Alfa Romeo Giulia
What clinched this year's Car of the Year winner with MOTOR TREND judges was the sheer joy that the Alfa Romeo Giulia puts back into driving. Alfa understands the nuance that sport sedan drivers desire, with a racy engine response and dynamic handling without a rough ride. The Giulia's 2.0-liter turbo-four engine demonstrates notable power with its stunning-yet-tractable 280 horsepower and 306 lb-ft of torque.
Alfa Romeo Giulia models feature an all-new, all-aluminum, 2.0-liter, direct-injection turbo engine with an eight-speed automatic transmission that delivers a class-leading, standard 280 horsepower and 306 lb.-ft. of torque, allowing it to launch from 0-60 mph in 5.1 seconds, and achieve a top speed of 149 mph*.
As the lineup's "halo" model, the Giulia Quadrifoglio highlights Alfa Romeo's performance and motorsport knowhow with its best-in-class 505 horsepower, 0-60 miles per hour (mph) in 3.8 seconds and a record-setting 7:32 lap time around the legendary Nürburgring – fastest ever by a four-door production sedan.
All Giulia models offer:
Near-perfect 50/50 weight distribution thanks to Giulia's all-new rear-wheel-drive Giorgio architecture and class-exclusive standard carbon fiber driveshaft
Class-leading horsepower
Unique Italian style and craftsmanship to the premium mid-size sedan segment
A 55-year heritage of Giulia's lightweight, performance sedan tradition and more than 100 years of brand history, carving its legend on road courses around the globe
The judges' evaluation of the $38,990 base Alfa Romeo Giulia convinced them of the car's overall prestige. Alfa succeeded in making a blazingly fast performance sedan, while delivering luxurious touches in the base-model version—an accomplishment many car manufacturers are unable to achieve. The Giulia range is topped by the 505-horsepower Quadrifoglio edition, which is, as one judge notes, "the best pure sports sedan you can buy today."
Following a week of testing at the Hyundai-Kia Motors California Proving Ground, MOTOR TREND Features Editor Christian Seabaugh summarizes, "It handles absolutely beautifully, with light, linear sports car–like steering. It rides like a luxury car with no impact harshness in the cabin, and it's downright quick. This is a car that puts a smile on your face. It doesn't matter whether you're sitting at a stoplight, bombing down a back road, or cruising on the highway. It just wants to please."
In awarding the Alfa Romeo Giulia its COTY status, Angus MacKenzie, MOTOR TREND's International Bureau Chief, describes this year's winner as recapturing "the spirit of [the] 1960s Alfas but in a thoroughly modern manner."
2018 MOTOR TREND Truck of the Year Winner: Ford F-150
Out of this year's three impressive finalists tested at Fiat Chrysler Automobiles' Arizona Proving Grounds, the MOTOR TREND judges named the Ford F-150 MOTOR TREND's 2018 Truck of the Year winner.
For 2018 Truck of the Year testing, Ford provided four variants to show the breadth of the changes made under the hood. The significant updates made to the F-150 have resulted in the interiors becoming more premium, the infotainment system more intuitive, and the steering more responsive. With these new powertrains, the F-150's lighter, military-grade, aluminum alloy body delivers strong fuel economy for a full-size truck. Ford ultimately proved its superiority compared to competitors by producing an impressive range of midcycle changes, including significant ride and handling improvements.
Judges were unanimous in their decision for this year's Truck of the Year winner. "It was a pretty resounding win," MOTOR TREND Road Test Editor Chris Walton says. "Nothing really came close."
2018 MOTOR TREND SUV of the Year Winner: Honda CR-V
Honda SUVs are no strangers to MOTOR TREND's of the Year awards. In the 20-year history of the award, this is the second time the Honda CR-V has won a Golden Calipers for the MOTOR TREND SUV of the Year.
Calling it "The swankiest interior ever seen on the CR-V," Motor Trend chose the CR-V because Honda paid attention to a wide range of details including advancement in design, safety performance features, engineering excellence, efficiency and value. To be eligible for the Motor Trend SUV of the Year award, a vehicle must be "all-new" or "substantially upgraded" and have been on sale within twelve months from the previous November.
The 2018 Honda CR-V is manufactured at three Honda plants in North America, in East Liberty, Ohio; Greensburg, Indiana; and Alliston, Ontario. Its 1.5-liter turbocharged engine and automatic transmission are manufactured by Honda in Anna, Ohio and Russells Point, Ohio, respectively1. Honda has sold more than 4.2 million CR-Vs in America since its U.S. introduction in 1997, making it the top selling SUV in America over the course of 20 years. The new CR-V has collected numerous other accolades including a Kelly Blue Book "Best Overall Buy" in the Small SUV/Crossover category, U.S. News & World Report's "2017 Best New Car for Teens" and Autotrader's "Must Test Drive" Award, as well as a top-in-segment score in J.D. Power and Associates' 2017 U.S. APEAL Study.
Thorough testing at Honda's recently renovated proving ground near Mojave, California, showed that CR-V Touring is by far the best entry in the industry's most competitive segment. A new engine and transmission delivers strong performance to a budget-minded family—by getting to 60 mph 0.8 second quicker than the previous model and also being about 8 percent more fuel efficient around town. In addition, the cabin is supremely functional, with prodigious storage space in a small footprint. The CR-V's rear doors open wide, ensuring easy access to the spacious rear seats. Judges agreed that with prices ranging from just under $25,000 for the LX to $34,735 for the Touring AWD model, the value of Honda's CR-V is highly competitive.
MOTOR TREND Detroit Editor Alisa Priddle says, "Honda made sure it kept its crown jewel ahead of the field by paying attention to a wide range of details. Others might excel in certain fields, but others don't put the whole package together the way the CR-V does."
2018 MOTOR TREND Person of the Year Winner: Mary Barra, Chairman and CEO General Motors
This year's 2018 MOTOR TREND Person of the Year is making leaps and bounds as she strives to make changes in today's automotive industry. Jumping from last year's No. 11 spot to No. 1 for 2018, MOTOR TREND is honored to recognize Mary Barra, Chairman and CEO General Motors.
As GM's Chairman and CEO, Barra is executing the automaker's plans to expand into electric vehicles starting with the Chevrolet Bolt (MOTOR TREND's 2017 Car of the Year) and introducing at least 20 new EVs by 2023; partnering with companies such as Lyft; and creating GM's own car-sharing service, Maven. Barra also took smart business moves, updating the hot-selling SUV lineup, while dialing back production on slower-selling models rather than piling on incentives. She also pushed forward financial restructuring, which elevated GM from bankruptcy to record net income in one of the most successful business turnarounds of the modern age.
2018 Car of the Year Finalists Were:
Alfa Romeo Giulia
Kia Rio
Honda Accord
Lexus LC
Honda Civic Type R
Porsche Panamera
Kia StingerTesla Model 3
2018Truck of the Year Finalists were:
Ford F-150
Chevrolet Colorado ZR2
GMC Sierra HD
2018  SUV of the Year Finalists
Alfa Romeo Stelvio
Subaru Crosstrek
Chevrolet Traverse
Volkswagen Atlas
Honda CR-V
Volvo XC60
Land Rover Discovery