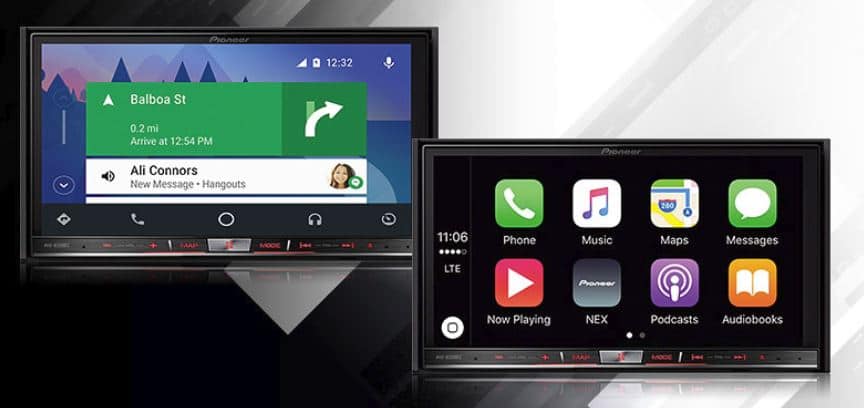 For automotive enthusiasts Black Friday and Cyber Monday offer discounts to accessories and systems that are not seen during the year. If you are looking to buy a car we suggest you check prices at TrueCar and Edmunds.com You should print out a certificate for when you go to the dealer for a haggle-free car buying experience. There are more Android Auto and CarPlay receivers available than ever before, many with rearview camera capability and multiple Bluetooth connections. Sony's receiver features a knob for easy tuning. We are seeing discounts on new models ranging from 20-35%.
Pioneer Pioneers CarPlay and Android Auto
Pioneer Electronics offers five new NEX in-dash multimedia receivers for 2017. The double-DIN 7" LCD AVH-2330NEX and AVH-2300NEX and double-DIN 6.2"LCD AVH-1330NEX and AVH-1300NEX models are designed to complement the smartphone lifestyle of today's consumer with continuous connectivity and access to a variety of entertainment options. The AVH-3300NEX expands the NEX line-up into the smaller, more universal single-DIN in-dash receiver size, providing for the first time, a smartphone connectivity solution that easily fits into many older and collectible cars coveted by automotive enthusiasts.
The units feature a redesigned, simple-to-use interface and compatibility with popular automotive specific smartphone interfaces and apps such as Apple CarPlay, Android Auto and Waze, plus entertainment options such as Bluetooth® music streaming and hands-free calling, Spotify and Pandora.
Waze users who have iPhones can operate Waze through the Pioneer receivers to view information on the big automotive screen.
EASY SMARTPHONE CONNECTIVITY AND CONVENIENCE
Bluetooth Wireless Connectivity – All models feature built-in Bluetooth wireless connectivity for up to five smartphones.
Android Auto (AVH-3300NEX, AVH-2330NEX, AVH-2300NEX)
Three of the five models feature Android Auto integration, allowing consumers to quickly connect their compatible smartphones to extend the Android platform into the car in a way that is purpose-built for driving. D
Apple CarPlay (All) Pioneer's CarPlay-compatible NEX in-dash receivers offer consumers the ability to upgrade the vehicles they already own with the latest iPhone®technology specifically designed for the car.
EXPANDED ENTERTAINMENT OPTIONS (All Models)
Spotify – Control content from the Spotify app for iPhone and Android devices as a dedicated source on the receivers
Pandora Station Creation and Station Presets – The Pandora station creation feature enables users to create new Pandora stations while the app is in use with an iPhone device or compatible Android smartphone. .
USB Connectivity – When connected to an iPhone, iPod, portable USB drive or compatible Android device via the USB port, users can use basic controls (Play/Pause/FF/Rev/Random/Repeat) and display track, artist and album information. Android devices must run OS 4.0 (Ice Cream Sandwich) or newer with Android Media Transfer Protocol.
SiriusXM Radio Connectivity – The 2017 NEX models are SiriusXM® compatible with the addition of a SXV300 SiriusXM Vehicle Connect Tuner (sold separately, SiriusXM subscription required). The receivers are also compatible with the Tune Start™, Tune Scan™, Tune Mix and Sports Flash features of SiriusXM.
HD Radio Technology – For high quality audio broadcasts, the AVH-2330NEX and AVH-1330NEX feature a built-in HD Radio tuner, providing clear digital reception of HD Radio and additional multi-casting programming on HD1, HD2 and HD3 broadcasts from participating radio stations across the country.
Waze Accessibility –  The new NEX units bring the highly popular Waze functionality into the dash of the vehicle on a larger touchscreen display, making it easier to view maps and directions. To use the Waze app on one of the five new NEX models, the driver connects a smartphone to the receiver via the smartphone's corresponding interface cable (sold separately) and opens the application using Pioneer's AppRadio Mode+, a feature that gives users access and control of popular in-vehicle apps directly from the receiver's screen..
The AVH-3300NEX single-DIN model features a motorized 7-inch touchscreen display and detachable face for security.
All models are backup camera ready – compatible with many original equipment (OE) and most universal rear-view cameras, including Pioneer's ND-BC8 rear-view camera (sold separately)
The AVH-3300NEX, AVH-2330NEX and AVH-1330NEX also come with:

A remote control to conveniently adjust volume, audio source and more
Dual camera inputs to help consumers enhance the rear visibility of their existing vehicles, beyond what can be seen in the rearview mirror

iDatalink Maestro support available on the AVH-2330NEX, AVH-2300NEX, AVH-1330NEX and AVH-1300NEX
Compatibility with Pioneer's AVIC-U280 outboard navigation system (sold separately)
USB Quick Charge (all models) – charges 1.5 amp Android devices.
See all Pioneer NEX
  receivers.
Very competitive to Pioneer is the Sony Receiver with a Knob
Sony offers one of the few systems with a control knob, that makes it easier to use.
Sony XAV-AX100 6.4″ Car Play/Android Auto Media Receiver with Bluetooth
. It features voice control through Apple Car Play and Android Auto and an ergonomic rotary dial for distraction-free operation.
JVC Dashing Deals
JVC Mobile Entertainment is offering pair of flagship multimedia receivers, the DVD-equipped  KW-V830BT and mech-less JVC KW-V820BT, both with Android Auto and CarPlay.
Entertainment-wise, both are SiriusXM-ready and connect to the SiriusXM Connect SXV300 satellite radio tuner (sold separately). They will also connect to two smartphones simultaneously via Bluetooth to make hands-free calls and play stored or streaming content, and control popular streaming services Pandora Radio®, iHeartRadio and Spotify directly from the receiver interface. In addition, smartphones and storage media can connect through two available USB ports, which also charge select devices.
The duo's audio processors can accommodate several audio file formats, including 192kHz /24-bit Hi-Res Audio and FLAC (Free Lossless Audio Codec), and Sound Adjustment works to enhance sound quality and optimize the listening stage. A thirteen-band equalizer carries 12 presets for most music types. Built-in amplification (50 watts x 4), high- and low-pass filters, and three sets of four-volt pre-amplified outputs make each receiver an easy upgrade for most standard audio systems.
The JVC KW-V830BT 6.8″ LCD Display, Apple Car Play, Android Auto
is Amazon's Choice with an MSRP of $599 is selling for $378.24 at Amazon which is huge 35% discount. The JVC KW-V820BT 6.8-Inch CarPlay Receiver is selling for $325.

 Zubie Super Discount
Zubie GL500C12M 3G Consumer Connected Car Service with 3G Always-On GPS Tracking (for Families and Teen Drivers)
that includes one year of service has a 41% discount is selling for $59.01 down from its original $99.
Meanwhile, the AUTOMATIC PRO car adapter with unlimited 3G subscription for 5 years and crash alert services is $129.99.

Jeep Wrangler Android Auto CarPlay Retro-Fit
Jeep Wrangler fans the  X209-WRA-OR weather resistant Restyle dash system for the 2011-2017 Jeep Wrangler. The X209-WRA-OR infotainment system includes navigation, Bluetooth wireless technology, Apple CarPlay™ and Android Auto™, all controlled through the 9-inch touch screen. The X209-WRA-OR is IP53 rated for protection against dust with limited ingress and fresh water spray up to 60° vertical, so the Wrangler can be driven with the top off even when Mother Nature has other plans. Alpine Electronics i207-WRA 7″ Mech-Less Restyle Dash System
is now priced at $994.99. Alpine Electronics i209-WRA Mech-less Restyle Dash System with Apple CarPlay & Android Auto for Jeep Wranglers, 9″ (2011-2017)
is priced at 1,499.45.
The 9-inch touch screen is captivating, but it's not the entire story. The i109-WRA's dash bezel is Alpine engineered for the 2011-up Jeep Wrangler, with dedicated back-lit keys for direct access to the phone, music, and maps through Apple CarPlay. The touch screen and dash bezel fully replace the factory radio to create a system that's both integrated and attractive.
The X209-WRA-OR has features favored by adventure-seeking Wrangler owners. The off-road mode for navigation includes useful features like compass readings, vehicle tilt, tire pressure readings, route tracking on trails, and Points of Interest (POIs) on the way to trailheads. Wrangler accessories like the light pods and winch can be controlled from the X209-WRA-OR's touch screen, used with s-POD's 8-circuit SE system and 300-LSHS accessory interface module along with the Alpine KAC-001 accessory controller. Status feedback of these accessories is also available through the off-road mode.
For peace of mind away from home, the X209-WRA-OR works with the Alpine Connect app which links through subscription to Chamberlain Group's MyQ app. MyQ offers control and monitoring of home elements including Chamberlain and LiftMaster garage door openers, as well as smart lighting and other devices, and its partnership with Alpine is the first of its kind with an aftermarket electronics manufacturer. This collaboration represents Alpine's first step into the Internet of Things (IoT).