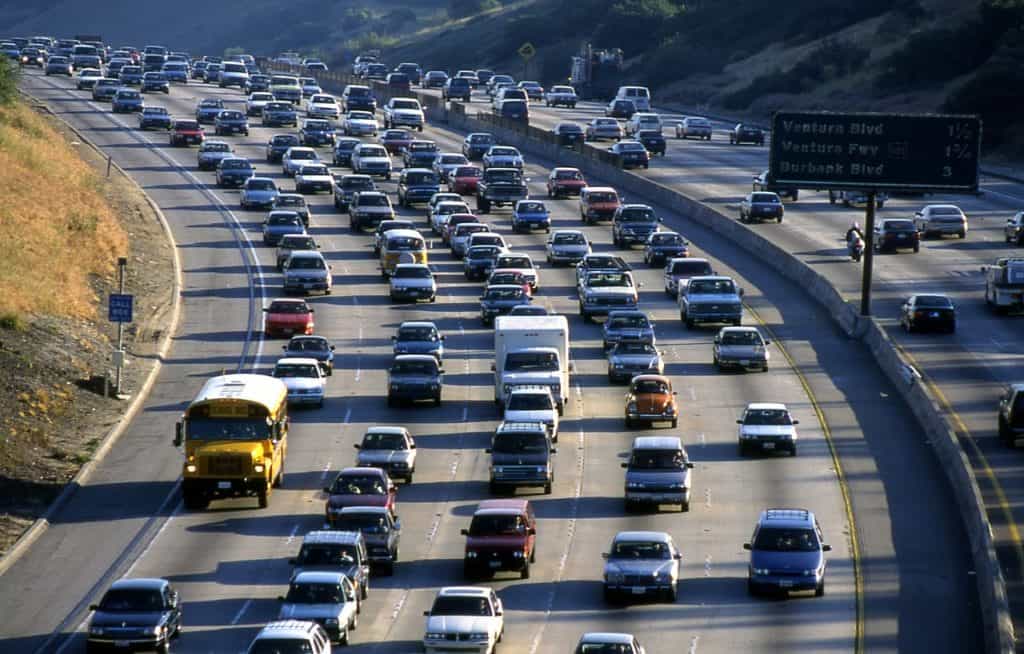 INRIX published research on the 25 worst traffic hotspots in America and their cost of wasted time, fuel use and emissions.There is good news and bad newsfor Angelenos some new 405 improvements are designed to ease traffic. The 405 freeway is considered one of the worse freeways in the country.
 Even though it is rated the worst in the world the 405 freeway shows promise. The 405 has some of the worst hotspots any where in the country:
2. I-405 N at Exit 43 to Exit 21.
3. I-405 S at Exit 22 to Exit 45.
6. I-405 N at Exit 53 to 38B.
24.I-405 N at Exit 70 to I-105.
New York had more traffic hotspots (13,608) than any other city analyzed. However, Los Angeles topped the ranking with the highest overall Impact Factor, due to the severity as well as the high number of hotspots (10,385). This also means L.A. pays the highest price, with congestion at these locations potentially costing drivers $91 billion by 2026, if congestion doesn't improve.
The impact of L.A. hotspots, and the potential cost to drivers, was 42 percent higher than the second ranked city, New York, and three times higher than Washington D.C. (ranked third). Atlanta and Dallas round out the top five, with Chicago, San Francisco, Houston, Miami and Boston making up the top 10. The economic cost to drivers due to wasted time, fuel and emissions in the 25 cities amounts to $481 billion by 2026. When extrapolated to a national level, traffic hotspots could total almost $2.2 trillion over the next decade.
Iteris, Inc. confirmed a $5.5 million initial contract for its role on the I-405 Improvement project for one of the busiest freeway segments in the nation, located in Orange County. Iteris' initial work on the project involving infrastructure design started in March and is expected to run through 2018.
The I-405 Improvement project has a total budget of more than $1 billion and is the largest-scale project undertaken by Orange County Transportation Authority (OCTA), in cooperation with Caltrans. Iteris is responsible for the freeway intelligent transportation systems (ITS) and Express Lane infrastructure design, temporary ITS infrastructure for use during construction, development of the project traffic management plan, and signal design at 42 intersections throughout the corridor. ITS and Express Lanes elements to be designed include changeable message signs, CCTV cameras, vehicle detection, ramp metering, and communications networks for both ITS and the Express Lanes. The widening project will add a total of four lanes: two general purpose lanes and two tolled express lanes.
An OCTA study concluded that by 2040, travel during rush hour through the regular lanes of this 16-mile stretch of I-405 will take only 29 minutes. The commute can be reduced to 13 minutes if a driver chooses to take the new Express Lanes. Without the widening project, it would take two hours and 13 minutes to travel the same stretch in regular lanes and two hours in the current carpool lanes.
INRIX Stats Over America
The study found:
New York had more traffic hotspots than any other city, costing drivers $64 billion by 2026 due to wasted time, fuel and emissions.
Los Angeles, which tops the overall INRIX ranking, has 10 of the 25 worst traffic hotspots in America, costing L.A. drivers an estimated $91 billion over the next 10 years.
I-95 in the Washington D.C. region was the worst overall traffic hotspot, which caused 1,384 traffic jams over the study period, stretching 6.47 miles and lasting 33 minutes on average.
Research shows initiatives like the Illinois Tollway congestion relief project on I-90 is proving successful at increasing speeds.
Table 1: INRIX Roadway Analytics Traffic Hotspot Ranking – U.S. Cities
Rank

U.S. City

No. of
Hotspots

Impact
Factor

2026 Cost of
Congestion

Worst Traffic Hotspot

1

Los Angeles, CA

10,385

11,692,591

$90.9bn

I-405 N at Exit 43 to Exit 21

2

New York, NY

13,608

8,215,036

$63.9bn

Brooklyn Queens Expy E at Exit 28A to W Shore Expy

3

Washington D.C.

6,097

3,758,733

$29.2bn

I-95 S at Exit 133A to Fairfax County Parkway

4

Atlanta, GA

8,554

3,714,123

$28.9bn

I-285 S at I-20 to Route 23

5

Dallas, TX

6,720

3,644,525

$28.3bn

I-20 W at Exit 451 to Exit 466

6

Chicago, IL

7,719

3,631,591

$28.2bn

I-90 W at 81A to Exit 56B

7

San Francisco, CA

2,587

3,458,305

$26.9bn

I-80 W at Emeryville to CA-4

8

Houston, TX

4,417

3,058,004

$23.8bn

I-45 S Exit 46A to Exit 63

9

Miami, FL

6,596

2,449,631

$19.1bn

I-95 N at Exit 12A to US-1

10

Boston, MA

4,158

2,429,229

$18.9bn

Massachusetts Tpke E at Boston U Bridge to Oak St

11

Seattle, WA

2,675

1,929,802

$15.0bn

I-5 S at Pike St to 128th St/Exit 186

12

Philadelphia, PA

6,232

1,896,048

$14.7bn

Mid-County Expy S at E Rose Valley Rd to Pearl Harbor Memorial Bridge

13

San Diego, CA

1,936

1,602,278

$12.5bn

I-15 N at Exit I-215 to Gopher Canyon Road

14

Denver, CO

2,258

1,226,504

$9.5bn

US-36 W / I-270 at Exit 1 to Smith Rd

15

Phoenix, AZ

3,441

1,220,561

$9.5bn

I-10 W at Exit 138 to Exit 151

16

Portland, OR

2,365

1,154,218

$9.0bn

US-26 E at I-405 to NW 185th Ave

17

Nashville, TN

2,602

1,081,459

$8.4bn

I-24 W at Antioch Pike to Rocky Fork Rd

18

Austin, TX

1,727

1,076,441

$8.4bn

I-35 N at Stassney Ln to Exit 223

19

Columbia, MD

2,856

1,046,558

$8.1bn

I-695 CCW at Baltimore Nat'l Pike to Providence Rd

20

Detroit, MI

4,284

1,019,345

$7.9bn

I-94 W at Inkster Rd to Gratiot Ave

21

Minneapolis, MN

1,903

799,619

$6.2bn

I-94 W at State Hwy 128 to 250th St

22

Stamford, CT

777

729,130

$5.7bn

I-95 S at Route 136 to Stratford Ave

23

Pittsburgh, PA

2,744

530,395

$4.1bn

Lincoln Hwy E at Fort Pitt Tunnel to Settlers Ridge

24

Baton Rouge, LA

1,090

389,416

$3.0bn

I-10 E at College Dr to Port Allen Lock

25

Santa Barbara, CA

174

146,996

$1.1bn

US-101 N at San Ysidro Rd to La Conchita

   City Cost:

$481.4bn

    U.S. Cost:

$2.2tn
Top 25 Traffic Hotspots
INRIX Roadway Analytics identified and ranked the 25 worst hotspots from the cities studied. While L.A.'s traffic hotspots dominated the rankings – five of the top 10 traffic hotspots and 10 of the top 25 – the worst hotspot was on I-95 Southbound in the Washington D.C. region near Fredericksburg, VA. Traffic jams at the I-95 hotspot occurred 1,394 times over the study period, stretched 6.47 miles and lasted 33 minutes on average, with a potential to cost of $2.3 billion by 2026 if congestion here is not reduced.
INRIX evaluated the effectiveness of recent projects around the top 25 hotspots. Chicago's top hotspot, I-90 westbound at North Newcastle Avenue, is just 4 miles east of a recent roadway expansion project on the Jane Addams Memorial Tollway. Illinois Tollway recently added a lane in each direction, which increased westbound peak hour travel speeds by 64 percent. It also activated "smart" features, such as dynamic travel times, active lane management and "shoulder running" for buses or emergency vehicles.
Other cities around the country are making strides to reduce congestion and improve travel times. Although in the early stages, state and local governments have support to enact long-term transportation programs to ease congestion like Atlanta's Transform 285/400, Measure M in Los Angeles, New York's BQE Atlantic to Sands and Connecting Washington in Washington state.
INRIX Roadway Analytics identified and ranked 108,000 traffic hotspots in the 25 most congested cities in the U.S identified by the INRIX Global Traffic Scorecard. The ranking was determined by an "Impact Factor," which is based on the duration, length and frequency of traffic jams. The Impact Factor score enabled INRIX Research to estimate the economic costs at the road level and provided a metric to analyze the health of the transportation network within each city or metro area.