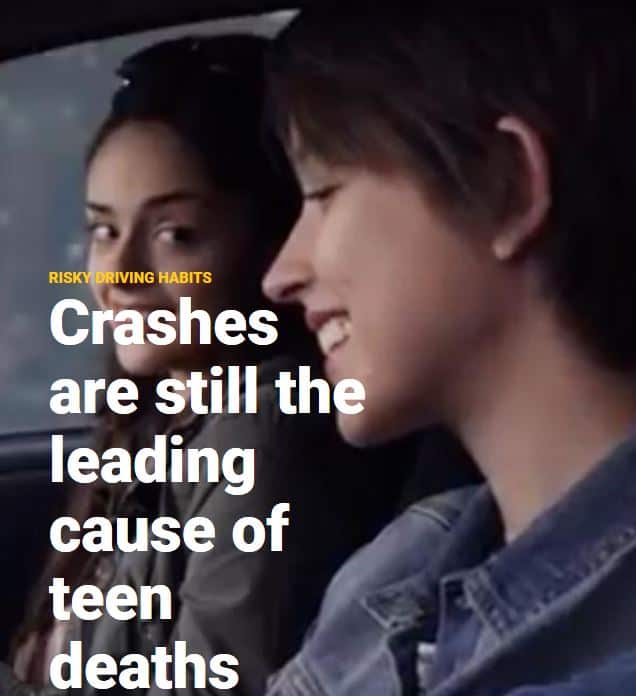 It's still National Teen Driver Safey Week and there are more announcements and suggestions. We previously published
A Connected Car Crazy Caption about Teen Safety Week.
Tips from the National Safety Council, free classes at Boys & Girls Clubs, Teen Safe Smartphone App, Life360 App.
Teen driving information from a new study conducted by Liberty Mutual Insurance and SADD, parental advice, & Verizon's Hum.
Tread Wisely Advice for Teens
While often overlooked by young drivers, tires are the only thing connecting vehicles to the road. As such, they are critical to driver and vehicle safety. That's why Cooper Tire, through its Tread Wisely™ program, is encouraging young drivers to learn how to care for their tires during National Teen Driver Safety Week (NTDSW), Oct. 15-21. By downloading the free Tread Wisely mobile app, teens can access tire and vehicle safety information, how-to videos and a unique "I Got There" feature that helps remind young drivers to tell loved ones when they've made it safely to their destination.
Tire Safety App
The Tread Wisely app is available for download from the App Store (iOS) or Google Play Store (Android). It offers educational information provided in a format teens want to use, putting useful tire safety tips directly into their hands before and after driving—not during. Features of the app include:
A series of easy how-to videos featuring race car driver and ABC's "The Bachelor" star Arie Luyendyk, Jr. on topics including how to change a flat tire, what to do if involved in an accident, what to do if pulled over by law enforcement, and more.
Reminders to complete monthly safety checks including proper tire inflation pressure, tread depth and overall tire condition.
A unique "I Got There" feature that allows young drivers to set a reminder to contact their parents or friends once they've arrived at their destination, and with just a couple of touches, sends a pre-written text to any number of recipients, letting loved ones know they have made it safely.
Rewards for performing regular safety checks and learning about vehicle safety. Users can earn points by completing various tasks within the app and can attain ever-increasing ranks for the chance to win prizes such as gift cards that can be redeemed for gasoline, food or other items. Certain actions, such as sharing the app with family, friends and others, will also earn special badges for users.
"Young drivers can feel invincible behind the wheel, which is one reason we developed the Tread Wisely program, which approaches driver and vehicle safety from the tires up. We want teen drivers to understand that what they know about tires and how they treat them is important for their safety," said Anne Roman, Vice President of Communications & Public Affairs. "The Tread Wisely app, a key component of the program, provides educational content and it is fun, offering points and prizes. Importantly, the content on the app is shareable, so young drivers can help those they know and love be safer on the road too."
ADEPT Driver Training
ADEPT Driver, a research and development company that created teenSMART and other proven crash avoidance training programs, warned about the increased risks teen drivers face due to technology embedded in vehicles. ADEPT Driver issued the warning during National Teen Driver Safety Week, October 15 – 21.
Dr. Richard Harkness, CEO of ADEPT Driver said, "Teen drivers have grown up with technology an arm's length away. But infotainment systems and self-driving technology in cars today increase risk on the road. Using technology that is now built in to many vehicle consoles while driving is proven to lead to distracted driving, which can lead to tragic consequences. The increasing prevalence of semi-autonomous and autonomous vehicles adds additional hazards. Teen drivers are three times more likely than adults to be involved in a deadly crash. The risks associated with technology embedded in newer cars make it essential that teens learn to stay focused while driving and how to avoid collisions. Teen Driver Safety Week reminds all of us to drive safely by turning off the in-car infotainment and staying alert to avoid self-driving car malfunctions and other hazards."
New research commissioned by the AAA Foundation for Traffic Safety found that infotainment systems in cars increase distracted driving. In-vehicle infotainment systems take drivers' eyes and attention off the road and hands off the wheel for potentially dangerous periods of time. Drivers using technologies built in to cars like voice-based and touch screen features were visually and mentally distracted for more than 40 seconds when completing tasks like programming navigation or sending a text message. Removing your eyes from the road for just two seconds doubles the risk for a crash, according to previous research.
At the same time, autonomous and semi-autonomous vehicles pose new risks. Many new cars sold today have technologies that take over driver controls, and some vehicles attempt to drive themselves under certain conditions. While the percentage of these cars is relatively small today, they are growing at a dramatic rate. According to the National Highway Traffic Safety Administration, in five years over half of the cars on the road are forecasted to have some self-driving features.
"One of the greatest concerns about the new technology is that drivers will become complacent and rely on technology that is not perfected yet," said Dr. Harkness. "The equipment in vehicles with semi-autonomous driving technology can fail, get confused or malfunction, causing the car to weave within the lane, drift into oncoming traffic, not stop when needed, or accelerate when it shouldn't. These unexpected failures require the driver to quickly take control of the vehicle when a system doesn't work properly."
ADEPT Driver's new video gives drivers tips on how to avoid collisions while sharing the road with cars that have varying levels of autonomous technology.
ADEPT Driver encourages teen drivers to learn about the ways that safe driving can be compromised. ADEPT created a risk calculator app called the Risk-O-lator.™ Using the Risk-O-lator, teens can test their knowledge about risky driving behavior. The Risk-O-lator calculates how risks for teen drivers are increased and compounded by activities such as texting while driving, speeding, tailgating, driving at night, or driving with other teens in the car. Using the Risk-O-lator, teen drivers can determine how taking multiple risks at the same time, such as texting and speeding, can significantly increase the chance that a teen will be involved in a collision. The Risk-O-lator app is available for free through Google Play and the Apple App Store.
ADEPT Driver created teenSMART, a crash reduction program that targets the leading causes of car crashes for teen drivers and teaches teen drivers key crash avoidance skills which are essential in an era of evolving auto technology.
ADEPT Driver claims that teens that complete teenSMART have fewer crashes with less severe outcomes and often receive substantial insurance discounts. To learn more about teenSMART, visit teenSMARTDriving.com.