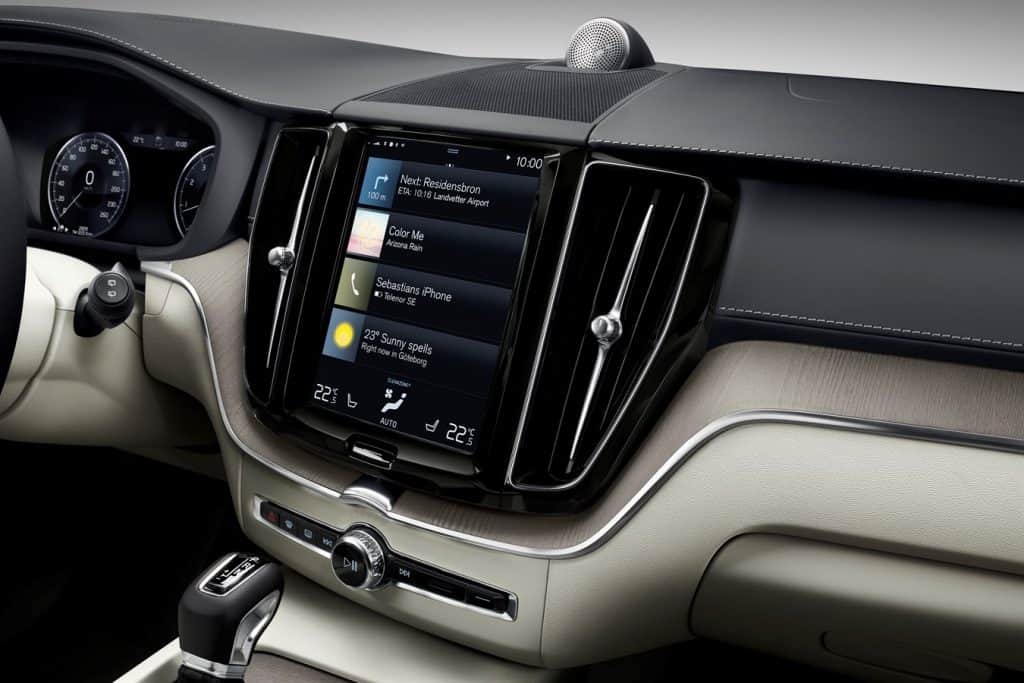 Volvo completely redesigned its Sensus Connect system that shows where Volvo technology is going with all of its models that will be re-designed by 2018. Sensus Connect is designed be intuitive, easy-to-use and allow drivers to keep their eyes on the road.
Jim Nichols, technology and product communications manager at Volvo North America, took me for for a ride in the Volvo CX90 a seven-seat SUV with the new Sensus Connect system. Also on the ride in the front passenger seat was Brian Greaves, director of product development for AT&T mobility, specializing in the connected car space. Nichols was able to seamlessly drive the vehicle, operate the Sensus Connect controls and give a demonstration, all at the same time.
The center touchscreen uses infrared sensing technology that allows drivers to operate the system while wearing gloves or with long nails. Senus Connect was developed in-house to be as fast and responsive as a tablet. If the response is not fast, then drivers become frustrated and distracted.
On the center touchscreen there is one button on the bottom that works as a home button. There are only eight additional buttons throughout the dash. The purpose was to provide a clean Scandinavian design.
The Sensus Connect system gives Volvo flexibility, enabling the company to continue to add features and modify features via the software. Volvo can update the software either through a hardwired connection at retailer or Over-the-Air updates through the AT&T connection. In fact, Volvo recently released the update to Apple CarPlay, that is available through all retailers.
After our drive, Nichols sent an email stating, "Volvo has deeply integrated Apple CarPlay in a way that allows drivers to still use most of the vehicles' infotainment functions while benefiting from the CarPlay environment. Applications can be accessed via Siri and drivers can choose to use either the car's navigation system or maps via Car Play. In addition to the Car Play update, Pandora is also available," he noted all trim levels of the 2016 XC90 are eligible for an update and drivers can schedule a service appointment with their retailer for installation.
In Sensus Connect, all functions are a swipe away. There's a home screen and one swipe goes to safety functions, another swipe in another direction and you have the infotainment options such as Bluetooth audio, Sirius XM or car apps. Current apps available are local search, TuneIn(streaming radio) and weather apps. Future apps in development are Yelp and Wiki Locations. Pandora recently became available. The data connection can be used to search the Internet or stream music.
"What we found among luxury car buyers is that they do want to be constantly connected," said Nichols, "We're able to do it through this interface and through the AT&T connection."
The design includes a patented four-tile flat menu structure. When one of the tiles on the touchscreen expands on interaction, the others are compressed but still visible and instantly accessible.
Navigation is shown on the center stack touchscreen and between the gauges in the instrument cluster.
The head-up display projects an image on the windshield, only the driver can see, that shows the speed and the allowable speed limit by reading the speed limit signs.
Some of themost popular features of the Volvo XC90 are the touchscreen and the overall design. The Volvo XC90 is designed to be a sanctuary, a calming environment with leather and natural wood with simple controls because often the only "me" time people get is when they are behind the wheel.
Family members or passengers often want to bring their devices with them and they can connect them to AT&T Wi-Fi hotspots. The car has an amplified cellular antenna for great reception noted Greaves. When consumers have Wi-Fi hotspots the automaker doesn't have to develop entertainment options, observed Nichols , the passengers can be entertained on their own devices using the Internet connection.
Sensus Connect, received the 'Most Innovative HMI System' at the 2015 Car HMI Concept & Systems conference in Berlin. The Volvo XC90 received Motor Trend's SUV of the Year award not just for being SUV of the Year— but also for being "a captivating work of art, inside and out."
Volvo owners automatically receive a 4-year subscription to Sirius Traffic and weather information with new Volvos with Sensus Connect. Sirius traffic shows the traffic on the map when in navigation mode. The system constantly calculates the amount of time, it senses heavy traffic and finds a better route and constantly looks for the best route possible.
Sensus Connected, uses advanced maps and services enabled by the HERE location cloud to provide drivers with smart guidance both in and out of the car.
Data that's shared between the Volvo vehicle and the Volvo Cloud is used to improve safety.
AT&T and Volvo partnered for Wi-Fi hotspots that can be added on to AT&T share plans. New Volvos with AT&T connections come with a 6-month trial of AT&T nationwide network included with the purchase of the vehicle.
Volvo realeased an update to iPhone CarPlay in late 2015
To support the addition of new services, Volvo On Call, the company's connected smartphone app has undergone a total redesign. Volvo car owners can now send navigation destinations based on their calendar directly to their car, find nearby fuel stations and even get help finding their car in large car parks or on unfamiliar city streets using the remote smartphone app.
Volvo On Call allows for remote start, climate pre-conditioning, a driving journal (mileage reports), car locating, notificiations and sending destinations.  Volvo On Call now comes with smartwatch and wearable support, working with iOS and Android operating system-based smartwatches.
Volvo announced that it is working with Google to develop the next generation of its in-car infotainment and connectivity solution based on Android, offering access to a wide array of apps and services. It will launch on new Volvo models within two years.
Volvo Cars, announced that it will introduce Skype for Business, Microsoft's leading collaborative productivity app, to its new 90 Series cars. Volvo Cars is the first carmaker to launch such an in-car productivity tool.
A previous verison of this article appeared in Automotive IT News. It was edited and updated in August 2017.