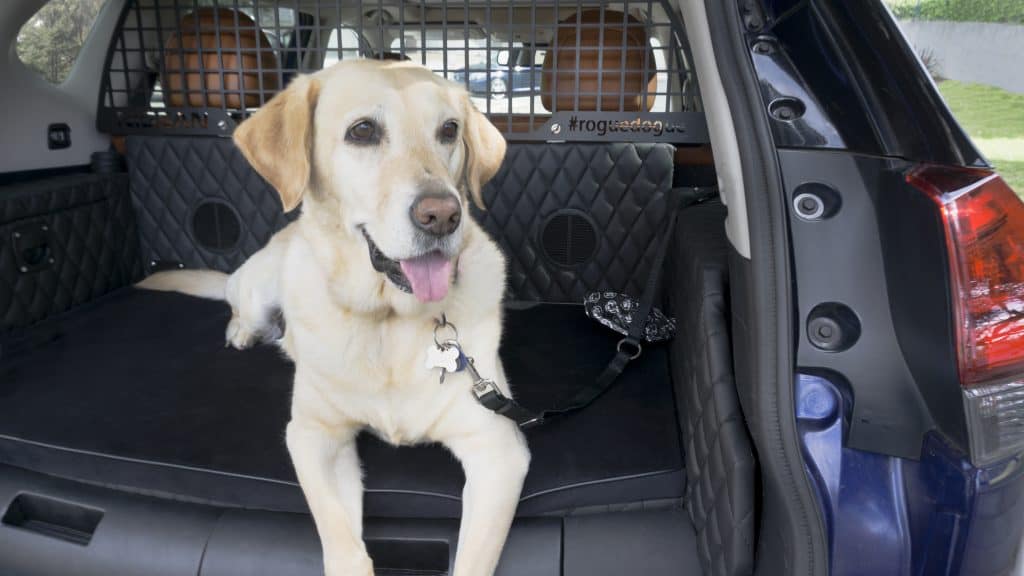 We just celebated National Dog Day,  yesterday, putting dogs in cars are in the news. 78 million canines live in more than 46 million households, according to the American Pet Products Association. Nearly six in 10 people travel with their dog in a vehicle at least once a month. Research shows nearly two-thirds (or 63 percent) of look for [vehicles that accommodate their pets.
As the temperature is approaching three digits today, AUTO Connected Car News looks at the best connected cars for your dogs and how to use them.
Electric cars are buy the far the best dog cars because, you can leave the dog in the car with the air conditioner on without running the vehicle. Of course this will drain battery juice however, you will keep the pup cool.
Personally, I have found in my Nissan LEAF that the batteries below the cabin hold heat in the summer and the car is hotter than my engine cars where the heat was under the hood with the engine.
A few years ago, there was a company that made a K9 small pet carrier with a 12V plug that cooled the dog. My liitle dogs don't like it, but it does keep the carrier and the dog cool. However, the company went out business.
Another option is cars with remote start, when you have the A/C on and turn on the car remotely.
The question arises if you inside in the cool restaurant how do you do you know if FiFi or Fido is getting too hot?
New Dog Monitoring Tech
iMyK9 allows you to stay connected anywhere you have Wi-Fi or celluar connectivity with your dog in the car, monitor the temperature and get alerts when the temperature and the dog are getting too hot.
You mount the smartphone in the car which monitors the temperature, humidity and along with a Bluetooth pet tag. The owner can talk, see and hear their pup. Their calling the car baby monitor for your pup.
The company is looking for investors.
Best SUVs and Cars for Canine Companions?
US News Report named the top best cars for dogs. The best car for your dog depends on the size of the dog and also your budget
Honda CR-V
Subaru Forrester
Chyrsler Pacifica Hybrid
Range Rover -for Rovers
Ford Flex
Ka Soul
Volkswagen Atlas
GMC Sierra Denali
Jeff Renegade
Toyota 4Runner
Honda Element
It's interesting to note that Nissan for the New York Auto Show created Nissan Rogues just for dogs, the Rogue Dogue.The long list of Rogue Dogue modifications installed in the project vehicle includes:
Secured, removable custom dog bed in the rear cargo area.
Built-in (fold-down) non-spill water dispenser.
Built-in (fold-down) non-spill dog food dispenser.
Slide-away dog ramp for easy access to rear compartment for small or elderly dogs.
360-degree (hoop and hose) dog shower with 10 gallon pressurized water reserve.
Integrated dog drying system with compressed heated air dryer and outside hose attachment.
Heated air vents for rear cargo bed area.
Easy-to-clean custom interior materials.
Modified second-row/cargo area pass-through passageway.
Removable pet partition with Rogue Dogue logo between the second-row and cargo area.
Second-row dog hammock (clips around front and rear headrests).
Raised rear floor in rear compartment housing utility drawer and dog ramp; drawer faces covered in custom easy-clean upholstery.
Side wall mounted poop bag dispenser.
Rear facing passive side view mirror cameras (video sent to hard drive) to capture dog's road trip experiences — head out the window, interaction between dog and other drivers — for later viewing.
Auto Trader Named These as The Best Vehicles for Dogs:
BMW X5
Chevrolet Equinox
Honda Fit
Chrysler Pacifica
Nissan Rogue
Subaru Crosstrek
Volvo XC60
AUTO Connected Car News Best Connected Cars for Dog Lovers and Their Dogs
Bet Connected Car for Little Frou-Frou Dogs in a Designer Handbags – The Chevy Bolt because it is eco-trendy chic and you can drive with one foot without braking which makes driving easier with a dog in car. Also, remote features allow you to cool off the car remotely with five-years of basic OnStar service
Best Vehicle for Rescued Pit Bulls – Subaru Forrester because love is what makes a Subaru and Pit Bulls are the most loveable dogs around.
Best Vehicle for Labradoodles – these adorable stately fluff balls inspire driving in the snow. Since Volvo is working on detecting deer, moose and other large animals. Since Labradoodles combing two great hunting dogs the Poodle and Labradar Retriever, if you take your dog hunting the Volvo XC90 would be the best SUV.
Best Vehicle for Terrier Mutt Mixes – as a Terrier owner, I learned how tough Terriers are – the Jeep Wrangler is as wild, tough and respsonive as terriers and very popluar with campers.  Even Jack Russel Terriers could jump up into this utility vehicle.
Best SUV for Bull Dogs  – Bull Dogs are hefty creatures, like to surf and have human faces.  After looking a list of Nissan Rogue Dogue features, Bull Dogs would love every single feature, but would look stunning in the dog hammock and be able to hoist the surf board on the top.
Is there a car matches your breed completely? Let us know in the comments below:
Best Car for Your Dog-— the best car for your dog depends on where you take your dog and what you do with your dog. If your dog likes to go swimming and he weighs 100 pounds, you need a car with more space and water repellent seats.  If your dog gets car sick you need a car with a smooth ride. If your dog sheds white fur, you don't want black seats, gray is better. If your dog likes to look at the window and is little, you can make a perch on the back seat in hatchback vehicles. If your dog likes to play with skunks, we suggest you keep a lots of backing soda in the vehicle.
From a dog's point of view, dogs like cars where they can see out, keep cool and access water. They probably would love cars that smell like other dog's "pee-mail" which would drive us humans crazy.
Dog Driving Distractions?
The PEMCO Insurance Northwest Poll found that 43 percent of drivers in
Washington
think it's more distracting to drive with barking, licking and tail-chasing pets than it is to commute with rambunctious kids. That's compared to about one-third of respondents (34 percent) who think children are the greater distraction. The same sentiment isn't true in
Oregon
– drivers there find kids and fur babies equally distracting.
Nevertheless, about half of Northwest drivers (52 percent) admit they've driven with an unrestrained pet in the car at some point, and about a third (34 percent) say they've allowed a pet to roam the vehicle freely or even sit on their lap while driving.
PEMCO recommends following these tips to keep pets and drivers safe when hitting the road:
Restrain your pet. A well-ventilated carrier that's buckled-in prevents injury to drivers, passengers, and pets. A dog safety harness that attaches to a vehicle's rear seat belt is another safe solution.
The backseat is best. Because pets face the same front-seat injury dangers as a small child, pets are safest in the back seat – especially when using a harness.
Keep heads inside the vehicle. Feeling the wind in their fur can come at a high cost – not only can pets suffer injuries from flying road debris (even insects can seriously wound a dog's eyes), they can develop respiratory trouble from forcing cold air into their lungs.
No riding in pickup beds. While it may be legal in some areas, it's still a bad idea. In a serious crash, even a crated dog has minimal protection.
Talk to a vet. A veterinarian may be able to suggest ways to ease the trip for any beloved cats or loyal dogs who aren't happy travelers.
What cars do think dogs love? Tell us in the comments below: