The California New Car Dealers Association (CNCDA) filed complaints about Carjojo to the California Department of Motor Vehicles. It claims that CarJojo is a car broker and is not allowed to show VIN numbers. Carjojo slashed its price to $49 to enable more people to afford the service that gives buyers a guaranteed lowest price on cars by using data and AI learning. The prices are way below TrueCar and Edmunds.com and are often lower than even the best negotiators can get on their own.
It appears, the association doesn't like Carjojo because it shows prices that buyers are most likely to be able to buy the vehicle for if they know how to negotiate and have the most information about the vehicles on the lot.
Car dealers spend a lot of money on advertising and don't like it when there is data available that can help consumers get a better price. The car buying process is usually fraught with confusion, strange negotiation techniques and confusing numbers that are difficult for even a mathematician to hold.
What Happened to a Similar Car Buying Service
I was contacted by a similar service to Carjojo a few years ago by a PR rep who wanted me to interview the owner who is a car broker. She had been in the PR business for many years and never before had just great problems getting publicity for client.
Car dealers control the ad revenue for local newspapers, car review websites and car buying services. The PR rep had contacted a local newspaper in the the Silicon Valley for her client, the car broker. The reporter interviewed the car broker and then told the PR rep that the newspaper couldn't publish the article due to conflicts from their advertisers.
She told me that she had never in her entire decades long career in public relations had such a hard time getting publicity. I realized her plight and ran an article for her.
How Most Car Review Websites and Publications Make Their Money
Websites such as Edmunds, Cars.com, US News and World Report, Car and Driver, and many more websites have links to cars for sale on lots and receive either ad revenue or affiliate income from car dealers.
Both Edmunds.com and TrueCar have aggressive affiliate programs that pay websites that link to their services. If a car buyer clicks on the link and requests information on a vehicle, the website receives with the link gets an $8.00 affiliate fee. US News and World Report's car buying guide sends car buyers to TrueCar for which it is paid by affiliate links. By law, website are supposed to reveal that they profit from affiliate links.
In December 2009, the FTC released Guides Concerning the Use of Endorsements and Testimonials in Advertising. The guidelines require that any affiliate who uses reviews, rankings or testimonials to promote products must clearly disclose the fact that they receive compensation for doing so. Most car buyers have not idea how much money the car review website such as U.S. News and World Reports makes off of links to TrueCar.  Most car review websites claim they are impartial. Often car reviewers get perks such as stays in fancy hotels, dinners, parties and swag that in effect can compromise their impartiality.
Dealers pay TrueCar hundreds of dollars for each referral. TrueCar operates the car buying services for Allstate, AAA and AARP, all of which received payment for TrueCar.
What CNCDA Claims
CNCDA claims that
"Vehicles on the CarJojo's website include vehicle identification numbers, which is prohibited under state law unless the seller owns the car. As an authorized broker, Carjojo doesn't own the vehicles." CNCDA's Peter Mass told Automotive News.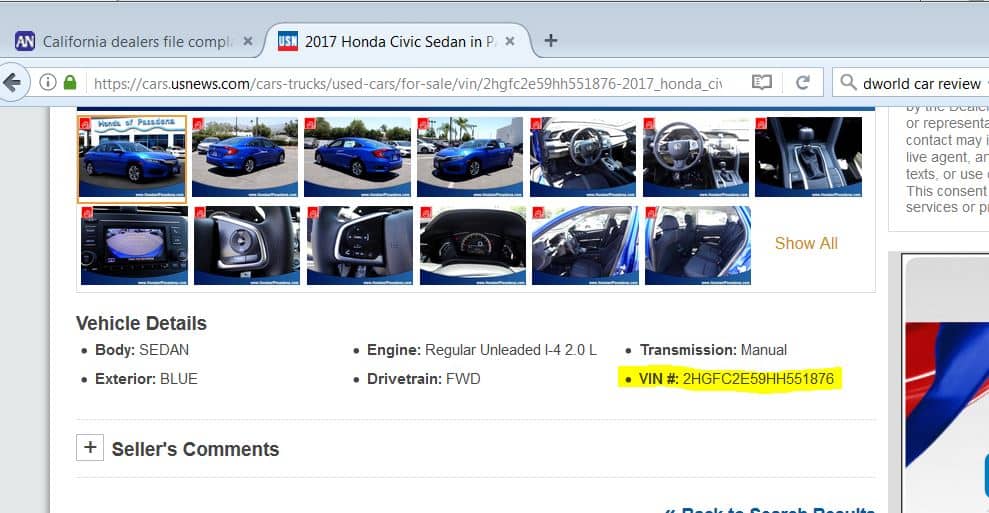 If you look at Edmunds, Car and Driver, Cars.com and Kelley Blue Book, they reveal the price and VIN number of vehicles. They are not the car dealership. In fact, I often see VIN numbers advertised on almost all car review websites. It is very easy to find a VIN numbers of new cars on Craigslist.
The CNCDA statement is very confusing and doesn't make sense. Edmunds, Cars.com, Kelley Blue Book, US News and World Report  and a plethora of automotive websites show VIN numbers.
VIN numbers show on through the glass on windshields of all cars. Sneaky people who are driving stolen cars or parking illegally often hide the VIN number to make ticketing more difficult. One could argue that VIN numbers are public information.
If you use TrueCar through AARP or AAA you have to accept terms and conditions and then the you receive a certificate from TrueCar with VIN numbers. TrueCar has been sued by car dealers many times and keeps coming back, even though car dealers hate the service.
CarJojo on it's website states that it is not a car broker
The short answer: Carjojo is data driven, does not take a penny from any dealer, and treats all dealers the same.  The broker is not data driven but is relationship driven, and works to protect and promote his relationship with his set of "in" dealers.  You get a lower price and a larger vehicle selection with Carjojo.

The long answer: Carjojo is an auto broker like an orchestra is a barbershop quartet.  You can hear music at either, but the reasons you listen to each are very different.
The claim comes after CarJojo lowered its $199 fee to $49 for a July Fourth special. Car buyers who have used the service reported that prices are lower than TrueCar and what they could get on their own.
Personally, I had a terrible experience with a car dealer who verbally promised one price(I have a photographic memory) and wrote down another. They sent me to Chuy to negotiate who was 6'6″ and weighed 300 pounds. Yes, I was imitated. I wound up using TrueCar because  the price was good, it may not have been the loweest but I didn't want any aggravation. Women often wind up paying more for cars.
In a study conducted by two economists in Chicago, car dealers quoted higher prices to a test group of women than to a similar group of men, even when those women followed the same "script" as the men. Women buy 54% of the cars in the U.S. Sales associates ignore women more.
Many people who use Amazon.com may have noticed that pricing is dynamic. I'm often lucky with the pricing strategy because I were a usual size shoe for adults and that size is priced lowered. If car dealers have dynamic pricing in which different buyers pay different prices, it makes sense to have a service that keeps track of the pricing for you like Amazon does for products.
When I previously wrote about car buying and getting the best price for Yahoo Autos and USA Today, the consensus was.
"She who has the best data wins."
It looks like Carjojo has data that is very threatening to car dealers.