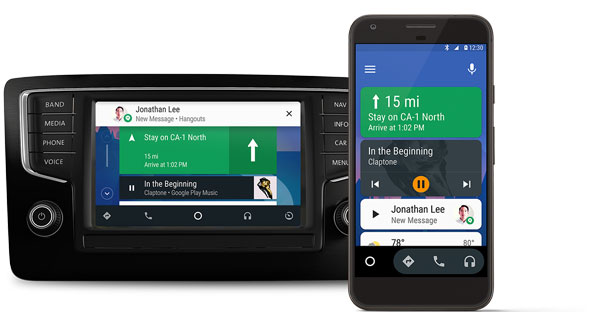 Issues and glitches are appearing with cars Android Auto. We predicted early on that the support for Android Auto which was almost nothing when the product was launched would be a problem for luxury car owners who are used to quality support for their vehicles. Google launched Android support forums in the effort to support its products. However, the support forum shows how Android Auto is not what it was supposed to be the ultimate in-car smartphone experience. After the recent update of Android Auto, the Google App and Android updates to popular model Android phone there have been problems in Android Auto with vehicles including Ford, GM, Chevrolet, Kia, Volkswagen, Kia, Audi and Mercedes-Benz. There are also issues with certain brand phones and cables.
Update 7/30/2017 New issues are arising daily for instance, today we see, two vehicles a Hyundai Tucson and another where Waze just stops working at all. With the addtion of Waze app integration there are new issues cropping up, including problems with voiced navigation. Text messages received in Android Auto are missing from the Android messaging app. Android Auto is recording itself. Voice commands stopped working on a Honda CRV.
Google launched an Android Auto forum in October of last year, just before it updated Android Auto for all the phones. Previous to that Android Auto users were supposed to Tweet their problems for help.
Finding information in the forum is overwhelming. The suggestions to help fix Android Auto problems take a long time to find. We were looking for solutions in the Android Auto Forum and were only able to find solutions going back ten days, which means there have been a lot of problems in the last tend days when an update was released on July 5. How do we know there are problems? Our readers get so frustrated they let us know in comments. The problem with forums is that it requires hours of reading through postings  to figure out what to do. It may take days for a response. Software companies love forums because the user do the work and testing for them.
The dealers are now stating that the problem is Google's…. The latest update to Android Auto appears to being causing many problems. It is very irritating when someone pays $70,000 for car and then the system doesn't work.
"Android Auto is becoming frustrating as problems seem to always surface after updating. Missing weather cards, its primary function – voice commands – not working, issues connecting to head unit, etc," wrote one forum user.
"Its is clear that Google does not take the issue seriously, when an application is considered of industrial utility do not solve anything, there is no update since last July 5, it is sad that the reality is that absolute lack of professionalism on the part of the developers of this app," wrote another.
On July 5, there was an Android Auto upate.After the update there were problems with cars that were designed to work and connect directly to Android Auto via the car's infotainment screen.
We have suggested in the past to not update software on a smartphone that is working, until you check with your dealer and Android Auto forums. We have dealt with Android problems for quite sometime. Google never fully tests its software before deploying it. Since automobiles are not as frequently updated as smartphones it's always safer to wait and let the other car owners be the guinea pigs.
Cable Before You Panic!
Before you read through all the problems, your problem may be solved by buying a new USB cable. Yes, a cable for less than $10.00 could be the problem. Newer Android phones such as the Pixel, Nexus, Samsung Galaxy S8 use a USB 3 aka C cable. All USB cables look alike. Make sure that you are either using the cable that came with phone or one of the cables recommended by Google (see list below). A shorter cable is less likely to be causing problems. When we tested Android Auto last year on Hyundai Elantra, buying a new compatible cable helped a lot. If you bought a Samsung Galaxy S8 and are using the cable you used with an Samsung Galaxy S6, it may not work properly. Make sure that you are using a USB C cable for Samsung Galaxy S8/S8 Plus, Pixel, LG G5 LG G6, and HTC 10
.
It also be sure to update your phone with a good connection, such as Wi-Fi when you are not traveling, updating phones with weak connections can corrupt the software download.
Known Android Auto Issues:
Android Auto doesn't work with Huawei phones.
Pixel Phone with GM Cars, Corvette, Cruze and others.
Pixel phone issues with not charging when plugged to USB port.
Samsung Galaxy S8, S7(updated software) issues after a recent update of Android.
Android phones run extremely hot when connected to Android Auto.
Android Auto problems with Honda Civic, Kia, Ford SYNC 3, Volkswagen, Buick LaCrosse, GMC and Hyundai.
Problems with Okay Google Apps- appears to fixed with recent update.
Problems after the Android Auto update on July 5.
GM Buick/Chevy/Cadillac Radio Muting Issues – . You may also need to update the GM Infotainment system to version 7.0
Android Auto Glitches
Here are just a few example of the problems that Google has not been able to solve.
I have brand new 2017 Buick Lacrosse. Android Auto worked fine on my old Samsung Galaxy 7. I temporarily had access to iPhone 7 and this worked fine, albeit with Apple CarPlay. After the updated a Samsung Galaxy S8+ and CANNOT get the Buck's IntelliLink to pick up the connection.
SamsungAgalaxy S6 active will not project Android Auto to Chevy MyLink screen. Was fine until latest update.  Samsung Galaxy S6 that has not been updated to latest OS and works fine.
2017 Chevy Bolt EV. I'm running Andoroid Auto on a Verizon Galaxy S7 running Android 7. AA seems to connect just fine, however it then randomly drops the connection and puts up the Error 12 message..
ISsues where calls made on  phone via Android Auto aren't playing audio two or three trys it will usually work with the latest software, Pixel XL on 7.1.2 with latest AA version on a 2016 GMC Denali Intellink system. Same problem reported on Chevy Cruze.
Mercedes-Benz Issues with Android Auto
2017 Mercedes has Android Auto option, it did work fine for 6 months but stopped working over a month ago – Owner deleted app and re loaded, had dealer look into – they say it's the phone . The problem ever since June update –Phone has app updates in play store. Samsung S7, Android 7.0 , Android Auto 2.4.722904 , Google Play Services 11.0.5
Volkswagen
I've got a 2017 VW GTI (MIB2 dash unit) and a PIxel.  Every single time I plug in and connect to Android auto, I get pop ups about enabling message access for the bluetooth device and also about the smart lock. It doesn't matter if I enable smart lock or messaging access, no matter what I do it prompts me every time. It's extremely annoying, especially since I want the smart-lock to work and keep my phone unlocked in the car.
Mercedes-Benz & Pixel Phone
A brand new 2017 Mercedes GLE can't connect to Google Pixel which  USB A to USB C cable that came with the phone. The car and phone both attempt to load the interface but the car screen freezes immediately.
Samsung Galaxy 8 Issues with Ford, Honda & More
After replacing a S7 with an S8. Linked with car on Bluetooth, plugged in USB allowed all the handshake questions and Android Auto comes up on the phone only. The Samsung Galaxy S7 worked owith no problems. 2016 Ford C Max.
2107 Honda CRV EX, replaced a Galaxy S4 with S8 (S4 did not support Android 5 or better, S8 is running Android 7). Google Music and Phone functions work fine over Bluetooth. When connecting with the Samsung provided USB cable to use Android Auto the phone is not even "seen" by the system. The user called Honda and they said it is an issue with Android 7, suggesting that Android 5 or 6 would work. Honda further stated that Google is aware of the incompatibility issue and working on a fix.
Chevy & Samsung Update Don't Mix
2016 Chev Silverado with the latest Android Auto, latest Google updates, Galaxy S7 edge with latest updates. Ever since AA switched to hot word detection of 'ok Google', is not functioning and sluggish. Same thing happens with my phone with my S7 Edge on my 2017 Cadillac XT5. Phone gets very hot, slow to respond to on-screen commands at times and reboots a lot.
1016 Honda civic with Samsung Galaxy S8, frequently disconnects when using maps on a two-hour roundtrip and had to keep reconnecting the phone while driving. The user had much better experience with Apple CarPlay with my old 4 year old iPhone
The in-car screen Android Auto interface, it doesn't work on a 2017 Chevy Equinox.
Samsung Galaxy Issues
Just replaced a S7 with an S8. Linked with car on Bluetooth, plugged in USB, allowed all the handshake questions and Android auto comes up on the phone only. S7 worked on the cars touch screen with no problems. 2016 Ford C Max.
Everything was working fine for maybe a year, then it just stopped. The phone comes up with an error that says that it can't do file transfer.It happens with two Galaxy S7. I tried changing the cable, and then I tried changing it again using the one that came with the phone. No changes. Possibly it stopped working when I updated to the newest version of Android Auto (Jul 5), but I can't say for sure. It still works fine on the phone, it just doesn't work with the head unit.
Kia Issues with Android Auto
I like Android Auto when it pairs correctly with my Kia. – functions don't always work properly. I seem to be getting more hiccups every time there is a new version installed. Android Auto is now screwing up telephone voice commands.
I have the App on 2 phones a Galaxy S7 and a Cat S60 in a 2017 KIA Sorento with AA built in. Since the last update unusable since the last update. The S60 is still okay. Latest when I get a call it crashes. I am talking about the USB wired connection to my KIA head unit. Bluetooth is okay.
Navigation works better after the recent update but now text messaging doesn't work correctly with error, "I don't understand". Sometime the app crashes. 2017 KIA FORTE 5 LG G6.
Problesms with Phone Sony Xperia Z3, Amdroid 6.0.1 and Car KIA Niro.
Android Auto doesn't work with LG G5 in 2017 Kia Soul + w/Harmon Kardon system, won't unlock to use "OK Google", only through Bluetooth can music and calls are heard nothing else works.
Ford Issues
Erratic connection to the head unit in 2016 Ford Escape with Sync 3. Sometimes doesn't connect first time. Have to unplug and reconnect data cable. Currently have to unplug, turn on location services on phone, then reconnect to head unit.
1+One w/Ford sync 3. If I don't reboot the phone before connecting, calls will usually be routed through the phone's speakers. Also, with the latest updates, when I use the voice command feature, my satellite radio continues to play over the Google Assistant. Software doesn't feel ready for prime time yet.
Android Auto is great when it works about 25% of the time, when connecting to my car, it'll flake out in various ways and I'll have to manually exit the app to reset it.
Volkswagen
This has become such a disappointment. It's gotten worse over the past month in conjunction with my VW MIB II head unit. AA doesn't understand me anymore, when it asks if I want to reply to a message, and I day "yes" or "reply" it says it's sorry but it doesn't know how to do that yet.
New Volkswagen This app will not sync with any USB cable I plug in with. Connection failed with every attempt. Phones I tried with are all running marshmallow.
2017 VW GTI (MIB2 dash unit) with a Google Pixel. Every time it connect Android auto, the user get pop ups about enabling message access for the Bluetooth device and also about the smart lock. I
Samsung S7 (OS 7.0), with VW Tiguan 2017 May (Composition Media + App Connect)
AA version (2.4.722804)-release doesn't work
Android Auto only works about 50% of the time. Spotify works about 5% of the time.
Hyundai Issues
Genesis G80. disconnects, stating "reading USB" unplug, plug in, same thing. After the cable was chaned, same problem. uninstall, reinstall app, same problem. New cable fixed the dropping issue however, voice commands work one day, not the next.
User Suggested Fix -Reinstall Fix Updates to Google Apps
On Android phone, uninstall the Google App updates and then re-install the update.
Make sure to step through the setup if you have more than one google account on your phone.
Go to Apps/Google/Storage/Manage Storage/Clear Google search data.
Okay Google Problems with Android Auto
 There is an issue with Google app version 7.4.  which was updated.The workaround to resolve the issue:
Open the Google app .
At the top left, tap Menu  Settings.
Tap Voice"Ok Google" detection.

Turn

off

 "Say 'Ok Google' any time" or

"From any screen" or "Always on" option (the top one in the menu).
Android Auto Glitches, Problems, & Issues Possible Fixes from Google/Android
Enable Related Software
Make sure that Google Maps is enabled on your Android phone, Android Auto will not work unless Google maps is enabled.
Check Cable
Check that when you plug the phone into the car that it shows the phone is charging– if not there is cable issue, you may need better cable or original cable.
Check Head Unit Settings
Check that Android Auto is enabled on your car: Some head units have it turned off by default (e.g. Kia / Hyundai) talk to your manufacturer if you dislike this).  Then plug in phone
Check Phone Settings
Check that the phone is turned on and unlocked, after the cable is connected follow instructions that appear on your phone such as Bluetooth pairing.
Check Data Transfer Setting to Car
Confirm that the phone is allowing data transfer to the head unit in the car. When your phone is connected to the car, swipe down from the notification shade in Android, and you'll see a notification that the phone is charging via USB. Tap that and select "MTP" or "Media Transfer".
Check that the Apps and Phone Software are Up-to-Date
Confirm that the Android Auto app and Google App are up-to-date: Please go to Google Play > Menu > My apps & games. Updates and ensure that you have the latest versions of those apps.
This suggestion should only used if you have checked that updates have not previously caused problems with your car and your model phone.
Intermittent Connections
Some cars, head units, phones, and cables are more susceptible to USB signal drop. Our users have had good results switching to shorter, tested USB cables to sustain a reliable connection.
Micro USB Cables that Work with Android Auto
TYPE C Cables That Work with Android Auto
Anker USB-C to USB 3.0 Cable (3.3ft) for  Pixel, Nexus 5X, Nexus 6P.
USB C Cable, CHOETECH r Samsung Galaxy S8/S8 Plus Pixel, LG G5 LG G6, HTC 10
FRiEQ Hi-speed USB 3.1 Type C Cable-3.3ft/1m-Micro USB 3.1 Type C Mal
Inateck USB 3.1 Cable USB-A Male to USB-C 3.1 Gen2Switch,LG G5/G6, Nexus 5X/6P, Samsung Galaxy S8, HUAWEI P9, New MacBook Pro, Pixel.
Veckle Type C 6.6ft USB C Cable for Samsung Galaxy S8, S8 Plus, Pixel, Nexus 5X, 6P, OnePlus 2, Nokia N1, Nintendo Switch, LG G5, G6 and More USB Type C Devices.
Google then suggests that the car owners report all issues to the Android Auto forum
Sometimes, there is dust or lint in the phone USB port, cleaning that may help.
Contact Automaker Support or Dealer
Most automakers offer some kind of support. By reporting your issue with the automaker, you will be able to see if it an Google problem or car problem.
If you have Android Auto issues or problems with your in-car infotainment system, please let us know in the comments below, be sure to note your make, model and year of your vehicle as well as model of your Android phone model and versions of Android and Android Auto. We also welcome any solutions you have found worked with your car.
Android Auto was first announced in 2014, it is currently available from, Acura, Audi, Buick, Cadillac, Chevrolet, Ford, Genesis, GMC,Honda, Hyundai, Kenwood, Kia, JVC, Jeep coming soon, Lincoln, Maserati, Mercedes Benz, Mitsubishi, Panasonic, Pioneer, Sony, Subaru, Volvo and Volkswagen.
In May, Ford is began offering a SYNC 3 software update that enables Android Auto and Apple CarPlay to model-year 2016 vehicles through computer download onto USB drive,over-the-air via a Wi-Fi connection or at dealers.
We have created an Android Auto Newsletter to email you updates. You are welcome to subscribe.