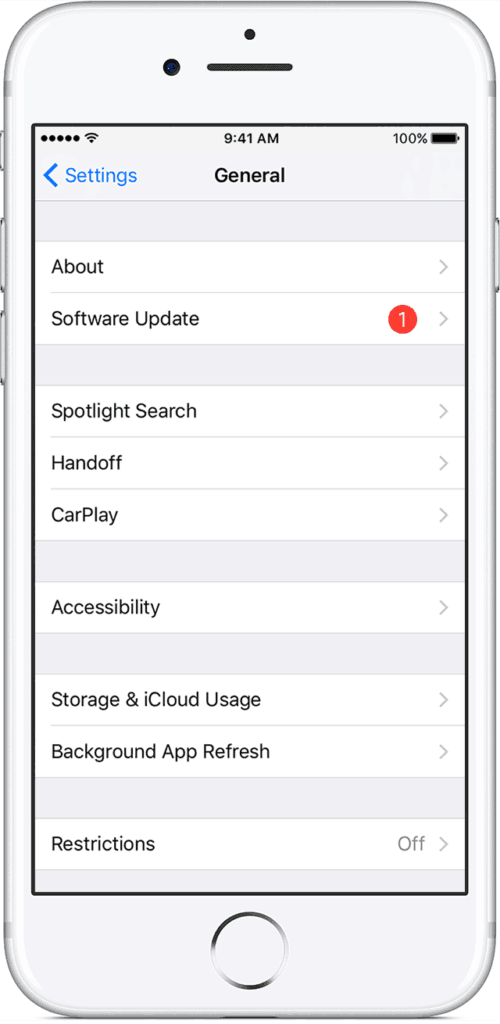 AUTO Connected Car News' readers know all too well there there is huge problem with iPhone 5,6,7-+/iOS 8, 9, 10 and Bluetooth in cars. We have been one of the few publishers to help drivers with Bluetooth problems to find answers to their Bluetooth problem questions. While other sources are in denial about Bluetooth issues with iPhone 5, 6 and 7 and cars, we are keeping track of the various fixes that work sometimes for some iPhone users with their cars.
Update 7/8/2018: We have compiled a new list of Bluetooth fixes to try and have more models with problems reported by our readers..
Unfortunately, if you are experiencing Bluetooth issues with your car and iPhone, according to our readers sometimes the only way to fix the issue is to replace your iPhone with an Android smartphone.
Apple has created its own help page to help car owners connect to Bluetooth. Basically, what it says is to turn on Bluetooth, restart your iPhone, un-pair your car from the device and then pair it again. After that you can trying updating your iPhone and then finally contact Apple support.
There are problems with Apple's solutions, after ninety days, there is no longer any free support. Apple sends car owners to their automaker such as Ford, GM, Chevy, BMW, Volkswagen, Honda, Buick, Toyota, Mercedes-Benz, Fiat, Alfa Romeo, Honda or afermarket makers. Since the problem is widespread, many believe that the problems with Bluetooth connections in cars with iPhones with iOS, 8, 9, 10 and the next release of 11 will continue. We have also noticed that our solutions are not showing up in Google search results because Google ranks Apple as the ultimate solution. Therefore, be sure to bookmark our site or sign up for email newsletters to get updates when they occur.
Many car owners take to forums and our comments for support. New iPhone issues include no Bluetooth phone book, audio dropping, problems after disconnecting with car audio.
Here are some of the recent Bluetooth issues we have seen with iPhones and iOS 10.xx and cars.
 2014 Honda Touring Elite. iPhone 6+ updated to iOS 10.3.2 pairs ok for music and will send/receive Bluetooth calls, except that my contacts won't sync to the car phone book. This means I am limited to calling the few numbers I manually program myself.
My iPhone always connects to the car – however occasionally audio is directed to the phone rather than the cars sound system.
It is difficult it has been to connect my iPhone 6s plus (iOS 10.3.2) to my 2013 Buick Enclave . After many attempts, it finally connected when I used the Enclave's "New Device" option on the console. I had to toggle the iPhone's Bluetooth and confirm prompts on both the iPhone and Enclave as fast as they popped up.. By contrast, my much older Samsung Galaxy S4 connected without problems..
iPhone Bluetooth won't connect to car radio, it appears to a conflict with connecting to too many devices.
I have a 2013 GMC Acadia. I can call out but cannot receive calls on my Bluetooth.
since iOS 10 upgrade the Bluetooth is buggy with 2016 BMW.
Siri doesn't go over speakers in n Alfa Romeo Stelvio with UConnect 8.4″ iOS 10.31.
After software update iPhone no longer connects to car.
Updated to 10.3.1.e. 2009 Honda Accord. Will connect using Bluetooth to system but no sound through speakers. using iPhone 6S. However using iTunes to update the iPhone fixed the issue.
I have a Ford, I never had an issue with Bluetooth till 10.3.2 update now it has dropped off a couple of times, there have been issues like shutdowns
iPhone 7 connectivity on Ford company car and personal Lexus either won't work at all (Sync on Ford) or cuts out every few seconds on Lexus. In addition on my Lexus it recognizes the phone as connected but I cannot hear any of the calls through the hands free option.
Lexus 450h iPhone Bluetooth connection drops out.
Infiniti G 37 when the owner disconnected the car battery and started over again the Bluetooth connection worked.
Mercedes e350 it consistently skips.
iPhone 5 works with BMW e60 but not iPhone 7 both with the same iOS 10.e.1
2015 Subaru Forester–all of a sudden the sound on calls was muted but the Bluetooth was working for music– it would mute when a call came in but no sound on the call. I spent about 2 hours researching this…then I went back into car and while I was on a phone call pressed all of the buttons on the dashboard, then it started working again.
The problem is after connecting a call and hanging up the sound no longer works on the "iPhone speakers" even when out of range of a Bluetooth device. "
Volkswagen Tiguan, iPhone 7, with OS 10.3.2., no sound with WhatsApp via Blueooth.
iPhone updated 10.3 in hopes that the issue with constant disconnects and reconnects in our car's bluetooth/hands free phone calls. Our 2016 Lincoln MKX still does not stay synched with the phone. It will connect, disconnect and then after a short time, reconnect.
After update to iOS 10.3 Bluetooth cassette adapter no longer worked.
When I dial from my steering, my iPhone 6 eventually switches from my car's speaker and mic to my iPhone's. My iPhone worked perfectly with my 2013 BMW until recently. I think it was introduced with IOS 10.3 as well. This is very frustrating. Setting the call audio routing doesn't make things any better when I try to dial out.
The problem isn't just in cars, an iPhone owner who are hard of hearing reported, "I suspect this issue pertains to the introduction of low energy BT. My biggest problem resulting from this tech glitch is that just like how car bluetooth connects and disconnects repeatedly, this same scenario happens with my Oticon Hearing Aids. I can't use the one function that I spent lots of money on."
Although we don't see the pressure from users with Bluetooth issues to have changed Apple's view of what to include in iOS 11, the lawsuits from victims of distracted may have forced Apple to make changes. When Apple previewed iOS 11 it will include Do Not Disturb while driving to help users stay more focused on the road.
With the Do Not Disturb while driving feature, your iPhone can detect when you may be driving and automatically silence notifications to keep the screen dark. Users have the option of sending an auto reply to contacts listed in Favorites to let them know they are driving and cannot respond until they arrive at their destination. It may mean that if someone who is driving while using an iPhone turns off this function and there is an Apple warning, Apple may not be held liable…
Meanwhile we haven't stopped collecting iPhone Bluetooth fixes. Here are some iPhone Bluetooth fixes.
The Nuke-it Fixes
These fixes remove all the settings from the car and the iPhone to start from scratch. Some have gone as far as disconnected the car battery to clear all the settings in the car, too.
1. Reset All Settings – Go to iPhone  Settings ▸ General  ▸ Reset  ▸ Reset all settings.
2. Unpair Phone and Car Infotainment System Rename Phone – Go to iPhone  Settings ▸  General ▸ About ▸ Name. Change the name of the iPhone and pair with the car infotainment system again.
3. Reset/Restore Network Settings: Restore all network settings of iOS 9.2  Go to Settings ▸ General ▸ Reset (at the bottom)▸ Reset Network settings. This method also deletes all Wi-Fi and other network settings!  If you reset you must re-add all your network settings in iOS.
4. Delete and Start All Over: Delete all Bluetooth devices. See full instructions.
A reader reported he deleted all old phone settings from the car and set it up again. Once you clear it out it sets up fine.
Other Fixes:
Disable Handoff on iPhone – launch the Settings app from your Home screen ▸Tap General. ▸Tap Handoff & Suggested Apps ▸Toggle Handoff to Off. This has worked for iPhone users with multiple devices.
Change Bluetooth Settings– Go to General ▸ Accessibility ▸Car Audio Routing ▸ Select "Bluetooth Headset" instead of the default Automatic.
Change Bluetooth to Automatic- Go to settings, General->Accessibility->Call Audio Routing and change to automatic
Delete/Reset the Vehicle's Bluetooth Settings – we have reports that by removing the fuse for the infotainment unit for a few seconds and then re-pairing the updated iPhones, it then allows the Bluetooth to work again. A variation on this fix is to disconnect the car's battery for a few seconds to lose the stored data and then re-connect the battery and re-pair the iPhones.
Play with car dash buttons – just in case you turned something on or off by mistake, go through all the car's menus and change the settings that seem appropriate. Kicking the car won't help but may help you feel better.
Forget device on iPhone 7 then pair again in Airplane Mode.
Connect through USB or AUX – for playing music in BMW or other vehicles, you can connect with the AUX adapter or through USB to play music.
Replace iPhone 7 through warranty or – we have one report that when a car owner returned the iPhone 7 and received a new one it worked with his car. However previous reports with early iPhone 7 manufacture dates, there was no difference.
If you have updated to iOS 10.2.1 for iPhone 5/5S/5c 6-6+ 6S/6S+ 7/7+and it fixed or fried your Bluetooth connection or music streaming with your in-car infotainment system, please let us know in the comments below, be sure to note your make, model and year of your vehicle as well as your iPhone model and carrier (AT&T/Verizon/Sprint/T-Mobile etc) .We also welcome any solutions you have found worked with your car.
We have a newsletter dedicated to looking for Bluetooth fixes and in-car audio systems, you are welcome to subscribe to that newsletter, weekly news updates or email news when published.