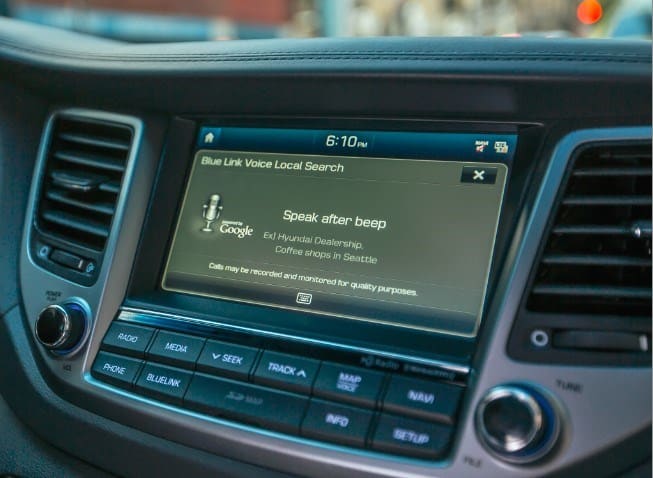 Hyundai announced it is making many Blue Link features available for free for three years with new model vehicles including remote start, alerts, SOS, map updates, car locating and geo-fencing. The Blue Link features are standard and can be accessed via smartphone, smartwatch, Amazon Alexa and Google Assistant for three years. Previously Blue Link services averaged about $100 a year per service after a year of free service. Hyundai also announced that Blue Link now works with Google Assitant smart home devices.
Hyundai updated their standard services packages for Blue Link-equipped 2018 Hyundai vehicles and 2017 IONIQ models. The rollout of the standard services will begin with the launch of the 2018 Elantra GT, Santa Fe Sport and redesigned 2018 Sonata models. The redesigned 2018 Sonata debuted at the New York International Auto Show. Hyundai has has also enhanced the Blue Link Remote Start with Climate Control feature to include control of the rear defroster and heated side mirrors for 2018 Elantra GT and Sonata.
Similar to OnStar service, key Blue Link safety and security features like Automatic Collision Notification, SOS Emergency Assistance and Stolen Vehicle Recovery are now com standard to subscribers. These features include immediate access to the Blue Link Emergency Response Center in the event of an accident, faster connection to emergency services and 24/7, 365 days/year access to emergency assistance via the dedicated SOS button. Blue Link can also assist the police in locating and recovering an owner's stolen car.
In addition to making the current features standard, Hyundai will tackle the inconvenience of outdated map software by offering free downloads to maintain up-to-date navigation programming on the system's SD card via the MyHyundai website. The complimentary updates also will be available for three years as part of the Guidance Package.
Ok Google Start My Hyundai
Hyundai's Blue Link Agent for the Google Assistant is now available for use by Hyundai owners. The announcement was made during a press conference at the New York International Auto Show today.
The Blue Link Agent for the Google Assistant allows control of various functions of a Hyundai vehicle with simple voice commands. These commands can include "Ok Google, Tell Blue Link to start my Santa Fe and set the temperature to 82 degrees, "Ok Google, Tell Blue Link to send the address of the Empire State Building to my Sonata", and "Ok Google, ask Blue Link to unlock my car".
To make these voice-activated features available to even more Hyundai owners, Blue Link Connected Care, Remote and Guidance packages are now free for three years on all 2018 Hyundai models and the 2017 IONIQ lineup. This announcement was also made at the New York International Auto Show today.
Google Home is a voice-activated speaker powered by the Google Assistant that can provide real-time answers, activate streaming music services, smart home devices, and now, cars.
Google Home and the 2017 IONIQ Electric
Blue Link brings seamless connectivity directly into Hyundai cars with technologies including Remote Start with Climate Control, Destination Search powered by Google, Remote Door Lock/Unlock, Car Finder, Enhanced Roadside Assistance, and Stolen Vehicle Recovery. Blue Link services can be easily accessed from the buttons on the rearview mirror and center stack, the web or via the Blue Link owners' smartphone app. In addition to the action on the Google Assistant, some of these features can also be controlled via the latest Android Wear and Apple Watch smartwatch offerings.

To send commands to the Hyundai Vehicles via the Google Assistant on Google Home, engineers developed a way to link a customer's Blue Link Account with the Google Assistant voice activated services. Once a customer has successfully linked his or her account, Remote Service commands will only be sent to Hyundai vehicles after the Google Assistant prompts owners for their Blue Link Personal Identification Number (PIN).
For example you can say "Ok Google, tell Blue Link to send the address of the nearest Starbucks to my Santa Fe."
Google answers, "The address I found for the nearest Starbucks is 350 Fifth Ave, New York, New York. Would you like to send it to your blue Santa Fe?"
You answer, "Yes."
The Google Assitant responds "A request to send point of interest has been sent."
A Hyundai subscribr can say "Ok Google, tell Blue Link to start charging my IONIQ."
The device says, "To remote start charging your gray IONIQ, please say your Blue Link PIN. Or, say cancel."
The subscriber states the pin and the Google Assistant, responds, "A request to remote charge has been sent."
Blue Link action on Google Home demonstration features include, sending a destination to the car's navigation system, remote horn/lights
Start and stop charging,  remote start with climate control, remote lock and remote unlock.
The complete set of standard features included are:
Connected Care Package

Automatic Collision Notification
SOS Emergency Assistance
Monthly Vehicle Health Report
Automatic Diagnostic Trouble Code Notification
Service Link
Maintenance Reminder
Driving Information
On-Demand Diagnostics
Enhanced Roadside Assistance
Blue Link Mobile App now with Charge Management for electric and PHEV models

Remote Package – Most features can be activated via Amazon Alexa skill, smartphone app or smartwatch

Remote Door Lock / Unlock
Remote Horn and Lights
Remote Start with Climate Control (Requires push button start)
Car Finder
Stolen Vehicle Recovery
Stolen Vehicle Slowdown
Stolen Vehicle Immobilization
Alarm Notification
Curfew Alert
Geo-Fence
Speed Alert
Valet Alert

Guidance Package – Requires Onboard Navigation

Multimedia and Navigation Updates (Provides complimentary map updates)
Destination Search Powered by Google
Destination Send-to-Car by Google