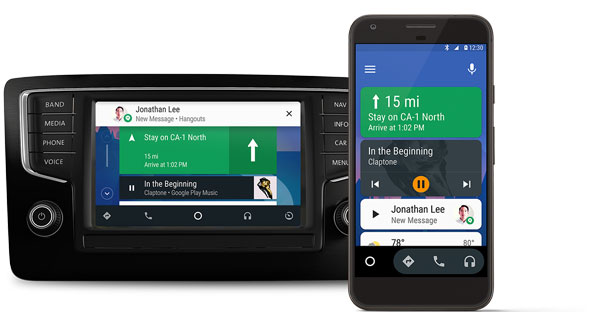 The latest update to Android Auto 2.2, available on March 29, is fraught with issues and problems for car owners with Android Auto. It is not clear,  what caused the problem and what if any thing Google is doing about it.
Update 7/18/2017 We have published a new article that offers several solutions to Android Auto problems and lists known issues Android Auto glitches and fixes for cars. Please post comments on the new page after reading the new solutions.
How do we know that? When people get desperate they contact AUTO Connected Car News. We published an article on why Android Auto Support Sucks, last year that has been getting many comments. Car owners with Android Auto were so distraught they were posting videos to YouTube for help.  roblems are apparent because with Android Auto because car owners are posting bad reviews on the Android Auto App itself in the Google Play and comments in forums. We has also seem reports that Android phones with Android Auto work fine until they are updated to Android 7. Therefore it could be an Android problem and not an Android Auto glitch.
We strongly suggest that if Android Auto is working fine with your present software that you do not upgrade software until Google fixes the glitches. Smartphones and updates don't fair well with cars. Even iPhones and Bluetooth continues to have issues with the Apple software updates and cars.
Part of the problem could be that Android Auto now works as a stand alone app even when it is not connected to a car's infotainment system. Starting in December, Android Auto offered "Okay Google" commands directly on the Android phones. When Android Auto is running on an Android phone you can say "Okay Google" for functions such as finding a gas station, sending text messages, making phone calls and navigating.
We can tell there is something going wrong with Android Auto and cars because a Honda salesman who has shown many customers how to connect and use Android Auto many times complained. He reports that Android Auto just stopped working. He tried three different cables and different Android phones. Then he tried Android Auto on different Honda cars. He states that here is has to be a problem with Android Auto software.
The automakers who haven't launched Android Auto, yet who are waiting may have good reason. When something goes wrong with Android Auto connecting to car infotainment systems, it's not clear if the software, car or hardware are the cause. We haven't seen Android Auto on Lexus, Toyota, Tesla or Nissan, yet.
Many Android Auto users are waiting for Waze to be integrated into the interface. This would be very valuable to Google because they could target advertising to where you are going. More advanced features could slow down the app and cause even more problems.
Recent Android Auto Issues and Cars
Here are the trends reported issues with Android Auto and car receivers, stereos, infotainment systems and head units:
Crashes – Crashes with Samsung Galaxy S 6. Opening Google Playlists causes crashes. "Now even worse at crashing. In a three hour journey, it must have crashed and had to be restarted at least 30 times. Different cables tried as suggested by Google and still crashing with communication error 12. Now won't even show in car."
Freezes – Android Auto Freezes for 10 seconds to 10 minutes with  Kenwood DDX-9703s  with AA newest update. Freezing issues with Chevy Malibu since this new update. Android Auto freezes when trying to go to maps.
Connection Problems and Dropping –  there are many reports of users not being able to connect Android Auto to compatible cars such as Honda, Hyundai, Chevrolet, Cadillac, Buick, Volkswagen and Ford.
Music/Audio/Phone Issues – the radio may turn off for a phone call and not come back after the phone call is disconnected.
Android 7 – there are issues reported that after updating to Android 7,  drivers can't connect with Android Auto compatible car infotainment systems.
Problems Getting Android Auto Working with Compatible Cars: Drivers have reported inability to connect to Android Auto with 2017 Chevy Cruze, 2016 Chevy Spark,  SYNC 3 2017 Ford Escape, Ford Focus SE, 2016 Honda Civic EX-L, 2017 Hyundai Sonata Eco, 2017 Ford Escape Titanium, 2016 GMC Sierra, Cadillac XT5,  2016 Kia Soul, 2017 Mitsubishi Outlander, 2017 Kia Sportage, 2016 Silverado, 2017 VW Golf, 2017 Subaru Impreza and 207 Ford F-15.
It doesn't stop there. Some devices won't work with Android Auto or will only work with some glitch fixes.
Current Android Auto Device Issues:
Huawei Android phones have issues with Android Auto.
Pioneer AVIC-8200NEX, AVIC-8100NEX, AVIC-7200NEX 7 AVIC-7100NEX requires that AVICSYNC to be disabled to work.
USB-C Connections with Pixel – There are connectivity issues between newer phones using USB-C with  used on Google's Pixel phones and certain car models with aftermarket head units, the USB cable has be plugged into the back of the head unit/reciever. A 2016 Honda Civic user reported this issue, running Android 7.1.
GM Buick/Chevy/Cadillac Radio Muting Issues – GM is working on the issue. You may also need to update the GM Infotainment system to version 7.0
HTC 10 HTC M9 Screen Issues on Car Displays – If large icons are blocking the car screen.

Open the Boost+ app on your phone. Tap Optimize foreground apps or Game battery booster. Make sure both Android Auto and Maps are turned off (gray). The try again to connect to Android Auto to USB port an see it on the car's touchscreen.

Issues with LG G4 and G5 with Marshmallow 6. Android Auto disconnects when connecting, be sure to ignore the "Access phone data" request. Enable MTP mode to be sure the phones connect. If maps disconnect, go to the home screen and restart maps.
Google launched an Android Auto forum in October of last year, just before it updated Android Auto for all the phones. Finding information in the forum is overwhelming. The suggestions to help fix Android Auto problems took a long time to find. Below are some of the best suggestions we've found. If you have other suggestions please leave in the comments below.
Fixes for Android Auto Disconnection Issues
Check Connection for Android Phone Charging and Dust/Lint/Pet Hair

Check when you plug the phone into the car the phone is charging. If it is not charging the cable is not connecting, it could be lint or dust in the USB port dust. Clean out the dust with a brush, cotton swab or vacuum. Cars blow a lot of dirt around. Pet hair could also block the connection. There could also be problems  caused by cookie, cup cake or potato chip crumbs.
OEM USB Cable or Shorter Cable
Since Android Auto was launched we found It is very important that you use the USB cable that came with the phone. Aftermarket cables may not work.  We had problems with cables that were bent and didn't connect properly. Longer cables can cause USB dropping, Google suggests a shorter cable if you are using a long cable.
Enable Android (Kia/Hyundai) Bluetooth
After you clean up, make sure your Android Auto is enabled in your car. For example, for Hyundai and Kia, you have to tap on the Android Auto icon in settings. It is also important that Bluetooth is connected to your phone and your car. Android Auto requires both a cable and Bluetooth.
Turn on & Unlock the Phone
If the phone is not turned on and you have unlocked the phone with your password Android Auto will not work. Follow any instructions that appear on your phone.
Allow/Enable Data Transfer in Android
When you phone is connected to the car, check to see that data is transferring. Swipe down the  In Android, and you'll see a notification that the phone is charging via USB. Tap that and select "MTP" or "Media Transfer".
Update Android and Android Auto
Confirm that the Android Auto app and Google App are up-to-date: Please go to Google Play > Menu > My apps & games > Updates and ensure that you have the latest versions of those apps. In some cases this could help, however, there are users reporting problems with updates.
Contact Automaker Support  or Dealer
Most automakers offer some kind of support. By reporting your issue with the automaker, you will be able to see if it an Google problem or car problem.
If you have Android Auto issues or problems with your  in-car infotainment system, please let us know in the comments below, be sure to note your make, model and year of your vehicle as well as model of your Android phone model and versions of Android and Android Auto. We also welcome any solutions you have found worked with your car.
We have created an Android Auto Newsletter to email you updates. You are welcome to subscribe.
Android Auto was first announced in 2014, it is currently available from, Acura, Audi, Buick, Cadillac, Chevrolet, Ford, Genesis, GMC,Honda, Hyundai, Kenwood, Kia, JVC, Jeep coming soon, Lincoln, Maserati, Mercedes Benz, Mitsubishi, Panasonic, Pioneer, Sony, Subaru, Volvo and Volkswagen.