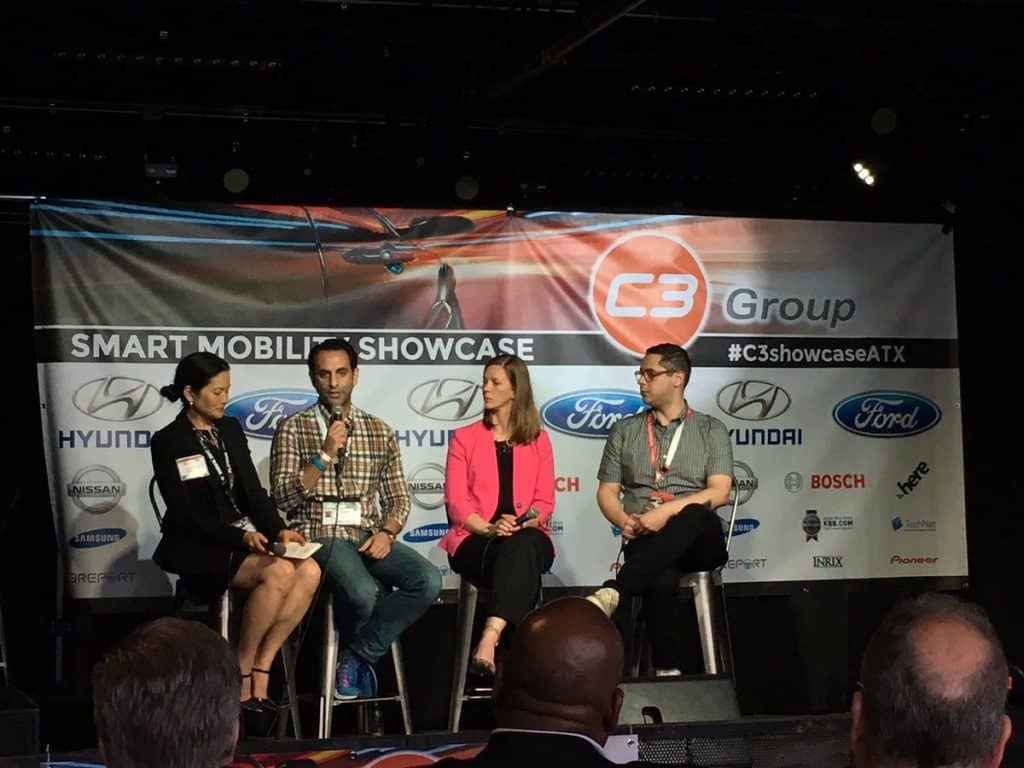 During South by South West, 80,000 fans of tech, creativity and entertainment explore Austin and events. We have already seen the NIO EVE, other automakers and tech firms are touting their wares at the technology/entertainment/futurism event. Joining in the fun are luminaries from the automotive, technology and mobility spaces.
Carvana is showing its used car buying vending machine. Peter Kosak, GM's executive director of urban mobility programs is asking municipalities to join in the Maven ride sharing program.
"We operate internally with the assumption that an autonomous car needs to be 100 times better than a human," Axel Nix, a senior engineer in Harman International's autonomous vehicle team.
SXSW & M-B
SXSW has forged an alliance with Mercedes-Benz. South by Southwest will add entertainment/futurism to the mix for Mercedes-Benz at the International Motor Show in Frankfurt (IAA) in September 2017. They will jointly organize the "me Convention", a conference designed to give fresh momentum to the public debate on relevant future issues. The "me Convention" will take place from September 15 to 17 in the Festhalle Frankfurt, the traditional stage for the Mercedes-Benz IAA motor show presentation. The day time convention will be complemented by music and other events throughout the city.
Tickets for the three-day "me Convention" go on sale later this spring.
Smart Cars for Rides
Dimmler AG and its brands smart, moovel and car2go are guests at SXSW in Austin, Texas for the first time.  Dr. Dieter Zetsche, Chairman of the Board of Management of Daimler AG and Head of Mercedes-Benz Cars, explained why highly accurate maps are of crucial importance for the continued development of autonomous driving.  Smart is also be providing a free shuttle service in the center of Austin between March 11 and 14 with a fleet of smart fortwo electric drive vehicles.
C3 @SWSW
C3 designed the Smart Mobility Showcase that gave insight from mayors and thought leaders from across the U.S. who shared nsight into how smart mobility is reshaping cities. Panelists came from Ford, Hyundai, Nissan, Bosch, HERE, INRIX, Kelly Blue Book, Pioneer and Samsung, among others discussed a variety of topics.
Nissan's Maarten Sierhius gave a talk onn the Path to Seamless Autonomous Mobility at the C3 Smart Mobility Showcase.
The Smart Mobility Showcase l closed with a reception with  the music of Austin recording artist Brittany Shane and food from the Stubb's BBQ.
Ride Sharng SNAFUs
Uber and Lyft left Austin in protest to a law requiring drivers to be fingerprinted.  Mobility services Fasten and RideAustin suffered outages on Saturday night when demand was twelve-times normal while SXSW attendees needed rides. The outage was exacerbated by rain.
Mmmnn… maybe they could have loaded a five more people in  Car2Gos electric smartcars?
Where are all those Maven Chevy Bolts? Whoops Maven isn't in Austin.
SXSW offereed smilucasts of Joe Biden's talk, today where he told audiences his plans to end cancer with Cancer Moonshot. Those of us who in other places we can watch some programs later on YouTube.
On Monday Bill Ford will speak about Smart Mobility.