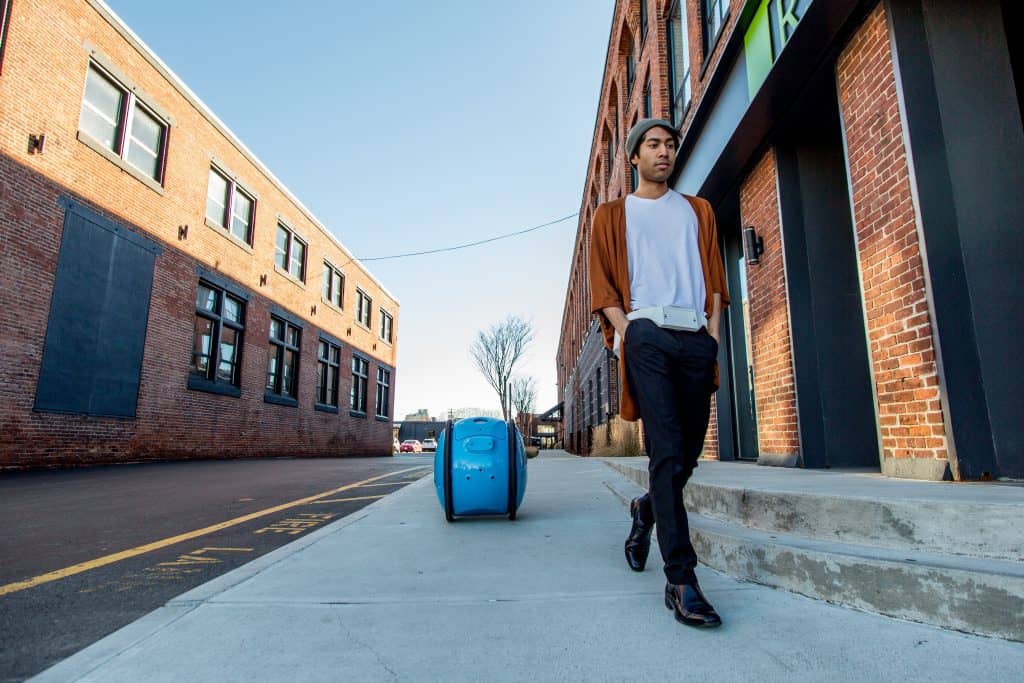 Gita (pronounced "jee-ta" and in Italian means a "short trip") is an autonomous bicycle tire shaped vehicle that extends a person's load-carrying abilities.Gita is an intelligent and nimble cargo vehicle designed and engineered with the same attention to safety, braking, balancing and vehicle dynamics that you would expect of a high-performance motorcycle. It learns and navigates indoors and out with the oversight and decision-making of humans. Gita is able to follow a human operator or move autonomously in a mapped environment.
We imaging GIt would be great to carry groceries, laundry, luggage, packages to the post office and all kinds of stuff.
Gita is 26 inches tall, has a cargo carrying capacity of 40 lbs, and a maximum speed of 22 mph. Gita is designed to travel at human speeds with human agility. Gita has a zero turning radius and is designed to accompany people at speeds from a crawl, to a walk, to a jog, to riding a bike. Instead of deciding to use an automobile or truck to transport 40 pounds worth of packages, Piaggio Fast Forward wants to help people walk, run, pedal and skate through life with the assistance of a family of vehicles like Gita.
Gita is Piaggio Fast Forward's frist design. Piaggio Fast Forward is based in Boston, Massachusetts and is led by CEO Jeffrey Schnapp, Chief Creative Officer Greg Lynn, Chief Operating Officer Sasha Hoffman and Chief Design Research Officer Dr. Beth Altringer. PFF's Board of Advisors include Nicholas Negroponte (Founder, MIT Media Lab), John Hoke (VP Global Design, Nike), Doug Brent (VP Technology Innovation, Trimble), and Jeff Linnell (former Director of Robotics, Google).
"The transportation and robotics industries tend to focus on optimizing tasks and displacing labor," according to Jeffrey Schnapp, CEO of Piaggio Fast Forward "We are developing products that augment and extend human capabilities, instead of simply seeking to replace them."
"Think about how much more freely you would be able to move from one point to another if lugging cumbersome items was removed from the equation," added Schnapp. "Gita frees up the human hand to focus on complex and creative everyday tasks by taking over mundane transportation chores. You can also send your Gita off on missions while you are busy doing something more pressing."
PFF will be deploying Gita in a variety of B2B pilot programs in the near term, with an eye toward future consumer applications.
Piaggio Group, the largest European manufacturer of two-wheel motor vehicles, a leader in light mobility founded over 130 years ago, h launched Piaggio Fast Forward, a newly-established company based in the U.S. formed to pioneer the future of light mobility by fundamentally rethinking the movement of people and goods.