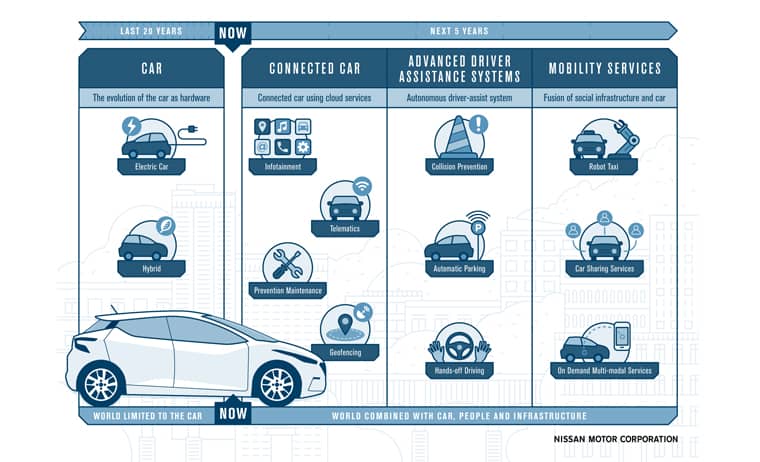 Nissan has been busy building out its connected car experience and revealing future plans for electric cars, autonomous cars and intelligent mobility.
Nissan announced  a comprehensive strategy to transform the customer aftersales experience through innovative technology and enhanced services. As a result, connected car services and greater choice in accessories and personalization will increasingly drive growth in Nissan's aftersales business, anticipated to contribute 25% of aftersales revenue by 2022.
Connected car technology and expanding use of big data will enable Nissan to offer new services, improve the dealership experience and increase customer retention. In the future, Nissan cars will provide customers advance notice when servicing is needed, as well as automatically order parts to ensure dealership availability on customer visits. Connected car technology will also dramatically streamline Nissan's global supply chain, bringing just-in-time logistics to increase manufacturing efficiency, from plants to the dealer.
For Nissan, a key element of the strategy is developing connectivity for all customers, including those in emerging markets and those who already own Nissan cars. Connected cars will be available as a dealer option starting in Japan and India and expanding to other countries by 2020. Nissan is also developing affordable solutions to offer customers connectivity using multiple technologies as an aftersales option. Those technologies will be offered to customers who already own vehicles that were not manufactured as connected cars. They will allow those vehicles to become connected, enabling those customers to receive the additional benefits of managing their vehicles that come from connectivity.
Nissan's aftersales business will be strengthened further with a focus on personalization and accessories, pushing Nissan to the forefront of customization in the auto industry.
Nissan hosted its second Nissan Futures event with a focus on autonomous drive technologies, artificial intelligence and the future of the connected car in Europe. Complemented by a series of landmark announcements in electric vehicle battery technology, Nissan's showcase event builds its Intelligent Mobility strategy, with the company sharing its plans for the future of Intelligent Power, Intelligent Driving and Intelligent Integration.
Pursuing a goal of zero emission vehicles and zero fatalities on the road, Nissan Intelligent Mobility guides the company's product and technology pipeline, anchoring critical company decisions around how cars are powered, driven and integrated into society. Nissan Futures tackles these topics head-on, providing a platform to share its thinking and expertise around the future of mobility debate.
With a series of announcements, inspiring talks and demonstrations, the Nissan Futures event brought together industry leaders, media, partners and government stakeholders for thought-provoking sessions designed to inspire an Intelligent Mobility revolution.
At the event, Nissan unveiled a series of ground-breaking announcements focusing on autonomous drive and next generation battery technology. They include:
The launch of one of the most comprehensive studies ever compiled on the financial and social impact of autonomous driving vehicles on European roads. Freeing the Road: Shaping the future for autonomous vehicles is an independent report by think tank Policy Network and analyses both the social and economic opportunities offered by autonomous drive technologies. Supporting this report is a comprehensive pan-European consumer study which has identified what people see as the main benefits of autonomous driving.The Nissan Social Index: Consumer attitudes to autonomous drive surveyed 6,000 adults across six European countries.
The expansion of Nissan and Eaton's portfolio of xStorage Home residential energy storage solutions to include a range of six products. First announced in May this year, xStorage Home will give consumers greater control over how and when they use energy in their own homes. This announcement comes as pre-orders begin in the UK, Norway and Germany.
The launch of xStorage Buildings, Nissan and Eaton's commercial energy storage solution, which will power the world-famous Amsterdam ArenA in partnership with The Mobility House as part of a landmark 10 year deal. Using the equivalent of 280 Nissan LEAF batteries, the energy storage system in Europe will provide back-up power during major events at the 55,000-seater stadium.
Paul Willcox, Chairman, Nissan Europe, said: "The future holds immense possibilities for those who are brave enough to embrace disruption and pioneer future technologies. It is our ambition to use our passion and expertise from over 100 years in the automotive business to help us live cleaner, safer, more sustainable lives. Our Intelligent Integration strategy is growing, our Intelligent Driving strategy is being delivered and our Intelligent Power plans are bigger and bolder than ever before.