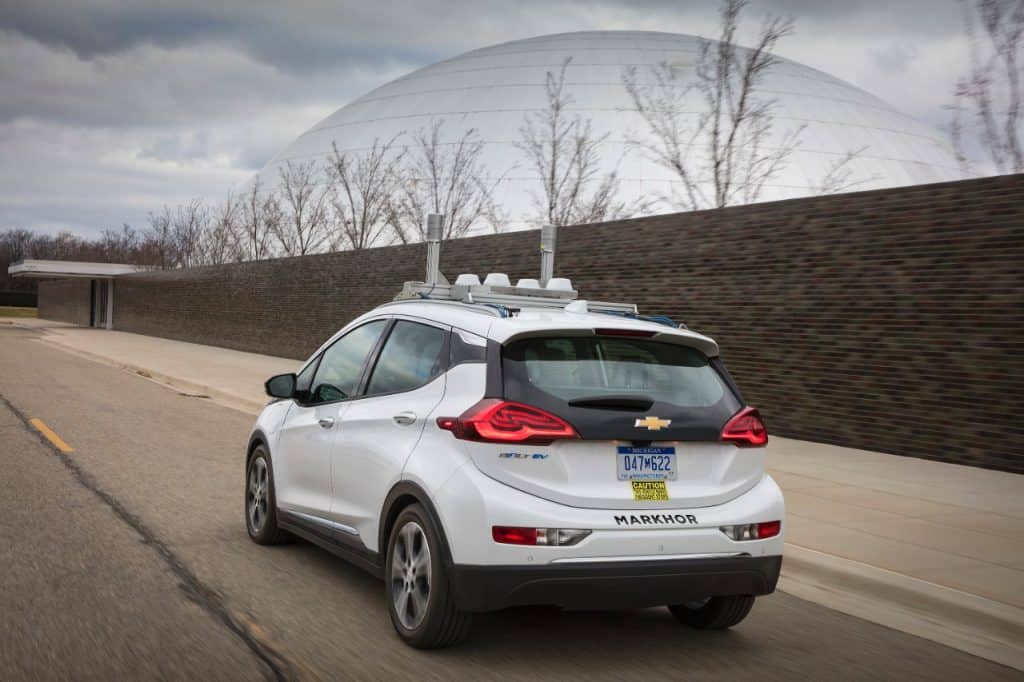 The Chevy Bolt is bolting to new customers and to testing of autonomous driving in Michigan. The Bolt is the first over-two-hundred mile range EV to come to market under $40,000. Bolt buyers are replacing their BMW i3, Prius and Chevy Volt models.
To say that the Chevy Bolt is popular is an understatement.The Chevrolet Bolt has received many accolades:
Car and Driver named it one the best 10 cars of the year.
Car Connection named the Bolt the best EV to buy.
Green Reports gave the Bolt the title of the Best New Car to Buy 2017.
The Bolt is the Green Car of the Year according to Green Car Journal.
The Hispanic Motor Press chose it as the best EV plug-in.
Motor Trend's Car of the Year.
Green Car Guide's Reader's Choice Car of the Year.
Time Magazines Best Inventions of 2016.
Popular Science – Top 10 Automotive Innovation.
On the heels of the signing of the SAVE Act legislation to support autonomous vehicle testing and deployment in Michigan, General Motors announced that it will immediately begin testing autonomous vehicles on public roads.
Testing is already underway on GM's Technical Center campus in Warren, Michigan, and with the passage of the SAVE Act legislation will now expand to public roads on the facility's outskirts. Within the next few months, testing will expand to metro Detroit, which will become GM's main location for development of autonomous technology in winter climates.
GM also announced it will produce the next generation of its autonomous test vehicles at its Orion Township assembly plant beginning in early 2017. Workers at the Orion Township assembly plant will build test fleet Bolt EVs equipped with fully autonomous technology. The plant currently manufactures the Chevrolet Bolt EV and Sonic. The new equipment will include LIDAR, cameras, sensors and other hardware designed to ensure system safety, leveraging GM's proven manufacturing quality standards.
The test fleet vehicles will be used by GM engineers for continued testing and validation of GM's autonomous technology already underway on public roads in San Francisco and Scottsdale, Arizona, as well as part of the Michigan testing fleet.
In the San Francisco Bay area on December 13, Chevrolet delivered the first three Bolt EVs to customers, fulfilling the brand's promise to offer a long-range electric vehicle at an affordable price.
The first three customers to receive the highly anticipated Bolt EV are excited to take delivery and include:
William "Bill" Mattos, a retired law enforcement officer from Fremont, California, whose new Bolt EV becomes his third Chevrolet electric, after previously owning a Spark EV and second-generation Volt.
Bobby Edmonds, a software developer with a family of four from Castro Valley, California, who replaces a BMW i3 with the Bolt EV
Steve Henry, a commercial real estate broker with a family of five from Portola Valley, California, whose new Bolt EV replaces a Toyota Prius
TRhe Bolt EV offers an EPA-estimated 238 miles of range on a full charge, enabling owners to go beyond average daily driving needs with range to spare.
The Bolt EV begins at a manufacturer's suggested retail price of $37,495, which includes destination and freight charges, but excludes tax, title, license and dealer fees. Depending on individual tax situations, customers may receive an available federal tax credit of up to $7,500.
Standard features include electronic precision shift, Regen on Demand steering wheel paddle and 10.2-inch-diagonal color touch screen. The top-trim Premier model adds leather-appointed seats, front and rear heated seats, surround camera, rear camera mirror and more.