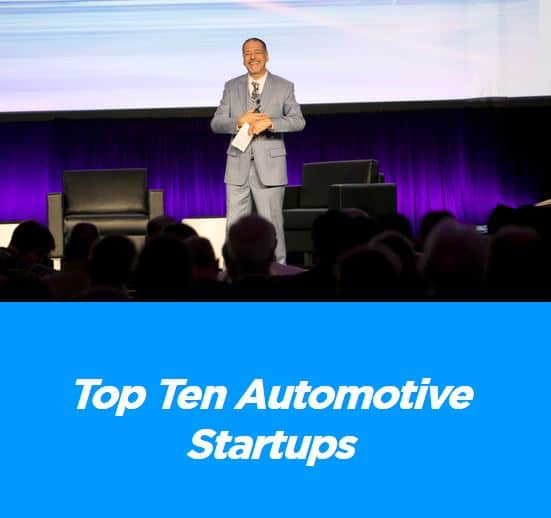 The former Connected Car Expo and winner of AUTO Connected Car News Tech CARS Award, Los Angeles Auto Show's AutoMobility LA, the convergence of the Connected Car Expo and Press & Trade Days, today announced the finalists for the 2016 Top Ten Automotive Startups competition.
If you are planning to attend the two-days of seminars we have a coupon code for $200 off. Register for AutoMobility LA conference (Use code ACCN2016 for $200 off).
The winners are:
Argus Cyber Security, a company that provides a ready-to-embed, cybersecurity solution suite for automobiles and aftermarket connectivity platforms.
EverCharge Inc., a large scale multi-vehicle EV charging system that makes EV ownership accessible for everyone.
HAAS Alert, a mobile vehicle-to-vehicle platform that delivers preemptive notifications to motorists and the car itself.
LISNR, Inc, a company that develops ultrasonic communication technology between phone and car using existing hardware for keyless access, car payments, and vehicle personalization.
PolySync,, an operating system built for the high-bandwidth, high-compute requirements of fully autonomous driving.
See Jane Go, a ridesharing app by women for women that ensures safety and trust, which is currently lacking in many existing ride-hail apps.
Spatial.ai, a geospatial app that provides users with the culture and flavor of urban areas through big data analysis of social media.
Spira4u Co., an alternative to the automotive market, built for safety, affordability, and eco-friendliness made primarily from high density foam.
URBAN626, a company that creates lightweight, foldable, personal vehicles for last-mile travel. URB-E travels up to 15 mph, has a 20-mile range and folds to fit conveniently in a bus, train, or car trunk.
YourMechanic, an on-demand marketplace for finding the best reputable mechanics and bringing them directly to your car.
"We are pleased to once again hold our Top Ten Automotive Startups competition," said LA Auto Show and AutoMobility LA President and CEO, Lisa Kaz. "Each year, we look for companies that are continuing to change the face of the automotive industry through technology and mobility in every sense of the word. The new automotive industry is certainly upon us and we're excited to spotlight these truly innovative businesses that are progressing transportation all over the world."
The winning Top Ten startups receive exhibit opportunities at this year's AutoMobility LA, taking place at the Technology Pavilion, located next to the Los Angeles Convention Center. The startups will receive recognition in front of 4,500 media and more than 20,000 of the industry's most influential thought-leaders, including automakers, tech titans, designers, developers, investors, dealers, government officials, analysts and more.
The Top Ten will be narrowed down to the final three and each company will receive a mentoring session on stage during AutoMobility LA 2016 with Silicon Valley investor Bill Tai. Following the live mentorship, the winning startup will be announced. The grand prize winner of the Top Ten will be awarded the opportunity to attend the final celebration of the 2017 Extreme Tech Challenge (XTC), an internationally-acclaimed tech competition that takes place on Necker Island. The grand prize winner will have the opportunity to interact with members of the Extreme Tech Challenge team, finalists and sponsors. The XTC judging panel is expected to include special guest judge Sir Richard Branson.
The Top Ten finalists were selected by the AutoMobility LA Advisory Board, which is comprised of senior executives from Aeris Communications, Elektrobit, Ellis and Associates, General Electric, Google, Itron, Local Motors, Lyft, Nokia Growth Partners, NVIDIA, Pandora and Strategy Analytics.