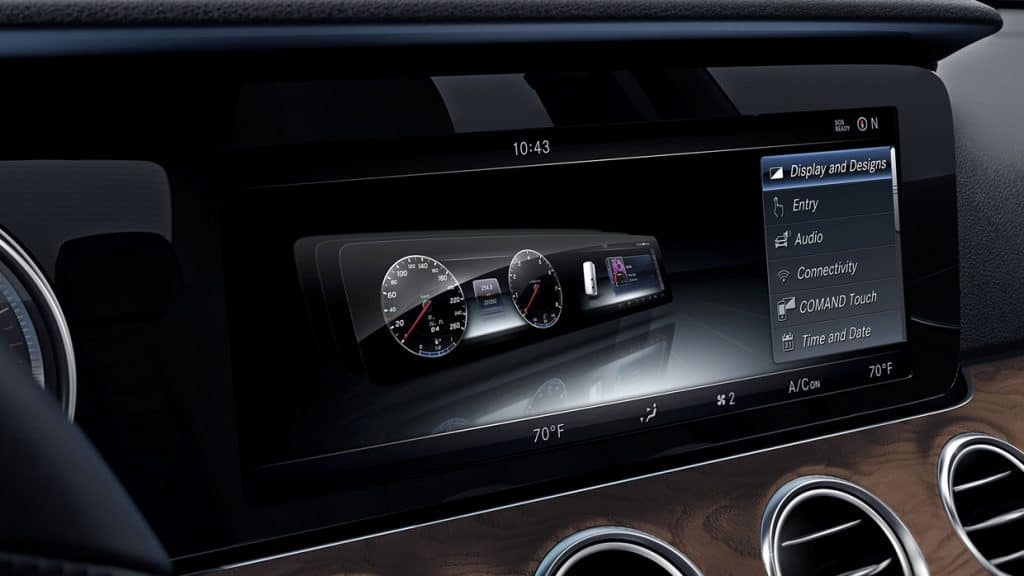 Mercedes-Benz E-Class (E300) videos demonstrate new ADAS features such as 'PRE-SAFE Impulse Side' and 'PRE-SAFE Sound'. Merces-Benz claims that it is most technologial advanced car on the market. If you look at the features many of them are exclusive to the brand.
E300 Has Your Sides and Hearing Covered
'PRE-SAFE Impulse Side' and the 'PRE-SAFE Sound' are examples ogfnew kinds of safety features that deploy before a collison.
If a side collision has been detected and is imminent, 'PRE-SAFE Impulse Side' moves the affected passengers as far away from the danger zone as possible before the crash. The seat baloons on the outside pushing the driver or passenger away from the collision impact area.
Ear bones don't heal. Any sound over 80DB can hurt and damage ears. Pre-Safe sound emits a "pink noise" via the audio system to pre-trigger the ears' natural defense against the loud noises of an accident.
The sound can condition the passengers' hearing by triggering a reflex in the ears, and lessen the risk of hearing discomfort or damage. It is standard equipment.
Communicate Clearly to the Road
The Mereceds E-Class is the first with V-to-X communication in the automotive industry. It can communicate to infrastructure and other cars of the future. They call it Car-to-X to communciate accidents and other incidents which comes standard.
Cross-Wind Assist detects strong winds and brakes on side for more control.
Mutiple Controls for Command System
On the steering wheel of the E300 are two smartphone-like touch control buttons to control featues. The touch control buttons are operated with finger swipes left right up down.
The Merecedes E-Class has a 12.3 inch high resolution touchscreen that is controlable by the touch steering wheel buttons, the center console touchpad or voice commands. The crisp screen has a high pixel count, a fast refresh rate and automatic adjustment to ambient light to provide seamless display of entertainment, navigation, comfort and convenience features, and customizable vehicle settings.
There is a special compartment for NFC wireless inductive charging for compatible smartphones. The inductive charging area (153×90 mm)  supports the Qi standard for charging. The smartphone can be used the digital vehicle key with which the car can be locked and unlocked as well as started. The Mercedes-Benz E-Class has 64 colors of ambient lighting.
Free Navigation for Three Years
Command navigation with map updates is standard for three years. Both Apple CarPlay and Android Auto are supported for smartphone connections. Wi-Fi hotspots through 4G LTE is standar.
Also standard are power folding exterior mirrors.
Drive Pilot maintains a safe distance when enabled. Distance Pilot Distronic even works when lane markint are unclear, something Tesla AutoPilot can't do.
Active Lane Change Assitance will change lanes on highways at 55 mph or more.
mbrace Connect is included for 5-yeas  of Complimentary service
mbrace Connect provides access to the Merecedes-Benz from your phone or desktop. Set alerts, use in-vehicle apps, save time when servicing, and get roadside assistance whenever you need it.  Services include:
Remote Start.
Remote Door Lock/Unlock.
Remote Horn & Lights.
Remote Diagnostics.
Roadside Assistance Connection.
Send2Benz™ via App.
Valet Protect.
Vehicle Finder.
Dealer Information.
Curfew Minder.
Speed Alert.
Driving Journal.
With a starting price of $53,075 the E-Class is a more affordable competitor to the Tesla S.
At first the Mercedes advertising team was over zealous and claimed that the model was autonomous and self-driving. After consumer groups complained the ads were pulled. It has many very advanced safety features but does not completely drive itself, yet. The Mercedes-Benz E Class was featured at CES, earlier this year.