The Accord Hybrid is designed to keep occupants connected. The 2017 Accord Hybrid audio and digital experience has been upgraded with the available integration of Apple CarPlay and Android Auto,  HD Radio (EX-L and Touring trims), and the expanded application of SiriusXM Radio (EX-L and Touring trims). Honda continues to offer, Bluetooth HandsFreeLink and Pandora Radio™  as standard features, while EX-L and above models feature HondaLink cloud-based connected car system with Aha by Harman and new HondaLink Assist emergency assistance service. There are also some added features such as auto-volume increase when driving faster, 2 displays, Aha, Pandora and Bluetooth HandsFreeLink. In the case of turn by turn directions with Android Auto or CarPlay. When the system is connected to a smartphone and air bags are deployed
Apple CarPlay and Android Auto brings users' smartphone experience, features and functions to the Accord Hybrid's Display Audio touchscreen with a single, dedicated USB cable connection and, in the case of Android Auto, automatic Bluetooth phone pairing. Once a compatible iPhone or Android smartphone is connected, the user simply selects the Apple CarPlay or Android Auto option on the Display Audio system's home screen to gain access to certified applications and functions, such as audio streaming, voice-to-text, smartphone-enabled navigation and more. Voice activation is controlled by the steering wheel-mounted button, while approved apps and other smartphone functions are selected using the 7-inch capacitive touchscreen. When utilizing Google Maps, turn-by-turn directions are also displayed on the 7.7-inch i-MID.  Disconnecting the phone or deselecting the CarPlay or Android Auto feature returns the user returned to the native Honda system and all of its features and functions, including Honda's embedded navigation capabilities (Touring trim).
USB Audio Interface
The main USB Audio Interface is located in the front part of the center console under the buttons for the A/C on all Accord Hybrid models and has been upgraded to 1.5 amps on EX-L and Touring trims. It can be used for connecting and activating either Apple CarPlay or Android Auto using a compatible smartphone and the owner's data plan and can read flash drives and compatible digital music devices, such as iPods or iPhones that contain MP3 or WMA music files. (It is important to note that only iPod Nano and other fifth-generation or later iPods are compatible with this system. The iPod Shuffle, Mini, and older iPod models are not compatible.)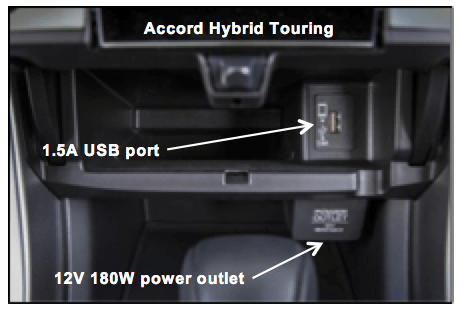 The device can then be controlled using the steering wheel-mounted controls or audio system controls. Information such as song title, artist, album art and other information will appear on the Accord Hybrid's i-MID screen and Display Audio touch-screen. The USB audio interface will also charge the device while it is connected. A second 1.0-amp USB audio interface, on EX and above trims, is located in the front armrest.
Audio Systems
The Accord Hybrid trim is equipped with a 6-speaker, 160-watt AM/FM/CD audio system. The CD player can also read CD-Rs loaded with Windows Media Audio (WMA) or MP3 audio files. The system also includes Bluetooth streaming audio and Pandora compatibility (with compatible iPhone and Android devices). Audio information is displayed on the color i-MID screen positioned high in the center section of the instrument panel. A USB Audio Interface that can allow an iPod, iPhone or flash drive to be connected to the system is standard.
The audio system features Speed-Sensitive Volume Control (SVC). With SVC, as the vehicle speeds up and exterior noise increases, the audio system automatically raises the music's volume, and then lowers it again as the vehicle slows down. If desired, SVC can be deactivated at any time.
Accord Hybrid EX-L and Touring models provide an even more impressive 360-watt, 7-speaker premium audio system including subwoofer and SiriusXM® Radio.
7-Inch Display Audio Touchscreen
The Display Audio system, standard in the 2017 Accord Hybrid EX-L and Touring trims, features an intuitive touchscreen that lets you swipe, tap and pinch to control the vehicle's audio system, display settings and other advanced features – just like on a tablet or smartphone. Icons resembling smartphone apps are displayed on the high-definition capacitive touchscreen, making the interface intuitive and easy to use. Interfaces for standard internet-sourced music and media options such as Pandora can be displayed and controlled on the Display Audio interface, with the ability to create personalized stations, tap to "like" songs and view album artwork directly from the touchscreen. The touchscreen also serves as the control interface for the available new Apple CarPlay and Android Auto connected car systems.
7.7-inch "intelligent" Multi-Information Display (i-MID)
The lower Display Audio touchscreen is complimented by an upper 7.7.-inch full color "intelligent" Multi-Information Display (i-MID), which features trip and audio information, clock and wallpaper functions, a compass (on models with Honda navi) and turn-by-turn directions (when using embedded navigation or Apple CarPlay or Android Auto navigation apps). The i-MID also serves as the display for the available LaneWatch and standard multi-angle rearview cameras and alerts users to incoming calls when paired with the user's phone. 
SiriusXM
SiriusXM Radio is a standard feature in the Accord Hybrid EX-L and Touring trims, and it provides more than 165 channels of digital programming with near CD-quality sound. The SiriusXM® signal is beamed from two broadcast satellites positioned in geostationary orbit above Earth. The beams from these two broadcast satellites combine to span the entire continental United States and some of Canada.
This latest generation of SiriusXM includes many all-new features, including pause, fast forward and rewind. There is also an instant replay feature and the ability to hear all songs from the beginning on preset channels.
Bluetooth  HandsFreeLink
The Bluetooth HandsFreeLink interface is designed to offer hands-free operation for many Bluetooth-enabled mobile telephones. Standard on all Accord Hybrid models, the system wirelessly connects the driver's cell phone to the vehicle's audio system. This allows the driver to make or answer cell phone calls without removing hands from the steering wheel. The system is compatible with Bluetooth-enabled cell phones that have the Hands Free Profile (HFP).
Bluetooth HandsFreeLink enables audio files to be played through the vehicle's audio system wirelessly with a feature called Bluetooth Audio. If an audio compatible device is paired it will be added as another source on the audio screen. This allows the Bluetooth device's media to be played wirelessly by the audio system. Cell phone devices that support the Advanced Audio Distribution Profile (A2DP) and Audio Video Remote Control Profile (AVRCP) 1.3 allow the display of metadata for artist, album and track name. The vehicle's audio controls for "skip forward" and "skip backward" allow for navigation from track to track.
Bluetooth HandsFreeLink is designed for easy use. After the driver completes a simple one-time "pairing" process to link the cell phone with the vehicle, Bluetooth HandsFreeLink can communicate wirelessly and securely with the driver's cell phone when the phone is inside the vehicle. Once the driver enters the vehicle, the phone can be stored in a pocket, briefcase, purse or a storage bin inside the vehicle's cabin as the call transfers information through the wireless telephone interface. Certain compatible cell phones can also transfer the cellular phonebook into the vehicle through the Bluetooth HandsFreeLink system. After the cellular phonebook is transferred, calls can be made by making selections from the registered phonebook displayed on screen.
Operational features include:
Phone numbers of incoming calls are displayed on the 7.7-inch i-MID.
Pressing the steering wheel-mounted "Pick up" button answers the call and mutes the audio system.
Caller is heard through the audio-system speakers.
An overhead microphone picks up the driver's voice while minimizing background noise and echoing.
Numbers with voice tags may be stored in the system's memory.
To make a call hands-free, the driver first activates the system using the steering wheel-mounted fingertip controls, then speaks a preset voice tag.
Numbers can also be dialed by speaking the telephone number (in Accord models equipped with navigation system).
Automatic import of phone book and call history.
Up to five different compatible mobile phones can be paired with the Bluetooth HandsFreeLink system
Pandora Compatibility
All Accord Hybrid models are designed to provide a convenient interface for Pandora. An iPhone or compatible Android phones can be connected wirelessly, using Bluetooth HandsFreeLink. To use Pandora, the Pandora app is launched on a compatible connected smartphone and the vehicle's audio source is set to Pandora. The audio screen shows Pandora information and album art, and the audio controls allow listeners to choose from among existing stations, pause, resume, skip forward, and mark a track with "Like" or "Dislike" ratings. Some functionality of the Pandora app is locked out when using the Accord Hybrid's Pandora interface.
HondaLink
The Display Audio system with next generation HondaLink allows the customer's digital lifestyle to seamlessly integrate with the car and provides access to a world of cloud-based information. The application-based platform connects customers to online content both inside and outside the car. The connection between the system and the user's smartphone can be made using either the Bluetooth HandsFreeLink wireless interface or Wi-Fi tethering. A HondaLink phone app provides convenient access for many services including location searches, local weather, messaging, Maintenance Minder alerts, service scheduling by phone, and access to the vehicle Owners Guide
Aha by Harman
Aha is accessed via HondaLink and is standard on the Accord Hybrid EX-L and Touring trims. Aha organizes the Accord Hybrid owner's favorite content from the web into personalized on-demand radio stations in the vehicle. Aha is a comprehensive, cloud-based platform optimized for the automotive environment that provides a simple integration point for HondaLink equipped vehicles to bring in a wide range of current and future applications into the audio system head unit. This new capability allows users to access their favorite podcasts, internet radio, on-demand music, restaurant recommendations, and even audio updates from Facebook and Twitter.
Aha™key features:
Free service with wide content choice
Enables flexible personalization and station management
Content updated automatically throughout vehicle life
Aha content categories:
On-demand news and weather
Personalized music including Slacker
Internet Radio
On-demand iPodcasts
Audio Books
Local Search: Restaurants, fuel, ATM, parking, etc.
Social Media: Facebook, Twitter, etc. via audio
HondaLink Assist
An additional new feature on Accord Hybrid EX-L and Touring trims is HondaLink Assist, which can help request emergency assistance for drivers. If a compatible phone is paired through Bluetooth HandsFreeLink, there is a cellular connection and an airbag deployment sensor is triggered, the system is designed to automatically attempt to notify an operator, report the car's current location, and allow occupants to talk directly to the operator. The operator can then contact emergency services if needed.
Song by Voice®
The navigation-equipped Accord Hybrid Touring offers the Song by Voice® feature. From most navigation screens, the driver can simply press the TALK button on the steering wheel. With so much audio content potentially available via USB or from an iPod, Honda engineers set out to make it easy to find content. So drivers can simply give a voice command, such as "Play 'Danny Boy,'" and the system will automatically begin playback. Song by Voice also lets the driver choose music by artist, album, track name, genre, playlist and even composer.
Siri Eyes Free
Adding another new premium feature, Accord Hybrid EX-L and Touring trims integrate Apple's Siri Eyes Free mode. Compatible iPhone users will be able to operate Siri through familiar voice commands by pressing and holding the TALK button on the steering wheel when their iPhone is paired via Bluetooth. Using Eyes Free mode, Siri takes hands-free functionality even further and helps to minimize potential distractions by keeping the iOS device's screen from lighting up.
Owners can direct Siri to perform a number of specific tasks while they keep their eyes on the road and their hands on the wheel. Capabilities include:
Send text messages and e-mails.
Read incoming text messages and emails.
Set up calendar entries, reminders, and alarms.
Check the weather.
Turn-by-turn voice navigation (when the audio system is set to Bluetooth Audio or iPod mode).
Sports scores and stock quotes.
SMS Text Messaging
The Accord Hybrid has as standard the SMS text message function that can read incoming texts aloud over the audio system, and allow the driver to reply with any of six factory preset messages. The system works with SMS-capable cell phones that have an active data plan and the Message Access Profile (MAP), such as the Blackberry, Droid X and others. Apple iPhone models do not support this feature, but Siri Eyes Free Mode (iPhone 5 and 6 at time of launch) offers the ability to initiate, hear and respond to text messages via voice commands.
Once a compatible phone is paired with the vehicle's Bluetooth HandsFreeLink system, the text messaging function is enabled. When the phone receives a text message, an alert appears on the audio touchscreen. Using the touchscreen, the driver can choose to have the message read aloud, can select among the preset reply choices, or can call the sender – all without touching the phone.
To help avoid driver distraction, the text of the incoming message is not displayed on screen unless the transmission is in Park.
Available factory preset text replies:
Talk to you later, I'm driving.
I'm on my way.
I'm running late.
OK
Yes
No
Honda Satellite-Linked Navigation System with Voice Recognition and Honda HD Digital Traffic
Standard on the Accord Hybrid Touring trim, the integrated Honda Satellite-Linked Navigation System uses GPS technology to provide drivers with turn-by-turn guidance to their chosen destination. This navigation system, developed in cooperation with Garmin, offers many improvements, including enhanced graphics, live search, speed limit display, customized vehicle icons, 3D buildings and terrain, and more. The system includes free map database updates for up to 5 years (initial purchase plus one yearly update each year for 4 years). The system includes the HD Digital Traffic feature, which alerts the driver to current traffic conditions and can display alternate routes around gridlock. It features expanded coverage including many surface streets within the U.S., allowing the driver to choose faster, less congested routes. HD Digital Traffic is subscription-free.
The navigation system can be controlled by voice or through the 7-inch Display Audio electrostatic touch-screen audio display utilizing its tap, pinch and swipe functionality. The voice-activation system can respond to more casual command phrases that require less user familiarization, in addition to the previous capability of being able to understand spoken city and street names. For example, a voice request for "Radio 98.3 FM" can now be spoken in approximately a dozen different ways ranging from "change the radio station to 98.3" to "98.3 FM." This logic applies to audio functionality of the audio/information screen. The navigation system can also be controlled by voice with conventional navigation commands like, "Find nearest Chinese restaurant" or "find nearest ATM."
The audio system is automatically muted when the "Talk" button is pressed. The voice-recognition technology allows the driver to simply speak city and street names aloud, and the system responds by displaying the matches available in the database. Points of interest on the map, such as restaurants or grocery stores, can be displayed with brand logo icons or you can have the system provide turn-by-turn navigation, all by voice command. The massive point-of-interest (POI) database includes telephone numbers that can be dialed by using the Bluetooth® HandsFreeLink system when the driver's cellular telephone is connected to the system.
The Honda Satellite-Linked Navigation System uses GPS in combination with detailed information from the vehicle's mapping system to pinpoint the vehicle's location and to provide a host of useful mapping and route guidance features. The system's antenna receives positioning information from a network of 24 global positioning satellites. If the GPS signal is obstructed, such as by a tunnel, a parking garage or a tall building, an internal gyroscopic system and a speed sensor track the location of the vehicle so that the map information remains current and reliable. The vehicle clock is independently controlled by GPS data, so when time zones are crossed while driving, the clock will automatically set itself to the current time.
Audio and Connectivity Features
| | | | |
| --- | --- | --- | --- |
| | Hybrid | EX-L | Touring |
| MP3/Auxiliary Input Jack | • | | |
| 160-Watt Audio System with 6 Speakers | • | | |
| i-MID with High-Resolution WVGA (800×480) Screen | • | • | • |
| Bluetooth HandsFreeLink | • | • | • |
| Bluetooth Streaming Audio | • | • | • |
| Pandora Compatibility | • | • | • |
| SMS Text Message Function | • | • | • |
| Radio Data System (RDS) | • | • | • |
| Speed-Sensitive Volume Control (SVC) | • | • | • |
| USB Audio Interface | 1.0-Amp Charging Port in Front | 1.5-Amp Charging Port in Front / 1.0-Amp Charging Port in Center Console | 1.5-Amp Charging Port in Front / 1.0-Amp Charging Port in Center Console |
| 360-Watt Premium Audio System with 7 Speakers, including Subwoofer | | • | • |
| 7″ Display Audio with High-Resolution WVGA (800×480) Electrostatic Touch-Screen and Customizable Feature Settings | | • | • |
| HondaLink® | | • | • |
| Apple CarPlay / Android Auto | | • | • |
| SiriusXM Radio | | • | • |
| HD Radio™ | | • | • |
| Honda Satellite-Linked Navigation System™ with Voice Recognition, Honda HD Digital Traffic and Song By Voice (SBV) | | | • |