I spent an extended time with Android Auto in a Hyundai Elantra Limited Edition, discovering tips and tricks that are very valuable to all Android Auto users. Android Auto takes familiar Android features into the car including Google Maps, Google Play Music, Google Cards, Ok Google, texting and streaming music (read Android Auto Review).
Although Android Auto will seem very familiar to Android users, it helps to get familiar with core Android Auto features on your Android phone before you take it on the road. Because driving safety is your top priority, you don't want to be fiddling with settings or figuring out how to get things to work, while you're driving in traffic.
 1. Get Ok with Ok Google and Text to Speech
Use Ok Google before you get in the car to have Google learn how you use your voice, the places you visit, the contacts you frequently use,  the way you say things and how you do things. The easiest way to use Android Auto in the car is by using the voice command button on the steering wheel that is based on Ok Google voice recognition. It is also nice to be able to hear text messages read out loud. To enable these features, install the Google app and Google Text-to-speech on your phone from the app store.
To enable Ok Google, in the Google app tap the menu icon
Tap Settings
Tap Voice
Tap "Ok Google" detection then chose "From the Google app" and "From any screen".
Follow the instructions to teach Google what your voice sounds like for first-time use.
To make sure Text-to-Speech is enabled.
Go to Settings, System.
Tap Language and input.
Tap Speech, Text-to-speech.
Tap preferred TTS engine (only available on certain Android phones.)
Set the speed rate for playback.
2. Organize Contacts for Better Contact
Make sure your contacts are up-to-date and make favorites of the contacts you use frequently because Android Auto does not show a complete list of all your contacts. If you forget your contacts while you're driving you will not be able to scroll through to find the name and the number of people. You might also want to favorite people you call frequently because sometimes Android Auto gets confused if you have two Mary's in your contacts it will ask you Which one? Then you have to look at the results and touch the screen.
3. Be Able with Your Cables
Get an extra set of cables to keep in your car. Often what happens is because you're connecting the phone back and forth to the USB port and to the phone itself you can break the cable connection and then you'll be worried about how it's all working. For example, I broke a cable when I was using Android Auto and had to buy another one. It is recommended that you only use the cable from the manufacturer of the phone.
4. Easier Listening with Playlist and Artists in Music
Load your music onto your iPhone through iTunes and make playlists that you will like to hear while driving. Also, be sure that your music has the correct artist names and titles. When you tap the voice button for the artist name and the artist name is not on the track you will not be able to play the song by voice. Android Auto has limited scrolling through songs while you're driving, it helps if you have playlists of your favorite songs.
5. Appointment Settings for Google Now Cards in Android Auto
When you set your appointment on Google Calendar or through on your phone or on your computer make sure that you put in the address of the appointment that makes it much easier to directly launch the maps from the appointment to the mapping software on Android auto. It also helps because you can get warnings of when to leave depending on traffic situations for your appointment.
6. Streaming Music: Pandora, Stitcher, Spotify & iHeart Radio
If you use streaming music services make sure that your music apps are installed on your phone and that you have your passcode and your login information. Otherwise, you will not be able to access music services on your phone. Spotify makes a separate password for mobile devices.
7. Hit the Steering Wheel Buttons Before You Hit the Road
Spend some time looking at the steering wheel keys on your steering wheel because it is so much easier to push the voice command button or the phone button to access the features of Android Auto. There should also be a volume button on your steering wheel that you can learn the feel of the button while you drive. I personally put some masking tape on the voice button on my steering wheel because I forgot where it was. Then after time I remembered where it was and I didn't have to look at it
8. No Drinking Open Beverages with Android Auto
Get a good commuter cup with a lid because you are frequently pulling cables in and out and cup holders are usually very close to the area where the USB port connection is. If the drink is covered you're less likely to drop the cable in the drink like someone has done recently. If you dont drink coffee you can use a water bottle with a sport top.
9. Software Checks, Specs & Practice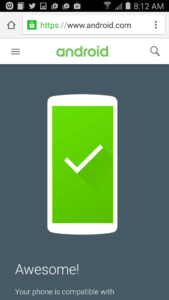 Make sure your phone software is up-to-date, also check with the Android Auto check page,  that your phone is compatible with Android Auto and your car. Learn all you can about Android Auto through your car manual or videos provided by your automaker.
Spend time using Android Auto in your car in well-ventilated areas such as the garage with the door open, a parking lot or driveway. The mapping feature is incredibly functional, you can pinch, zoom, twist views and well as tap through each turn, features that you definitely shouldn't try while driving. While you're in park, you can do things like sending text a message with your voice. When you receive send text messages Android Auto requires a tap on the screen to read  text messages out loud. It helps to know where to tap the screen.
10. Stay Safe
At any time you get confused about how Android Auto works, do not attempt to figure it out while driving — pull over to the side of the road. Please be advised that Android Auto and your car navigation system will clearly state that you should still drive safely and keep you eyes and your thoughts on the road ahead.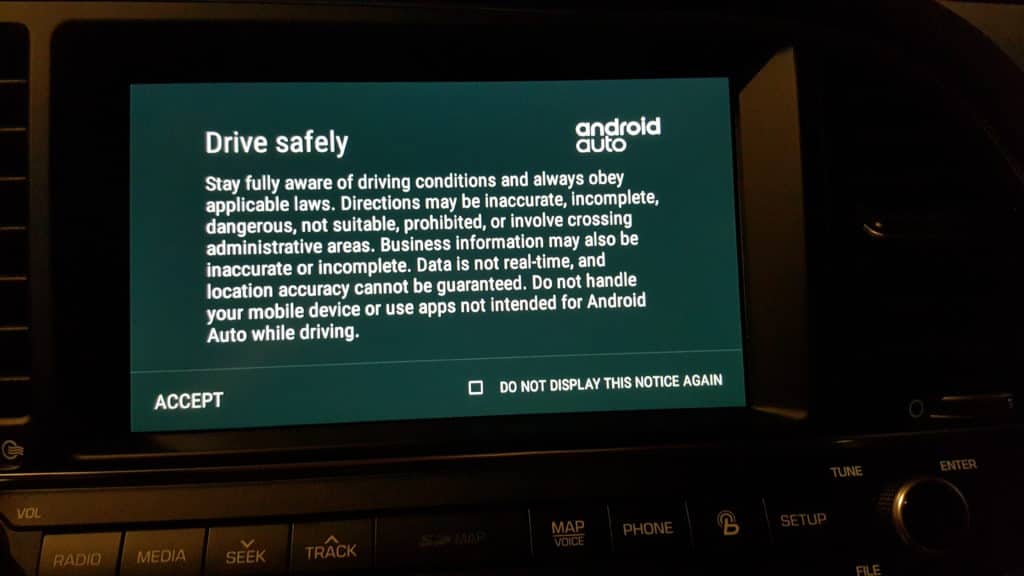 —–
Are you an Android Auto user? Do you have tips or tricks to contribute? Please tell us what you have learned in the comments below.
Recent Android Auto News:
Android Auto Review from GearBrain.
Free Android Auto & CarPlay Updates for 2015-6 Hyundai Sonata, 2015-6 Genesis, 2016 Elantra, 2016 Tucson & 2017 Santa Fe Sport
Android Auto comes to phones, gets Waze, Wi-Fi, OK Google, automaker apps & Qualcomm partnership.
2016 Kia K900 gets UVO Luxury Services iPhone & Android Apps with Verizon 4G LTE for 5 years.
2016 Ford Escape 1st Ford foray into Android Auto & Apple CarPlay with Auto Stop/Start.
Android Auto Update for 2016 GM, Buick, Chevy & Cadillac – Out as Promised