Embedded chips and connected car news tips this week include NXP, Ford, Pivotal, Luxoft, Range Rover, Volvo, EDI, TomTom and Volkswagen.
NXP Top Chipmaker for Car Semiconductors
The Strategy Analytics report, "Automotive Semiconductor Vendor 2015 Vendor Market Shares" revealed that NXP achieved a 14.2% share of the $27.4 billion automotive semiconductor market, four percentage points ahead of its nearest rivals Infineon and Renesas. The analysis also finds that for the first time the vendor semiconductor revenues attributed to the China market overtook those from Japan, reflecting the structural shifts in the global automotive industry.
Last year NXP acquired Freescale, both major automotive semiconductor supplies. According to Strategy Analytics analysis for the 2015 calendar year the combined entity had automotive semiconductor sales of $3.9 billion, giving it a leading market share of 14.2%. Furthermore, Infineon retained its #2 position with a 10.4% share while (former 2014 #1) vendor Renesas fell close behind at #3 with a 10.3% share.
Pivotal Pivotal for Ford Investment, Flood Victims Spared Payments 4 Now
Ford announced an investment in Pivotal, a cloud-based software platform company headquartered in San Francisco, to further enhance its software development capabilities and deliver innovations to customers more quickly.
The $182.2 million investment in Pivotal aims to help drive Ford's transition to an auto and a mobility company. Ford is continuing to focus on and invest in its core business – designing, manufacturing, marketing, financing and servicing cars, SUVs, trucks and electrified vehicles. At the same time, the company is aggressively pursuing emerging opportunities through Ford Smart Mobility – its plan to be a leader in connectivity, mobility, autonomous vehicles, the customer experience, and data and analytics.
Ford plans to accelerate the incorporation of Pivotal's advanced software development methodologies and technology across the IT, product development, and research and advanced engineering teams. Ford will put Pivotal's next-generation cloud platform and analytics capabilities to use on the company's new mobility projects – such as its on-demand Dynamic Shuttle pilot program.
Ford plans to accelerate the incorporation of Pivotal's advanced software development methodologies and technology across the IT, product development, and research and advanced engineering teams. Ford will put Pivotal's next-generation cloud platform and analytics capabilities to use on the company's new mobility projects – such as its on-demand Dynamic Shuttle pilot program.
Ford Motor Credit Company has a message for customers recovering from the recent storms that flooded parts of Houston and eastern Texas: We're here to help.
The company's disaster relief program allows qualified customers to delay one or two monthly payments, resuming their regular payment schedules when their situations improve.
Customers eligible for the disaster relief program are being sent postcards and/or emailed with contact instructions. Customers may call this toll-free number: 1-800-723-4016.
The offer is available to customers who are leasing or have purchased vehicles with financing from Ford Credit or Lincoln Automotive Financial Services.
Luxoft & Horus Partner
Luxoft Holding), a leading provider of software development services and innovative IT solutions to a global client base, and Horus software GmbHannounced a business partnership to optimize Business Process Management (BPM) and solutions for their respective customers in the financial, telecommunications, automotive and healthcare industries, among others. Horus software is a developer of procedure principles, modeling languages, and operating procedures for analyzing, modeling, simulating and improving business processes.
New Range of Rover Mobile Acessories coming form Bullitt Group
Bullitt Group, one of the fastest growing and largest privately-owned technology groups in the UK, is partnering with Land Rover to define and develop a groundbreaking portfolio of mobile devices and peripherals which will take the brand into a new and exciting commercial terrain.
With a combination of durability and elegance, the new range will be designed to be an active lifestyle partner, aimed at people who like to take on new challenges and go 'above and beyond' the ordinary. The portfolio will launch in early 2017 and will embody the core values of the Land Rover brand, featuring some truly innovative capabilities and technology.
Volvo Self-Drives Truck
For the first time ever, the Volvo Group will now demonstrate its self-driving truck for a broader audience. The truck is part of a research and development project involving autonomous vehicles, intended to create greater business advantages for customers, mainly in the mining industry.
EDI Expands EDI PowerDrive
Efficient Drivetrains, Inc. (EDI), a global leader in advanced high-efficiency zero emissions hybrid and electric drivetrain solutions, announced the expansion of its solutions portfolio to include its EDI PowerDrive electrification kit and developer support program for vehicle manufacturers moving to create a PHEV offering.
As demand for commercial alternative fuel vehicles increases exponentially, the pressure to comply with stringent anti-idle and emissions reductions mandates continues to grow for vehicle manufacturers. The first-of-its-kind OEM vehicle developers kit and support program from EDI enables vehicle manufacturers to rapidly create PHEV and EV vehicle solutions that meet industry regulations today.
New TomTom Nav Devices
TomTom  announced the launch of three new TomTom navigation devices for the car. Boasting TomTom's latest innovations in address search, routing and guidance, as well as access to the most up-to-date maps, the new TomTom START PNDs are slim and stylish, and have been created to make people feel like they are enjoying a priority driving experience.
Drivers will welcome the 'average speed limit' information. Measurement of average speed on road networks is becoming popular, via an average speed check camera. The new TomTom START series provide a feature that will ensure that drivers are aware of their average speed for safer driving.
The inclusion of Lifetime Maps[1] means that drivers don't need to worry about paying for map updates during the lifetime of the product. And people can trust that TomTom's maps are the most accurate available on the market.
TomTom's Advanced Lane Guidance provides drivers with extra clarity when navigating difficult junctions, meaning that they don't miss a turn.
Embbed Software Summit Discount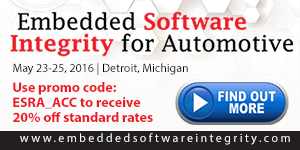 Automotive and embedded software experts with intimate knowledge of the industry's challenges will discuss how to properly develop and test embedded software at the Embedded Software Integrity for Automotive Summit this May 23-25 in Detroit. Leaders from companies such as Delphi, Bosch, GE, Kia, Continental, and more, will work to mitigate the unintended behaviors and failure rates from automotive software and hardware bugs. Use promo/coupon code ESRA_ACC to receive 20% off standard rates.
VW Aftersales App for Apre Sale
Volkswagen is rolling out a refreshing new attitude to the routine job of car servicing, maintenance and repair with the launch of its ground-breaking Aftersales Digital Reception (ADR) initiative.
Coming to Volkswagen Retailers across the UK throughout 2016, the ADR scheme introduces a welcoming new approach which keeps service customers informed every step of the way. Using redesigned service reception areas, the very latest hand-held tablet technology and online 'explainer' videos, it gives drivers a more relaxed, enlightened and straightforward experience.
The ADR process has been created to give routine service customers a much clearer picture of what is happening to their car: from booking to job completion. Beginning with the 'check-in' process it sees an expert Service Advisor greet the Volkswagen driver with an electronic tablet-based arrivals form and inspect their car – taking photographs of its condition if required – and talk them through the selected service/maintenance process.
Customers join their advisor in the new, informal, service reception and consultation area which, thanks in part to the hand-held tablet technology employed, does away with formal desks and the physical barrier of old-tech desktop computers. The outline of work is discussed and the customer either opts to wait for it to be carried out, or takes advantage of a pre-booked lift, or courtesy car* to get on with their day.
As the car undergoes its 34-point visual check, carried out by a trained Volkswagen Service Technician, a video is created showing what work has been identified. In the brief film the technician points out risks such as worn brake pads or tyres, and allows the customer to see for themselves any maintenance work required. The video can then be sent straight to the customer's computer, or smartphone, for them to view and make a decision on before any work begins.
Other routine maintenance tasks, such as cambelt changes, can be discussed with the Service Advisor too and, if required, explained via a library of simple online animations created by Vehicle Visuals to help demystify modern servicing tasks. These short 'explainer' videos work alongside a detailed website which includes all manner of maintenance information and explanations.
Discount Code for TU-Automotive Detroit
The TU-Automotive Detroit 2016 (June 8-9, Novi Michigan), conference and exhibition for automotive technology and connected cars is offering a vast program of speakers, topics and trends. AUTO Connected Car readers can get a $100 discount using the code 4312ACCAR.
You are welcome to subscribe to receive email notification of publication of Embedded Chips & Tips, you can also get weekly news summaries or email ASAP (As Soon As Published) for everything. Please note if you have a Hotmail, Outlook.com or Live.Com email address you will not be able to subscribe. Even though we don't ever SPAM our subscribers once a subscriber marks an email address as SPAM we can't ever send to those Microsoft accounts ever again. We have written 5 emails to no avail.