Embedded chips and connected car news tips this week cover Google, Ford, Volvo, i4Drive, Ricoh, Mangna, FIME, Luxoft and Nissan.
Google, Ford, Lyft Uber & Volvo Gang Up on NHTSA
Google, Ford, Lyft, Uber and Volvo Cars were forming the Self-Driving Coalition for Safer Streets. The group will work for "one clear set of federal standards" for autonomous vehicles and try to build support for the technology among businesses and local governments. The coalition's spokesman will be David Strickland, the former head of NHTSA.
i4Drive & Ricoh
i4drive, an Israeli-based company specializing in Advanced Driver Assistance Systems (ADAS) announced today that they are partnering with Ricoh, a global leader in electronics manufacturing, to develop special display equipment for automotive use. i4drive technology will be integrated into Ricoh's high level optics display to increase driver safety and enhance the driving experience.
The display equipment will be available for car manufacturers and aftermarket vehicles. In addition to driver safety, it will offer a wide range of capabilities, including in-vehicle infotainment, assistance and connectivity.
Magna Buys Telemotive
Magna International Inc. announced that it has signed a purchase agreement to acquire Telemotive AG, a leading engineering service provider in the field of automotive electronics. Subject to regulatory approval, the transaction is expected to close in the second quarter of 2016
Synopsys MIPI
Synopsys, Inc. announced immediate availability of the industry's first MIPI I3C controller IP to ease the integration of multiple sensors into applications such as mobile, automotive and the Internet of Things (IoT). The Synopsys DesignWare MIPI I3C Controller IP incorporates in-band interrupts within the 2-wire interface to deliver low pin count. The IP is compliant with the MIPI Camera Control Interface (CCI), I2C and MIPI I3C specifications, allowing designers to scale and future-proof their sensor interface designs. In addition, the controller IP supports master and slave operating modes, enabling systems with several ICs to efficiently connect to all sensors on a single I3C bus. With the DesignWare MIPI I3C Controller IP, designers can integrate more sensors into a system while simplifying board design and reducing overall cost and power.
Embbed Software Summit Discount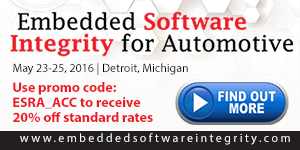 Automotive and embedded software experts with intimate knowledge of the industry's challenges will discuss how to properly develop and test embedded software at the Embedded Software Integrity for Automotive Summit this May 23-25 in Detroit. Leaders from companies such as Delphi, Bosch, GE, Kia, Continental, and more, will work to mitigate the unintended behaviors and failure rates from automotive software and hardware bugs. Use promo/coupon code ESRA_ACC to receive 20% off standard rates.
FIME Certified for MirrorLink
The Car Connectivity Consortium (CCC) has authorized FIME's as an authorized test laboratory (ATL) for its MirrorLink™ Specification.
LED Light Kit for F-150
Ford, America's truck leader and the only automaker to offer an available factory-installed strobe warning LED light kit, is making strobe lights available to F-150 fleet customers for the first time.
Luxoft @ Embedded Vision 5/3/2016
Luxoft Holding, a leading provider of software development services and innovative IT solutions to a global client base, today announced it will be presenting at the Embedded Vision Summit in Santa Clara, CA on May 3, 2016. The Summit is the leading event for innovators who want to bring visual intelligence into products through deployable computer vision and deep learning.
Interoute Supports TEXA
Interoute, owner-operator of a global cloud services platform and one of Europe's largest networks,  announced the renewal of its agreement as ICT provider to TEXA, a leading diagnostics company for the automotive industry. Interoute connectivity and cloud services are used to support TEXA's international expansion and market development for its remote diagnostic tools for trucks, cars, motorcycles, agricultural vehicles and marine engines.
Volvo Testing Drive Me in UK
Volvo Cars, will begin the UK's most ambitious autonomous driving trial next year to speed up the introduction of a technology that promises to massively reduce car accidents as well as free up congested roads and save drivers valuable time.
New Nissan Board 4 Smart Mobility
Nissan announced the launch of a brand new expert Advisory Board focused on furthering the Intelligent Mobility debate beyond the automotive community in Europe. Convened for the very first time at the Crystal in London, one of the world's most sustainable buildings, the Intelligent Motoring Advisory Board brought together a cross-section of industry leaders to tackle one of the fundamental issues of our age – the future of mobility and 'smarter,' cleaner living.
Discount Code for TU-Automotive Detroit
The TU-Automotive Detroit 2016 (June 8-9, Novi Michigan), conference and exhibition for automotive technology and connected cars is offering a vast program of speakers, topics and trends. AUTO Connected Car readers can get a $100 discount using the code 4312ACCAR.
You are welcome to subscribe to receive email notification of publication of Embedded Chips & Tips, you can also get weekly news summaries or email ASAP (As Soon As Published) for everything. Please note if you have a Hotmail, Outlook.com or Live.Com email address you will not be able to subscribe. Even though we don't ever SPAM our subscribers once a subscriber marks an email address as SPAM we can't ever send to those Microsoft accounts ever again. We have written 5 emails to no avail.