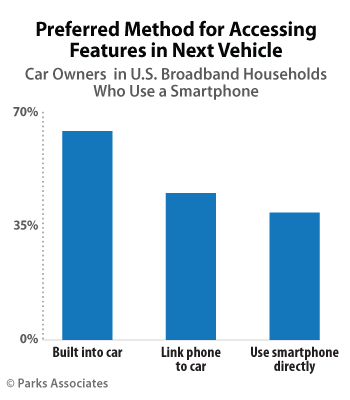 Parks Associates revealed that 27% of U.S. car owners would connected cars to communicate with the Internet-connected devices in their home, such as smart garage door openers and door sensors.
Parks Associates reports companies with assets in both ecosystems, such as mobile network operators and insurance companies, stand to benefit the most from the convergence and will push the markets closer together. Currently the smartphone is the connected device most closely associated with the connected car — 61% of car owners would prefer to bundle vehicle data with smartphone data under one billing plan.
It so happens that Parks Associates and industry leaders will address the market dynamics of the smart home and connected car ecosystems,and investment strategies for these and other connected home industries, at the 20th-annual CONNECTIONS The Premier Connected Home Conference, May 24-26, at the Hyatt San Francisco Airport.
Smart home devices are starting to take a prominent role in the connected car ecosystem as well. Smart home players like Nest, ADT, Alarm.com, and Hue have already announced partnerships with players in the automotive space.
The event will encourage connected car players to develop assets and foster partnerships across adjacent connected ecosystems, such as the smart home and smart cities ecosystems.
Consumers gravitate towards connected solutions that enhance their lifestyles wherever they are; solutions that are closed, device-specific, or otherwise do not play well with others will struggle to retain consumer loyalty in the long-term says Jennifer Kent director of Parks Associates.
CONNECTIONS features sessions on the connected car and smart home markets.
Leaving and entering your home are two of the points of highest activity in terms of interactions with your devices, and as more of these devices become connected devices, and as more cars become connected cars, we can reduce friction of the transition between home and away and give consumers a great experience that makes their lives simpler.
"Growth and Investing in the IoT and Smart Home," Thursday, May 26, 1:45 p.m., moderated by Stuart Sikes, President, Parks Associates, concludes the conference with a discussion on the next areas of investment for the consumer IoT and the products and services that are exciting to investors and VCs.
Event sponsors include Reception Sponsors CEL and Zonoff; Session Sponsors Icontrol Networks and PlumChoice; Lunch Sponsors Coldwell Banker and NXP; Silver Sponsors Alarm.com, Assurant, Asurion, Centercode, ROC-Connect, Support.com, ULE Alliance, WiZR, and ZigBee Alliance; Bronze Sponsors Audio Analytic, Ayla Networks, Cirrent, EVRYTHNG, Flextronics, Honeywell, HP, iQor, mnubo, People Power, PlanetEcosystems, WeatherBug Home, and Z-Wave; Program Guide Sponsor Vivint; Breakfast Sponsors Greenwave Systems and leakSMART; and Break Sponsors Home8, Home Advisor, Nortek Security & Control, State Farm, and Tyco.