Alpine Electronics is shipping the i109-WRA 9-inch Apple CarPlay touchscreen system for 2011-up Jeep Wranglers. The product features the largest touchscreen system in the aftermarket for Apple CarPlay.
The i109-WRA is Pioneer's first Restyle Dash System compatible with Apple CarPlay.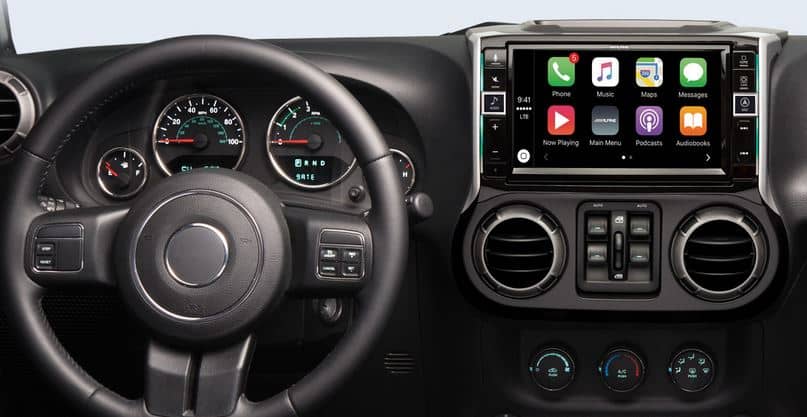 Apple CarPlay uses a Lightning connector and is compatible with iPhone 5 and later, and iOS 7.1 and higher.
i109-WRA Apple CarPlay System for Jeep Wrangler
The i109-WRA is Alpine's first model to offer Apple CarPlay compatibility in the 9-inch screen size. It brings Apple CarPlay and a 9-inch screen to the Jeep Wrangler, both of which are not available as factory options. The i109-WRA is compatible with the 2011-up Jeep Wrangler and has a WVGA screen with 800×400 display resolution.
The i109-WRA comes with a dash bezel that replaces the entire Jeep Wrangler OEM radio area, creating a factory-like fit and finish surrounding the 9-inch screen. Dedicated hard keys on the bezel provide direct access to the phone, music and maps through Apple CarPlay. These features can also be accessed through Siri voice control. A vehicle specific wiring harness is included for plug and play installation. In addition to Apple CarPlay, the i109-WRA has an AM/FM tuner with RBDS (Radio Broadcast Data system) program display and one aux AV input source. Three (2V) preouts allow for additional amplifiers to be installed.
The i109-WRA retains select factory features like steering wheel control through the supplied iDatalink Maestro module. An optional rear view camera system can be added to the i109-WRA using the dedicated camera input (camera systems sold separately). The i109-WRA is compatible with the Alpine TuneIt App, a free smartphone app that provides customized sound tuning. Users can easily adjust a wide range of sound settings including time correction, parametric EQ, crossover frequency, preset EQ modes and more. The settings are made through the app and uploaded to the i109-WRA for immediate sound customization.
The i109-WRA comes with a stunning dash kit that houses the 9-inch touchscreen, custom hard key buttons for your most used functions and provides a matching fit and finish, as if it came that way from the factory.
The i109-WRA will fit perfectly in 2011-Up Jeep Wrangler with its mech-less, shallow chassis design.
ADDITIONAL FEATURES
AM/FM Tuner
Three 2V Pre-Outs
One Aux AV Input
24-Bit DAC
MediaXpander technology, for improved playback of compressed media
Rear View Camera Ready
Retains your factory steering wheel control
Download the Alpine TuneIt app to create a user profile about your vehicle and Alpine sound system. Settings that can be adjusted include Time Correction, Parametric EQ, Crossover, and Media Xpander.