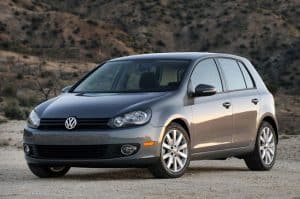 After complaints and an investigation, Volkswagen has agreed to buy back or fix about 482,000  cars with 2-liter four-cylinder diesel engines that use software to cheat test results on emissions tests. The model years covered are 2009-2015.
A federal court issued a decision outlining a resolution, however exact detail are still being worked on. It has not been determined what  Volkswagen will be required to do with another 90,000 VW, Porsche and Audi vehicles with 3-liter diesel engines.
Volkswagen issued a statement today, "Volkswagen is committed to earning back the trust of its customers, dealers, regulators and the American public.  These agreements in principle are an important step on the road to making things right.  As noted today in court, customers in the United States do not need to take any action at this time."
Judge Breyer gave the lawyers until June 21 finalized details of the compensation, buyback offer, fines and how to mitigate the cars' pollution. After that date, the details will be made public and owners can comment. Owner don't to do anything until they receive notification by mail.
Volkswagen will also set aside a fund for environmental remediation efforts related to the vehicles. The company will be required to commit funding to promote "green automotive technology.."
Volkswagen has hired compensation expert Kenneth Feinberg to handle owners' claims.
Regulators say the cars are safe to drive, even though they pollute too much.
To fix emissions there may be software changes such as installing a treatment chemical with a tank.
Volkswsagen issued this notice on its website
In connection with the diesel issue, Volkswagen AG confirms that an agreement in principle with the Department of Justice (Environmental Division), the Environment Protection Agency (EPA), and the California Air Resources Board (CARB), with the full involvement of the Federal Trade Commission (FTC), has been reached in the United States. This agreement in principle will be incorporated into binding consent decrees by the Department of Justice and the FTC in the coming weeks.

Furthermore, Volkswagen has reached an agreement on the basic features of a settlement with the class action plaintiffs in the lawsuit in San Francisco. This agreement will be incorporated into a comprehensive settlement in the coming weeks.

The judge presiding over today's court hearing in San Francisco, Charles R. Breyer, expressly welcomed this development.

The arrangements in the making in the United States will have no legal bearing on proceedings outside of the United States.

Ongoing investigations by the Department of Justice, Criminal Division, and the State Attorneys General are not prejudiced by these agreements in principle.