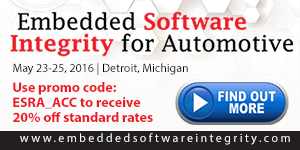 General Motor's technical fellow, Ramesh S, will speak at the Embedded Software Integrity for Automotive Summit, on May 23-25 in Detroit, about how to improve internal software testing and validation to minimize bugs. The deadline for reduced early-bird pricing is April 15.
He will outline the changes OEM and Tier 1 companies must make regarding software validation and testing. In addition, Ramesh will speak about the current state of standards, and regulations that address functional safety and cyber security. He will discuss the following topics:
The role of proper testing & validation guidelines to reduce risk of software bugs and faults.
Current gaps in industry guidelines that must be addressed through proper internal guidelines.
Strategies to develop robust internal testing and validation guidelines.
Gain insight as to the Status of ISO26262 implementation across the industry.
Industry experts from Magneti Marelli, Volkswagen, Mercedes-Benz, Lear Corporation and more will join GM at the event to discuss best practices, strategies and solutions to tackle software bugs. The event will allow for one-to-one contact with presenters in a comfortable intimate environment.
The following industry experts will speak at the eventt:
Alexander Dolpp – Director, E-Drive Software, Mercedes-Benz.
Michael Groene – Global Software Engineering Director, Delphi.
Gary Streelman – Director, Advanced Engineering & New Concepts, Magneti Marelli.
Bob Gruszczynski – On Board Diagnostics Communication Expert, Volkswagen.
Richard Chutorash – ADAS Engineering, FCA Group.
Rick Flores – AUTOSAR Steering Committee Member.
Janos Sztipanovits –

Director, Institute for Software Integrated Systems

Vanderbilt University.

Scott Skelton –

Lead Engineer – Active Safety Technology,

General Motors.

Raef Aidibi –

Senior Software Engineer,

Lear.

Sherif Matta –

Senior Control Engineer,

FCA Group / KPIT.

Huafeng Yu –

Senior Researcher,

Toyota InfoTechnology Center.
Srikiran Chinta –

Senior Software Engineer,

BorgWarner.

Cody Flemming ,

Assistant Professor; Systems and Information Engineering

University of Virginia.

Zhenchun Xia Senior Member

IEEE.
The need to protect and secure vulnerable entry points is a major priority for automotive manufacturers. Autonomous driving and the advancement of vehicle connectivity has increased functional safety and cyber security threats.
"Statistics show that more than 50 percent of recalls of cars are because of bugs in the software, not because of some mechanical issue," Oren Betzaleli, Executive Vice President of Product, Red Bend Software.
The Embedded Software Integrity for Automotive Summit, on May 23-25 in Detroit, is the industry's premier event for automotive and embedded software experts to discuss how the development and integration of embedded software can be improved to foster efficiency and high quality.  See:  Agenda, Home, Packages, Register and Resource Center.
Be sure to use the code ESRA_ACC for 20% off standard rates.