Embedded chips and connected car news tips this week include news about Jaguar, Baidu, Android Auto, CarPlay, MirroLink, Autologic, Marvell, DENSO, NEC, TomTom and Tenneco.
 Jaguar First Film of First Lady/Queen On Board
As Her Majesty Queen Elizabeth II celebrated her 90th birthday on April 21, a short film from Jaguar Land Rover was created giving a truly unique view of the Her Majesty's drive through the streets of Windsor as thousands turned up to wish her a happy birthday.
In a world first an onboard camera fitted to the interior of the Queen's hybrid-powered State Review Range Rover captured the route and the celebratory crowds.
Baidu Self-Driving Does Silicon Valley
Chinese search giant, Baidu, announced it has formed a self-driving car team in Silicon Valley focused on research, development and testing. The team will be part of Baidu's newly-created Autonomous Driving Unit (ADU). Baidu plans to grow the team to over 100 researchers and engineers by the end of the year.
Baidu's self-driving car vision is based on an incremental approach, which includes starting with small "autonomy-enabled" regions and designing autonomous cars to be clearly recognizable.
The company may be coming to the United States because Chinese don't want self-driving cars in China.
Android Auto, MirrorLink & CarPlay for Peugeot
PEUGEOT's next generation i-Cockpit will feature 3D navigation, available on both of the information screens, with real-time traffic information from TomTom Traffic. Connected to voice recognition and commands enables hands-free device control, with useful features like automatic text message management reading, drafting and sending messages hands free. The central screen also features Apple CarPlay™, Mirrorlink® and Android Auto technologies.
More Clarity of Android Auto and Apple CarPlay for Honda Clarity
The Honda Clarity series(Fuel Cell, EV and Hybrid) will feature advanced technologies, including Display Audio with Android Auto™ and Apple CarPlay™ as well as standard Honda Sensing safety and driver-assistive technology.
Autologic's AssistMobile
Autologic Diagnostics, a worldwide provider of the first and only cloud-connected aftermarket automotive diagnostic solution that enables repair shops to quickly identify faults and repair cars faster, announced the launch of its AssistMobile, which complements its recently introduced Autologic Assist solution.
Embbed Software Summit Discount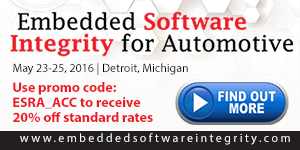 Automotive and embedded software experts with intimate knowledge of the industry's challenges will discuss how to properly develop and test embedded software at the Embedded Software Integrity for Automotive Summit this May 23-25 in Detroit. Leaders from companies such as Delphi, Bosch, GE, Kia, Continental, and more, will work to mitigate the unintended behaviors and failure rates from automotive software and hardware bugs. Use promo/coupon code ESRA_ACC to receive 20% off standard rates.
Marvell's Automotive Center of Excellence
Marvell  announced the grand opening of a first-of-its-kind automotive networking technology development center, the Marvell Automotive Center of Excellence (ACE). Located in Ettlingen, Germany, ACE is centrally-located by major OEMs and tier one customers.
Automotive technological developments have advanced rapidly in recent years and the next generation of cars needs a new architecture to run a wide array of features such as full driver assist, Ultra high-definition (HD) displays and over-the-air updates. Through years of dedication and innovative design, Marvell recognizes the importance of understanding advanced networking technologies such as Audio Video Bridging (AVB), Time Sensitive Networking (TSN) and single pair Ethernet standards such as 100BASE-T1 and 1000BASE-T1 to further the connected car industry. By expanding development and education efforts in these areas with a dedicated team of engineers, Marvell and its customers will utilize this knowledge to advance the architecture of future connected, intelligent cars. The Marvell Automotive Center of Excellence officially opened today at a ribbon cutting ceremony hosted by Marvell.
DENSO & NEC
DENSO and NEC will form a joint venture to develop basic software (BSW) that can support high-speed data communication, high-quality security, and high-performance microcomputers, in order to advance in-vehicle systems used for automated driving and other control actions. The joint venture will provide easy-to-use BSW to help automakers and Electronic Control Unit suppliers increase their quality and efficiency when developing products. The joint venture, called AUBASS CO., LTD, will be located in Tokyo, Japan and will begin operation May 2016.
TomTom and Sima AS
TomTom (TOM2), a global leader in navigation and mapping products, and Norwegian Sima AS, one of Norway's leading developers of software for Road Construction and Maintenance systems, announced a cooperation to offer Sima24 applications based on TomTom's BRIDGE solution. TomTom BRIDGE is a hardware platform that seamlessly connects business applications with TomTom technology.
Tenneco announced the expansion of its technical center in Japan. Located in Yokohama, the facility provides engineering and product development services including a full range of product testing capabilities. The technical center supports Tenneco's full line of Clean Air and Ride Performance products for applications including light vehicles, commercial trucks and off-highway equipment. The 6,800-square meter facility currently has 18 employees including engineering and testing personnel.
Discount Code for TU-Automotive Detroit
The TU-Automotive Detroit 2016 (June 8-9, Novi Michigan), conference and exhibition for automotive technology and connected cars is offering a vast program of speakers, topics and trends. AUTO Connected Car readers can get a $100 discount using the code 4312ACCAR.
You are welcome to subscribe to receive email notification of publication of Embedded Chips & Tips, you can also get weekly news summaries or email ASAP (As Soon As Published) for everything. Please note if you have a Hotmail, Outlook.com or Live.Com email address you will not be able to subscribe. Even though we don't ever SPAM our subscribers once a subscriber marks an email address as SPAM we can't ever send to those Microsoft accounts ever again. We have written 5 emails to no avail.