This week's embedded chips and connect car news tips are from Caltrans, ABI, SHIFTMobility, Continental, Nokia, NIRA, Coastal Automotive, TomTom, Renesas, Telit and IBM.
Caltrans Road Charge Pilot Firms Confirmed
Caltrans announced that four firms have been selected to provide account management services to volunteers in the California Road Charge Pilot, which is scheduled to launch this summer.
Drivers of passenger vehicles who participate in the pilot will be able to select between Azuga and Intelligent Mechatronic Systems Inc. ("IMS") to manage their road charge mileage account, or they may choose a state-run account management service, which will be supported by Arvato Mobility Solutions. Accounts for heavy vehicles will be serviced by EROAD, Inc.
These firms will offer the full range of mileage reporting options recommended by the California Transportation Commission's Road Charge Technical Advisory Committee. These options range from low-tech options like manual odometer readings to fully automated reporting based on vehicle telematics. Azuga, IMS, and EROAD may also provide value added services such as vehicle health reports or driver-safety feedback at no cost to participants for the duration of the pilot. Pilot participants will be able to view detailed information about their account management choices starting in May and choose an account manager starting in June.
Supporting the account managers are Vehcon, Inc. and Driveway, Inc., which both provide Smartphone solutions.
ABI OTA Forecast
ABI Research, the leader in transformative technology innovation market intelligence, forecasts nearly 203 million OTA-enabled cars to ship by 2022. Both SOTA and Firmware Over-the-Air (FOTA) will see a spike, with nearly 180 million new cars supporting SOTA and 22 million FOTA by 2022. Beyond Tesla, car OEMs will primarily focus the next three to five years on SOTA versus the still nascent FOTA upgrade. ABI Research market analysis suggests that close to one-third of last year's recalls could have been addressed over the air, saving car OEMs at least $6 billion.
SHIFTMobility Awarded
Based on its recent analysis of the automotive parts management platforms market, Frost & Sullivan recognizes SHIFTMobility Inc. with the 2016 United States Frost & Sullivan Award for Customer Service Leadership. By developing an all-in-one platform for the seamless integration of parts manufacturers, distributors and repair centers, SHIFTMobility has revolutionized the way businesses collaborate, do commerce, and grow in the automotive aftermarket. This platform aids manufacturers by making available real-time alerts on parts failures for rapid remedies, supports distributors in reducing the return rates by ensuring accurate ordering, and allows repair centers to be better managed.  All resulting in quicker service turnaround times.
Real-Time LTE Winner
The "Real-Time Communication between vehicles via the LTE Mobile Network" project jointly launched by Continental, Deutsche Telekom, the Fraunhofer ESK Institute, and Nokia on the A9 motorway in Germany has won the top award in the best-practice competition of the Intelligent Networking Initiative in the "Traffic" category. All award winners were honored during Cebit 2016 by the Federal Ministry for Economic Affairs and Energy and the Intelligent Networking Initiative.
NIRA Software Detects Wet Roads
This winter, NIRA Dynamics has equipped a fleet of 80 vehicles with software for detecting road surface conditions in real-time. Road Surface Information (RSI) by NIRA continuously monitors the quality and tire grip level of the road surface – without stereo cameras, adaptive suspension or other expensive sensors. With sensor fusion based algorithms, RSI can determine the level of road roughness and road friction.
By connecting RSI to a cloud service, road data can be distributed to other vehicles, enabling drivers to adapt their driving style or change routes as they receive information about upcoming hazards or dangerous situations. And that's just one example – the possibilities are basically endless.
To allow for a quick roll-out of this important safety feature, instead of only integrating the software as original equipment in brand new passenger cars, NIRA has in collaboration with Infocar Training AB integrated the friction software on Infocar´s electronic device that plugs into the standard interface in all passenger cars since model year 2001. This enables NIRA to start collecting and distributing this extremely dynamic information about the road condition in real-time, every second, and send it to a back-end server.
This cloud data will then be possible to share with other drivers, road authorities and systems for Advanced Driver Assistance or for real time weather navigation data. Best of all, this dynamic data is available now.
Coastal Automoitve Awarded Michigan 50
Coastal Automotive has been recognized as one of the 2016 "Michigan 50 Companies to Watch," an awards program presented by Michigan Celebrates Small Business.
Coastal Automotive will be honored at an awards ceremony during the 12th Annual Michigan Celebrates Small Business gala event, May 5, 2016 in Lansing, Mich.
Coastal Automotive is a forward-looking, Tier 1 global automotive company, whose products and solutions increase the safety of interior passenger spaces and reduce passenger compartment sound in motor vehicles. Coastal Automotive works with unique products and innovative processes to create value for their customers that generates enhanced safety and comfort for the passengers who use their products.
Embbed Software Summit Discount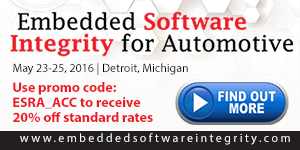 Automotive and embedded software experts with intimate knowledge of the industry's challenges will discuss how to properly develop and test embedded software at the Embedded Software Integrity for Automotive Summit this May 23-25 in Detroit. Leaders from companies such as Delphi, Bosch, GE, Kia, Continental, and more, will work to mitigate the unintended behaviors and failure rates from automotive software and hardware bugs. Use promo/coupon code ESRA_ACC to receive 20% off standard rates.
TomTom HD RoadDNA NV CA
TomTom announced the launch of its High Definition (HD) Map and RoadDNA products covering all interstates and highways in Nevada, and extending California coverage to include all highways, in addition to the interstates launched in January. By delivering both the highly accurate border-to-border model of the road, and a highly optimized lateral and longitudinal view of the roadway, TomTom enables localization and manoeuvre planning that is critical for autonomous driving.
Renesas Electronics Automotive IPDS for Motors & Heaters
Renesas Electronics, announced the availability of six new intelligent power devices (IPDs) for automotive motor and heater control applications. The devices provide an extremely reliable, high-performance solution compared with mechanical relays that switch the current flow on and off in electronic control units (ECUs).
An IPD is a power IC device that integrates in a single package control circuits that implement protection functions and self-diagnostic functions, in addition to power MOSFET (metal–oxide–semiconductor field-effect transistor) switching element(s). The IPDs are compact, lightweight, power efficient, and not subject to the contact wear and tear that affects mechanical relays, enabling highly reliable systems with self-protection functions.
Telit for Optian
Telit, a global enabler of the Internet of Things (IoT), today announced that PLK Technology (PLK) has selected Telit's SL869-V2 GNSS IoT module to deliver positioning functionality for Optian, a new product combining the features of an Advanced Driver Assistant System (ADAS) and a high-end automotive black box.
Telit's SL869-V2 is a subminiature multi-satellite receiver module that can be installed in vehicles, industrial, wearable and portable digital devices. It delivers a high level of stability for navigation applications by tracking GPS and GLONASS at the same time, relaying accurate and fast-refreshing positioning information.
Watson Will Help Honda R&D
IBM  announced that Honda R&D is monitoring and analyzing data from more than 160 sensors in Formula One (F1) cars using IBM Watson Internet of Things (IoT) technology. Now, drivers and crews can apply data and analytics in real-time to help streamline performance and improve fuel efficiency, enabling drivers to make real-time racing decisions based on this data, such as speed adjustments and pit stops.
Discount Code for TU-Automotive Detroit
The TU-Automotive Detroit 2016 (June 8-9, Novi Michigan), conference and exhibition for automotive technology and connected cars is offering a vast program of speakers, topics and trends. AUTO Connected Car readers can get a $100 discount using the code 4312ACCAR.
You are welcome to subscribe to receive email notification of publication of Embedded Chips & Tips, you can also get weekly news summaries or email ASAP (As Soon As Published) for everything.