Embedded chips and software news this week includes news from HARMAN, Magna, Bosch, Toyota, Nuance and VW.
HARMAN Finalizes Sale of TowerSec
HARMAN, connected technologies company for automotive, consumer and enterprise markets, today announced the successful completion of its acquisition of TowerSec, a global provider of automotive cyber security, specializing in onboard network protection for connected vehicles.
Magna EYERIS in Jeep Grand Cherokee
Magna International Inc., a leader in camera-based advanced driver assistance systems (ADAS), announcedthat it is supplying its new EYERIS Generation 3.0 camera system for the 2016 Jeep Grand Cherokee, the first FCA U.S. vehicle to feature this new innovative camera technology, and for the all-new 2017 Chrysler Pacifica. The announcement was made at an event for investors and analysts in downtown Toronto.
The EYERIS Generation 3.0 system builds on the innovative technology features from previous platforms that are on the market now and improves the field of view as well as the camera resolution. As part of a fusion system with radar in the front of the Jeep, the system performs functions related to the vehicles' lane keeping, automatic high beam, automatic emergency braking and adaptive cruise control features.
Bosch Launches Cloud
Bosch is launching its own cloud for web-based services. In the Bosch IoT Cloud, the international supplier of technology services runs various applications for its connected mobility, connected industries, and connected buildings businesses. The first cloud is located in Germany.
The software core of the Bosch IoT Cloud is the company's own IoT Suite. It identifies any objects that are web-enabled, orchestrates the exchange of data, and enables a multitude of services and business models.
Embbed Software Summit Discount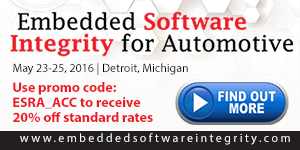 Automotive and embedded software experts with intimate knowledge of the industry's challenges will discuss how to properly develop and test embedded software at the Embedded Software Integrity for Automotive Summit this May 23-25 in Detroit. Leaders from companies such as Delphi, Bosch, GE, Kia, Continental, and more, will work to mitigate the unintended behaviors and failure rates from automotive software and hardware bugs. Use promo/coupon code ESRA_ACC to receive 20% off standard rates.
Jaybridge Robotics joins Toyota Research Inst.
Toyota Research Institute (TRI) and Jaybridge Robotics announced today that the Jaybridge Robotics software engineering team has joined TRI.
"TRI's mission is to bridge the gap between research and product development in many areas, including artificial intelligence, robotics and autonomous passenger vehicles," TRI CEO Gill Pratt said.  "The 16-member Jaybridge team brings decades of experience developing, testing, and supporting autonomous vehicle products which perfectly complements the world-class research team at TRI."
Jaybridge CEO Jeremy Brown added, "Where Jaybridge has historically limited its focus to industrial applications such as agriculture and mining, TRI is going after the big one: helping to reduce the nearly 1.25 million traffic fatalities each year, worldwide. We couldn't be more excited."
The former Jaybridge team has joined TRI's Cambridge, Mass., facility.  Like everyone else at TRI, they will be working closely with counterparts at TRI facilities across the U.S., as well as with partner Toyota research and development teams around the world.
Dragon Drive with Nuance Mix
Nuance announced from its West Coast Innovation Day event that its Dragon Drive connected car platform and Nuance Mix voice and natural language understanding developer platform, currently in beta, provide automakers with a set of capabilities to create intelligent and conversational voice experiences for cars that talk to 'things' such as consumer electronics and smart devices.
Dragon Drive's expansive voice and content platform gives automakers the ability to create voice-enabled apps and services that let drivers speak to connect with smart devices and systems from behind the wheel. Through natural language commands, drivers can turn on lights or activate a home entertainment system – the possibilities are endless. But automakers also need the ability to quickly and easily customize a consistent voice experience on companion apps running on smart devices that connect to the car – creating a meaningful two-way engagement.
With Nuance Mix, automakers have the control and flexibility necessary to extend natural language, voice recognition and text-to-speech – all fully optimized together – to wearables and consumer electronics. As a result, people can talk to these devices to control functions in the car, like turning on the heat, or checking the fuel or charge level. Further, Dragon Drive and Nuance Mix are both platform agnostic, giving automakers the freedom to create, develop and deploy deeply integrated and customized voice interfaces without boundaries.
Research Showed Cheating Continued After Start of CARB Prob
Joint reporting by the investigative journalism consortium including German public broadcasters NDR and WDR together with the newspaper Süddeutsche Zeitung has revealed that manipulation continued even months after the California Air Resources Board (CARB) began probing increased emissions levels in the German carmaker's automobiles.
The reporting indicates that VW developers apparently expanded the illegal defeat device around New Year's 2015 via a software update that went undetected by the US authorities. The update enabled the engine control unit to even more clearly discern whether the car was being tested for emissions or whether it was driving on the road. Developers upgraded the software with a feature that could recognize the movements of the steering wheel in order to more reliably determine if the car was driving on the road. If it was, the car would reduce its emissions control.
At the request of NDR, several software experts examined the US Passat model under investigation both before and after the update. They concluded that a new feature recognizing the position of the steering wheel had been added.
"In the course of the update, the software was refined so that it could even more precisely recognize whether it was being inspected or not," said Thorsten Holz, professor for IT security at Ruhr University Bochum. As part of the deceitful measures, "it wasn't only the data that was replaced," explained Felix Domke, a Lübeck-based hacker with knowledge of Volkswagen's cheat software. "Following the update, the car no longer erroneously drives in the clean inspection mode. Instead it operates more frequently in the dirty road mode."
Early in the summer of 2014, California's clean air agency called on VW to explain excessive on-road emissions of its diesel vehicles. In response, VW offered to carry out the voluntary recall of affected vehicles in order to perform a software update that would reduce emissions of nitrogen oxide during on-road driving. At the end of December 2014, over 500,000 affected vehicles were recalled. VW has stated the company had in fact carried out software updates on 280,000 cars by spring of 2015.
In May 2015, CARB carried out subsequent testing and concluded that nitrogen oxide levels had been reduced in normal driving conditions through other measures taken within the software update. However, because the emissions were still 15 times over the limit, the agency intensified its probe and claimed it had discovered that the scale of emissions reduction changed based on steering wheel position, speed, driving duration and barometric pressure and that the vehicles were capable of detecting whether they were undergoing an inspection. It's possible that the software update allowing for the determination of steering wheel angle may have been decisive in helping CARB finally discover the illegal defeat device.
Discount Code for TU-Automotive Detroit
The TU-Automotive Detroit 2016 (June 8-9, Novi Michigan), conference and exhibition for automotive technology and connected cars is offering a vast program of speakers, topics and trends. AUTO Connected Car readers can get a $100 discount using the code 4312ACCAR.