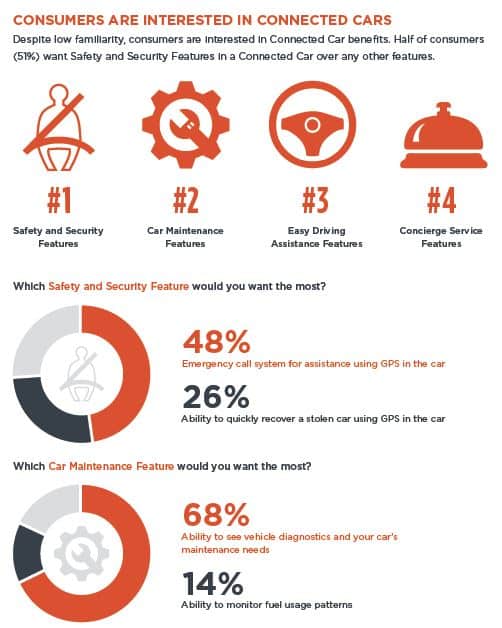 What do people want in a connected car?  A new study shows the preferred features of a connected cars including automatic emergency breaking, real-time navigation, car locating, voice commands and Wi-Fi hotspots. Some of the feature can be added after a car is bought through an OBDII device such as Zubie, however a new service from Sprieron allows car dealer to install the Kahu service with many of the top connected car features wanted.
The top driving ADAS wanted were:
33% (AEB) Automatic Emergency Braking – a car that can brake on its own to avoid an accident.
26% Real-time Navigation – based on live traffic and road conditions.
The Most Wanted Convenience Features are
30% Vehicle Locating– ability to easily locate your car using a mobile app and
GPS in the car.
29% Voice Commands – in-car voice commands to make calls or re-route navigation directions.
29% Mobile Wi-Fi Hotspots – allows occupants to connect their devices to Wi-Fi.
Connected car comprehension is less than half with nearly 6 in 10 are unfamiliar with Connected Cars. So far there is not a high adoption rate of connected car services –
Out of those who are using Connected Car features, these are the most common usages:
Fuel Usage – 17%
Diagnostics – 16%
Emergency In-car Call System – 13%
In-car Voice-activated Commands – 13%
Here are the top 5 Preferred Connected Car Categories:
Safety & Security – Half of consumers (51%) prefer Safety and Security features over any other category. The top two preferred features in this category are emergency call systems and vehicle recovery services in case their car is stolen.
Car Maintenance – The ability to see vehicle diagnostics and maintenance needs were also overwhelmingly chosen as the #1 preferred feature in this category. Monitoring fuel usage patterns was ranked 2nd.
Easy Driving Assistance – This category of features wasn't as popular as Safety and Security. And more consumers preferred the automatic braking safety feature (a car that brakes by itself to prevent accidents) over self-parking or lane change assist features. This finding may demonstrate that consumers show restraint over using autonomous car features and are more inclined to prioritize safety features instead.
Concierge Service – This category of features is the least preferred. There is also less consensus over what is the ideal convenience feature. 30% preferred the ability to easily locate car using a mobile app.
Consumers are ready to pay for connected car services and prefer to pay up front when they buy the car. No matter what features they favored, 68% of consumers reported that they would prefer to pay for connected car features all at once through the dealership at the point of sale or lease.
Meeting consumer demand for safe and secure connected cars doesn't require 10 years waiting for an automaker to catch up on the connected car market.
Sprieon offers a produc fot  dealers can help consumers make their cars 'smart' with Kahu, a mobile GPS tracking service designed to help consumers easily locate their cars, ensure stolen vehicle recovery in cases of theft, track car battery life, and much more – all through a  app that can be downloaded to their smartphones.
The results are from Wakefield Research in partnership with Spireon, a vehicle telematics company with over 2.5 million active subscribers using its Connected Vehicle technology