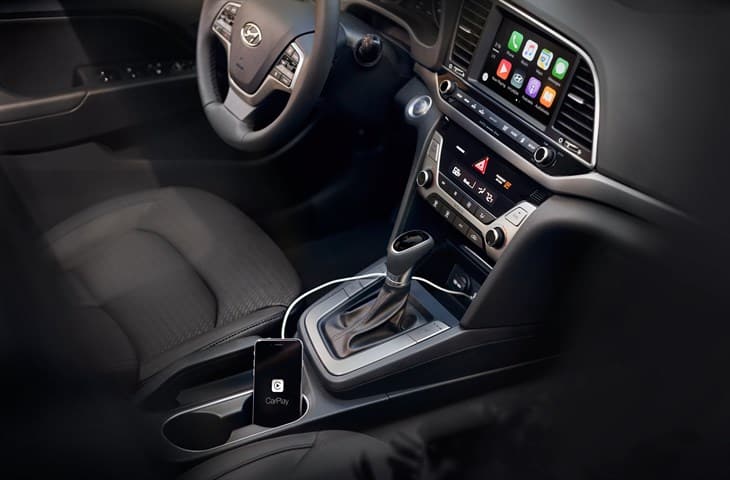 Because there continues to be some confusion about what Hyundai models will have Android Auto and Apple CarPlay we have contacted Hyundai public relations for clarification. Some models remain in CarPlay and Android Auto limbo while other new 2017 models will come with the popular smartphone software pre-installed.
I spoke with Michael Deitz, senior group manager of Hyundai, connected care, today. We discussed what models Hyundai models may or may not get Android Auto and Apple CarPlay.
Update May 26, 2016: Hyundai announced that Hyundai is releasing free updates for select compatible 2015-2017 Hyundai models with the 7″ touchscreen or Navigation including Sonata, Genesis, Elantra, Tucscon, Santa Fe and Santa Fe Sport.
Read Android Auto Tips & Tricks. Read CarPlay Tips & Tricks.
New Hyundai Models with Android Auto and Apple CarPlay
He confirmed that Android Auto and CarPlay will be available on the new Hyundai Tucson but both systems currently have a delayed availability.
Android Auto and CarPlay are not currently available on the 2016 Santa Fe Sport but may be in the near future. However, the 2017 Hyundai Santa Fe announced at the Chicago Auto Show will come with Android Auto pre-installed. There is no announcement, yet as to CarPlay compatibility for the 2017 Santa Fe.
Android Auto and CarPlay will be available on the 2017 Hyundai Elantra with compatible navigation systems. The software will come pre-installed on the vehicles. 2017 Hyundai Elantra models will only have Apple CarPlay and Android Auto for those equipped with 7″ and 8″ navigation systems and with certain packages.
Hyundai 2015/2016 Sonata Hybrid and Plug-in Hybrid owners are still waiting for Android Auto. The Hyundai website clearly states which Hyundai Sonata models come with Android Auto.
"Android Auto is currently available in the 2015 Sonata with navigation. The compatible navigation system with 8-inch touchscreen display is available on the 2015 Sonata Sport, Eco, Limited, 2.0T and Limited 2.0T models. Android Auto is standard on 2016 Sonata SE, Sport, Sport 2.0T, Eco, Limited and Limited 2.0T. Not currently available on Hybrid or Plug-in Hybrid models."
There is no new word on when the Hybrid Hyundai Sonatas will have Android Auto, the developers are still working on it. Deitz says that he hopes that Hyundai developers will offer a solution because he owns a Sonata Hybrid and would like to use Android Auto.
Hyundai Sonata CarPlay SD Card Update
Apple CarPlay is still not available for Hyundai Sonata 2015/2016 with compatible navigation systems and touchscreens. The marketing department is working out how the update will be handled. We learned at CES from Miles Johnson that the navigation software was incompatible with CarPlay and in order to get CarPlay to work the SD Card with mapping software will have to be replaced.
Some reports stated that Hyundai would charge for the CarPlay update. Hyundai technically will not be charging for the CarPlay update but for the new telematics mapping SD Card that is compatible with Apple CarPlay.
Johnson told us that there may be small fee for the SD card, but would not say the price.
Deitz hinted that buyers of the Apple CarPlay SD card would receive some kind of perk with their purchase of the update. We suggested a free year of Blue Link or Hyundai Connected Care or free oil changes.
One of our readers received an email from Hyundai customer support stating that the 2016 Hyundai Hybrid does come with Android Auto. Deitz confirmed that Hyundai Sonata Hybrids do not come with Android Auto, yet.
Miles Johnson is supposed to email us a quote about the Hyundai Sonata Hybrid status, soon.
Update March 31, 2016: We received word that new 2016 Hyundai Sonata non-hybrid models are now shipping and are at dealers with CarPlay. The update to CarPlay for previously purchased 2016 Hyundai Sonatas and 2015 Sonatas with navigation will be free and available later.
Hyundai sated in a  news release "In early 2016, Hyundai will have additional information regarding the availability of CarPlay and Android Auto on other models. This will include information on how existing owners of compatible vehicles with Hyundai's fourth-generation navigation system or Display Audio can update their vehicles with these features."
Hyundai plans to no longer offer CD players in its 2016 model year vehicles and instead only offer digital music options.
Meanwhile, Android Auto owners should be forewarned that there is minimal tech support from Google for Android Auto via Twitter. Most Android Auto car owners have gone to third party forums or back to their dealers for Android Auto technical support. There was a problem with LG smartphones including the LG 3 and LG 4 with Android Auto in Volkswagen's with MIB II which appeared to have been fixed with the update to Android 6 Marshmallow.
The new research from Juniper, forecasts that consumer adoption of connected car entertainment will grow rapidly as Apple CarPlay and Android Auto gather traction.
Pioneer announced five new CarPlay-enabled Networked Entertainment eXperience (NEX) receivers will be launched in March. Another new CarPlay Android Auto receiver is the JBL Legend CP100 priced at $399.95.
A new competing device announced today is a dash mountable tablet OverDryve from Rand McNally.
At CES, FCA announced that its UConnect infotainment systems will be improved and will be compatible with Android Auto and Apple CarPlay. Ford also announced it will offer Android Auto and CarPlay.
Do you have issues with Android Auto or Apple CarPlay after you bought a Hyundai or other vehicle? Please let us know your thoughts in the comments below.