With Friday, January 15th, the last day of voting, we want to make sure our readers have enough information about the nominees for the Tech CARS Awards in the best Car Support App category. These apps help drivers with road assistance, finding/delivering gas and diagnostics.
GasBuddy
GasBuddy lets you search for gas prices by city, state, zip code, with listings for all cities in the USA and Canada. Updated in real-time. The app has over 50 million downloads.
It helps users find the cheapest gas nearby. Gas prices can vary dramatically from street corner to street corner. It collects real-time gas price information from millions of users, so you can rest assured you are saving every time you fill up. Users who enter price prices can win a $100 gas card.
GasBuddy also offers coupons for convenience store treats, snacks and drinks.
Urgent.ly
Urgent.ly is an on-demand roadside assistance service with no membership fees, annual or hidden fees.
A valid credit card number is required to get the driver on his way. The credit card is only charged after the job is done.
Just tap to call with any questions.After a simple setup, detection and alerts are automatic. Getting you going again due to the most common roadside headaches (dead battery, flat tire, running out of gas, or getting locked out) costs $75. Towing your vehicle to a location up to 10 miles away costs $99, with tiered pricing for drop-offs farther than 10 miles.
With the FamilyView feature, family members and loved one can be connected to an account. So if they're ever in a roadside bind, you'll be instantly alerted while Urgent.ly delivers them the help they need ASAP. The charges will go directly to your card on file (no payment worries for them), and you can watch in real-time as their help arrives.
It's like your own private dispatch center
Instant alerts when loved ones need help
Observe the entire rescue from your phone
Obtain information on tow truck operator
Confirmation alert when service is complete
Charges roll-up to your card on file
Receipt for service is sent directly to you
Set-up is quick and easy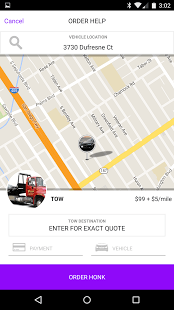 Honk
The app description from the app store states:
When your car breaks down, you break down. HONK is here to get you help fast and back on the road in just a few clicks.
Better than AAA roadside assistance with no monthly fee. HONK provides speedy nationwide towing & roadside assistance (15-30 min ETA's) starting at $49. Save $1,000's of dollars in wasted fees and pay less for the service you need when you need them most.
Services Include:
– Towing
– Tire Changes
– Jump Starts
– Lock Outs
– Fuel Service
Purple On-Demand Gas Delivery
Purple is an on-demand fuel delivery app that allows users to order and pay for fuel right from their smartphone. Our
service providers come to the vehicle's location and fill the fuel tank with no need for the customer to be present.
The average American driver wastes over 70 minutes per stopping to fill their fuel tanks. – unproductive time that could be allocated elsewhere. Having to drive to the gas station is a hassle, especially during rush hour.
Purple aims to make drivers' lives easier and less stressful by offering a convenient solution to get their gas tanks filled-up in just a few taps on their phone.
The Purple mobile app records the user's car information, location and credit card information for quick purchase.  No cash transactions or personal interactions are required.
Purple operates as a marketplace. The algorithm uses geo-location to match car owners to gas stations and service providers that will provide fill-ups in as little as an hour. Purple saves users time and effort by offering the convenience of not having to go to the gas station.
Purple launched Los Angeles in April, 2015. The company expanded to San Diego on October 15th and is launched in Orange County in early December.
Purple was co-founded by Bruno Uzzan, a seasoned entrepreneur that served as CEO and founder of Total Immersion, a worldwide leader in Augmented Reality Technology, and JP Hubschman who is an investor and founder of several successful startups in the medical industry and is a a optomologist at UCLA. Purple has completed seed-funding with backers including Uber co-founder Oscar Salazar.
Torque
Torque allows users to

View live OBD engine data on your Android phone – Connect to your vehicle ECU.
Fully customizable dashboard screens – Design your own layouts and custom dials, use your own themes.
Retrieve Fault Codes (DTCs) and clear Check Engine lights – View fault descriptions using the built-in databases.
Upload live OBD2 data to your webserver or the torque web viewer in realtime.
Check the performance of your vehicle with BHP / Torque / 0-60 & Quarter Mile widgets.
What app should win the Tech CARS Awards? Vote for your favorite now.