General Motors announced a new car-sharing service called Maven a brand that combines all of GM's new on-demand car service with hourly and daily car rates. The company is expanding to many US cities. The app makes it easy keyless entry, finding and renting the cars.
Cars can be accessed by apps for starting, heating or cooling. Customers can connect through Apple CarPlay, Android Auto, OnStar, SiriusXM radio and 4GLTE wireless. OnStar provides navigation and other safety services. OnStar Wi-Fi hotspots are included.
Maven pricing includes insurance and gas. Chevy Sparks rent for as low as $6.00 an hour, Chevy Malibus are $8.00 an  hour or $56.00 a day. To join the service it is free for a limited time.
Every car comes with a free gas card in the visor. Renters swipe it at the pump and enter a 6-digit Refuel pin from the app, along with the car's odometer reading. Cars have to be returned with a quarter of tank of fuel or there is a fee.
The first programs will be on campuses, cities, residential and peer-to-peer.
Maven will first luanch more than 100,000 people in Ann Arbor, Mich., with services fro faculty and students at the University of Michigan. GM vehicles will be available initially at 21 parking spots across the city. More programs will launched later this year.
Users can share their Maven experiences using Whatsapp.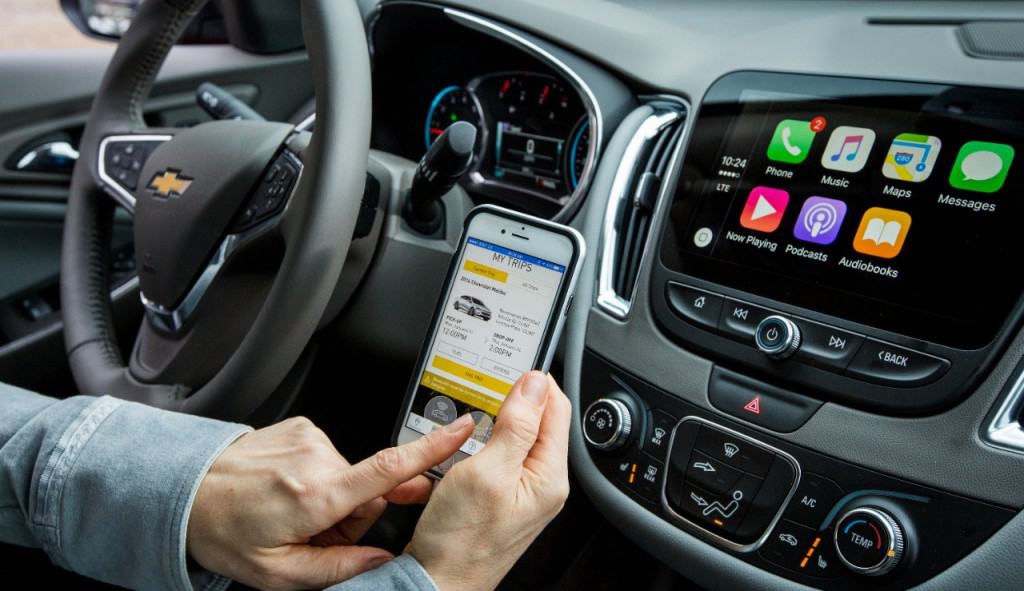 In the first quarter of 2016 for residential users, Maven will launch car-sharing services for Chicago residents in partnership with Magellan Development Group. Maven is also expanding its existing residential program in New York City (previously called Let's Drive NYC) with Stonehenge Partners giving users on-demand access to vehicles and preferred parking options. Both programs combined will offer service to more than 5,000 residents.
Existing global initiatives include peer-to-peer car-sharing through the CarUnity market place in Germany. Nearly 10,000 users have signed up in Frankfurt and Berlin since mid-2015.
There will be various programs are running on GM campuses in the U.S., Germany and China to refine and test future Maven commercial offerings.
There will be an estimate 25 million customers around the world projected to use some form of shared mobility by 2020.
The global Maven team includes more than 40 dedicated employees from the connected car technology industry as well as ride- and car-sharing professionals from Google, Zipcar and Sidecar.