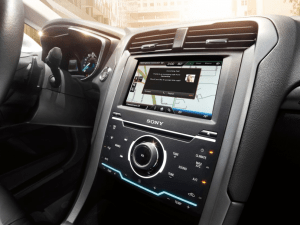 Ford owners with iPhone will be happy to hear that Ford has released an update for Ford My Touch that will add the use of Siri Eyes-Free through voice control for Fords starting with 2011 models through 2016 that adds iPhone feature. The update affects five million Ford vehicles.
The update can be downloaded through the Ford owners portal. Owners must be registered in order to download the update. To register, Ford owner enters in their name, email address, zip code and VIN number of the vehicle. Owners also need a USB drive to take into the car to update the software.
Login into your SYNC owner account.
Check for updates.
Download the software update to a computer.
Extract the file.
Copy the file onto a USB drive.
Then attach the USB Drve to the USB port in the Ford vehicle.
Access the menus within Ford My Touch to update the software.
Depending on the Ford model, screen size and software, menus will vary on how to update the software.
These kinds of updates usually take a while when you haven't done them before. We suggest you have at least a half an owner to the complete the update.
Ford offers toll-free support in the United States by calling  1-800-392-3673, Monday through Friday from 8:00 AM – 8:00 PM (ET) or Saturday 9:00 AM – 5:30 PM (ET).
After downloading the update file and copying it onto the USB drive, Ford owners who are not sure of the process or who are having problems, may call the phone number while in the car.
The tech support rep will need the name of the owner and VIN to look up the exact details of the Ford My Touch system and the exact menus to be accessed for the update.
We called earlier today and found the tech support rep to very helpful and knowledgeable.
Siri is activated through a long press on the voice button on the steering wheel. Ford drivers can use Siri to make phone calls, search for phone numbers or places, set alarms, get weather, play music, send/receive text messages and directions from Apple maps.
Ford in newer models released SYNC 3 which does a better job of most functions.