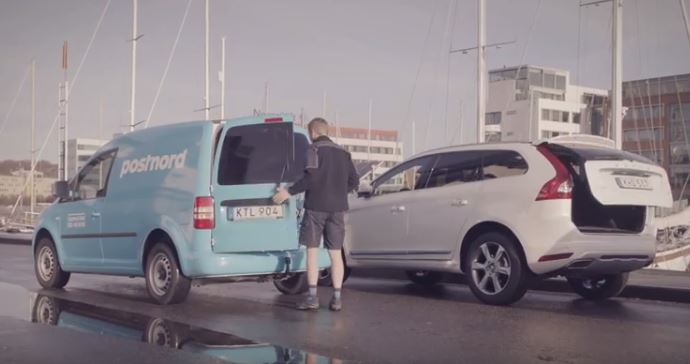 A service close to the North Pole has some of the aspects of Santa Clause's delivery techniques, while the children are snug in their beds and the Volvo is on the street or in the garage, packages are delivered to the trunks of cars using a one-time digital access key. Volvo says it eliminates the stress of looking for parking, shopping crowds and the disappointment of missed deliveries.
In 2014, at Mobile World Congress, Volvo  announced it was working on package delivery to trunks of Volvos using a secure smartphone app. Now, Volvo is working with PostNord, the Nordic region's leading communication and logistics supplier, Lekmer.com, the leading Nordic online toy and baby goods store, and Mat.se, a Swedish online grocery retailer, to have Christmas toys, gifts, food and drinks delivered to its cars.
Volvo owners order online, receive a notification that their itmes have been delivered and then  drive home with them. The packages are delivered to vehicle and the car is opened via the digital key. The nice thing about being in Sweden, the ice cream won't melt in the car.
Right now the service is only available Volvo drivers in Gothenburg who subscribe to the Volvo On Call service, but it will be introduced elsewhere in Sweden and to other countries in future. There will also be a wider range of goods available for In-car Delivery as Volvo joins forces with more companies in future.
When ordering the product, Volvo owners  choose the In-car Delivery option at the online checkout when they buy their gifts, food, drinks or other packages.
Another automaker Audi is testing a similar service in Germany using DHL to deliver Amazon products in Audi trunks.