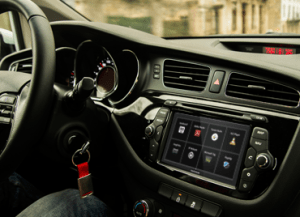 On display at the Connected Car Expo at the LA Auto Show, today is AppCarousel. AppCarousel makes app platforms for connected cars and will provide and operate cloud services for apps and content for Jaguar Land Rover. Apps include CNN, AccuWeather, Flight Stats and others depending upon the model of vehicle.
AppCarousel is providing  the cloud services for Jaguar Land Rover's multimedia system InControl Touch Pro.
Jaguar Land Rover's new infotainment system delivers services that enhance the driving experience and keep customers connected while on the move. The apps that AppCarousel delivers to Jaguar and Land Rover vehicles are designed for drivers to ensure they are up to date with news from CNN and prepared for any weather with services from AccuWeather. The AppCarousel platform also makes sure customers won't miss a flight thanks to FlightStats data – all available at the touch of a finger on their dashboard.  The suite of apps can vary depending on user, car model, and country, and will evolve and expand each year.
AppCarousel provides app marketplaces, app lifecycle management and software over the air updates for connected cars and smart devices. The AppCarousel platform enables automotive and fleet businesses to securely authenticate, provision, update and manage apps, content and services.
Both companies will also be attending Connected Car Expo and LA Auto Show, November 17-19, 2015.