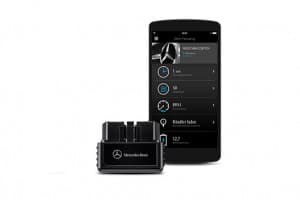 Mercedes-Benz offers the new connect me app in Europe and soon will offer an adapter for older models vehicles. The "me" app gives drivers information vehicle health, remote control of functions such heating, door remote open/close and navigation via iPhone and Apple Watch, and other new features.
Mercedes me provides services, products and lifestyle offers from Mercedes-Benz. The personalized homepage shows topics relevant to the user such as entertainment, travel or lifestyle. Registering with Mercedes "me" gives users access to exclusive offers. Some packages include live traffic, Flight info, parkingfinder or news.
In October 2015, some Mercedes-Benz drivers in Europe will be able to retrofit older-model Mercedes-Benz (2002 or later) cars using the Mercedes connect me Adapter for ODB-II ports. The service will then launch in Germany, Spain and the Netherlands in spring 2016, then continue in further European markets where Mercedes connect me is also available.
the me adapter and app,  can record routes mileage, and fuel level. Owners can receive offers from Mercedes dealers, road side assistance, find vehicle/parking and special offers.
Mercedes-Benz used the development services of Pivotal Labs and Pivotal's cloud native platform, Pivotal Cloud Foundry with the developer framework Spring Boot.
Scott Yara, Co-President of Pivotal, and Christoph Hartung, Head of Connected Cars for Mercedes-Benz, presented the joint project at the Car IT Congress in Frankfurt and explained the background of the collaboration.
Other Pivotal customers include BMW, Hulu, Philips, CoreLogic and China Citic Bank.
There are some warnings with the "me" adapter:
BAHA ('Bone Anchored Hearing Aid'), a 'semi-implanted' or 'fully implanted' hearing aid wearers may experience increased noise interference.The electromagnetic radiation between the adapter and smartphone can impair the functioning of medical equipment such as a pacemaker.The use of mobile phones is strictly forbidden at filling stations.There is a risk of injury if the software is reprogrammed.