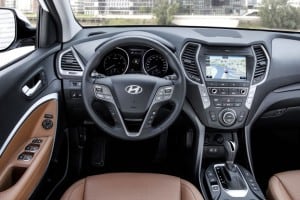 HARMAN announced it is delivering a the audio experience to drivers of the new Hyundai Santa Fe SUV. HARMAN claims it is incredible and authentic multi-dimensional surround sound in highest quality. It features QuantumLogic surround sound processing, Clari-Fi music restoration, and Speed-Dependent Volume Control technologies.
The Santa Fe is equipped with a premium Infinity surround audio system with 12 high performance speakers positioned optimally in the car, including in the dashboard, front sail panels, doors, D pillars, and rear of the vehicle. At the heart of the system is a high performance 11-channel amplifier with 630 watts outpout.
This HARMAN technology provides an authentic multi-dimensional surround sound experience featuring patented signal extraction technology. A revolutionary new audio algorithm extracts the signal streams from the original recording. Individual voices and instruments are then identified and re-authored into a precise multi-channel soundstage. QLS features an "aesthetic engine" that digitally remodels extracted signal streams into an infinitely variable soundstage. At the heart of the innovative HARMAN technology is a patented spatial filter bank with psycho-acoustic modelling for transparent digital processing and perfect acoustic reconstruction.
HARMAN's Clari-Fi technology is a patented music restoration algorithm for all compressed audio formats. The proprietary technology restores sound information that was lost in the digital compression process. Clari-Fi analyses the audio signal in real time and corrects waveform deficiencies based on existing audio information and in-depth knowledge of codecs and psychoacoustics. The technology includes patented signal processing techniques such as transient detection and reshaping, vocal extraction and refocusing, and bandwidth extension. Clari-Fi is intelligent and applies only the amount of correction that is needed, based on the source bit rate. For example, while Clari-Fi will apply a great deal of correction to a low-res source like Satellite Radio, it will apply nothing to a high quality CD.
Speed-Dependent Volume Control provides the capability to control the volume of individual channels based upon the vehicle's speed. The volume will change proportionally to the vehicle's speed to overcome associated noise masking effects of the vehicle and thereby reduce the need to adjust the volume while driving.